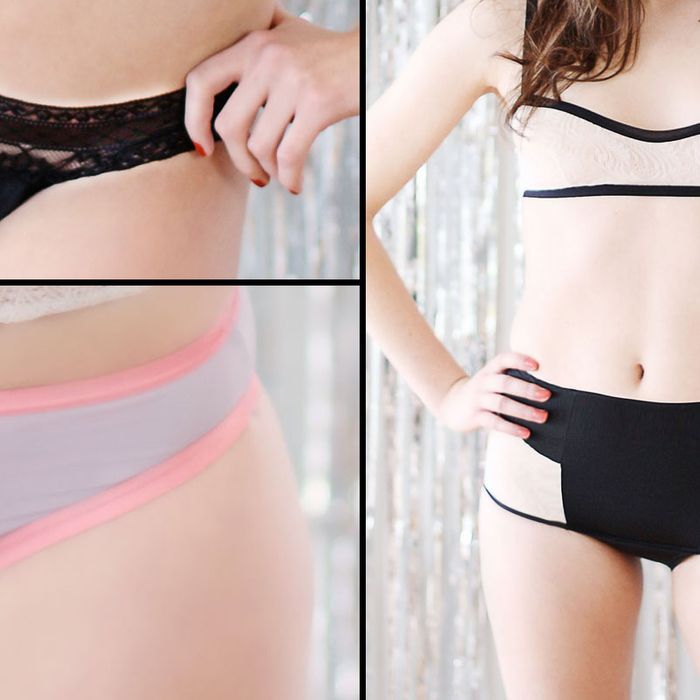 It takes a little while to figure out what the thing is about Dear Kate, the Providence, Rhode Island–based lingerie line that held its relaunch at trendy, color-sorted East Village underwear shop Azaleas Friday night. It looks like most underwear, albeit a little pricier than comparable styles. Its website and press materials mysteriously promise that Dear Kate's "performance fabrics" deliver "peace of mind." In the euphemistic world of feminine hygiene, it turns out that "functional cool-girl underthings" is code for undies you won't ruin by bleeding or peeing in them.
Founded by 25-year-old Julie Sygiel, a chemical engineering grad, Dear Kate underwear has a patent-pending liner made from a thin wicking material that holds up to three teaspoons of liquid. Previously known as "Sexy Period," Sygiel pivoted in a vaguer direction last year after customer feedback revealed the company had a cult following among the — no joke — one in four women that are mildly incontinent.
"We realized that our market with Sexy Period was smaller than we need it to be," Sygiel told the Cut at the relaunch party. A Kentucky native, Sygiel looks like Suri Cruise grew up and pledged Kappa. Her mom poured Champagne and fresh cranberries into plastic cups while a hipster seamstress with a top knot customized Dear Kate underwear with bows and roses. Sygiel told me she hopes that dropping the "in-your-face" branding will broaden their appeal to new moms surprised to find themselves peeing their pants at every good joke or strenuous yoga pose.
"We've never had children but we're learning things about pregnancy no one told us," said Sharon Ruggieri, Dear Kate's 28-year-old blonde COO, like why the women in her no-men-allowed aerobics class dread jumping jacks.
"People say 'I laughed so hard, I peed my pants,' but I never knew it was real," Sygiel added.
Sygiel founded the start-up as a junior at Brown University in 2008 in an entrepreneurship class crowded with jocks and frat boys, some of whom showed up to fête the relaunch. Her market research consisted of surveys in the women's bathrooms of the student center (a sample admittedly short on new moms). When word spread that her class project involved lingerie, her elevator pitch presentation became one of the class's most highly anticipated.
"We had our Powerpoint up with a picture of the sexy bikini, and their eyes were so wide, they could not wait for our pitch," Sygiel said of her male classmates. "And then my co-founder at the time, Eunice Png, started with, 'Did you know that 60 percent of women experience menstrual spills every month?' Literally, their faces dropped. I have never seen men change their expressions so fast."
Dear Kate, which is manufactured in New York, will be in stores December 20 and is available for preorder online.