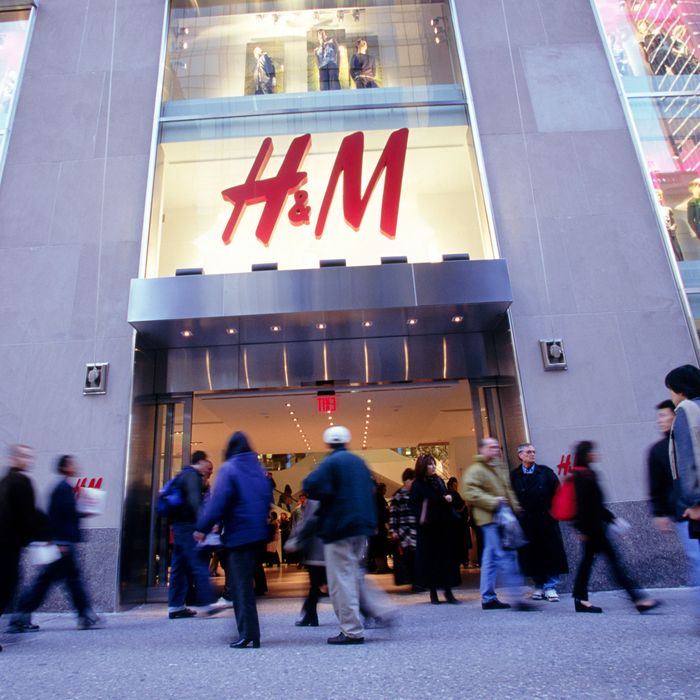 Photo: Erik Freeland/Corbis
Around 7 a.m. last Thursday, the first items from the Neiman Marcus for Target holiday collection showed up on eBay. That was 12 hours before the VIP shopping event where Target's celebrity friends got first access to the merchandise, more than 24 hours before the first shoppers stepped into the Fifth Avenue pop-up shop, and two days before it was available to the general public at the two retailers and their websites. Somehow, eBay user stellastuff18 had gotten ahold of the Alice + Olivia black-and-white-striped rolling suitcase with gold-colored hardware. If you'd gone for it at 7 a.m., you could have scored it for $449.99.
Then the VIP event happened, and the first small wave of items hit the auction site. Then the pop-up opened and a second wave came; there were somewhere between 100 and 150 by Friday afternoon. By Saturday, prices for the Alice + Olivia luggage from other sellers had fallen to the mid-$200s, but it didn't matter: You could buy it full price from Target for just $179.99 plus shipping. Bidding was at a standstill. So had collaboration fever come to a halt?
When eBay was founded in 1995, the first sale was of the founder's broken laser pointer, which went for $14.83. The high-end/low-end diffusion line originated years later, in 2003, with Isaac Mizrahi for Target. The contract was a coup for the retailer and marked a major reinvention for the designer, but came and went in stores without achieving the legendary eBay insanity that defined later collections. By 2004, when H&M launched a line with Karl Lagerfeld, the Daily News reported that 57 items from the Lagerfeld for H&M collection had found their way to eBay the day after it hit stores. (Lagerfeld himself complained that H&M had produced insufficient quantities, and it quickly sold out.) ebay gave shoppers a second chance, especially those who didn't live near a shop, and that cycle of consumerism would repeat itself over the years — a quick flare in stores followed by a slow burn online — as the demand endured. Even last fall, Versace and Missoni tie-ins were especially chaotic for H&M and Target, and equally intense on eBay: Versace was huge, but not as huge as Missoni, which Fashionista reported had more than four times the number of listings.
Every gravy train, however, has a caboose. To outdo its competitor, or avoid collaboration backlash, H&M produced larger quantities of its most recent collaboration, with quixotic Belgian designer Martin Margiela, than ever before. But two weeks after the clothes were released, some New York locations were advertising markdowns. The same day stores received the line, Racked was calling the eBay scene a buyer's market.
Stephanie Ospina, who goes by iliveforlanvin on eBay, was trying to sell a Margiela biker jacket for $525.99 — nearly double its retail price. "Originally, I had all the bon bon clutches, the sneakers, the motorcycle jacket, the body suit, a sweater, fannys pack for men," she says, sounding upbeat, although a review of her online store revealed that almost all of it remained. Ospina says that she's been going to fashion shows with her mother since she was 12, and that the two of them have been collecting Lanvin for years. "Half of these things we don't even wear, and we just have to look at and admire because they're so beautiful." So the eBay store was the solution to a messy closet, not a business idea. It was the same with most sellers who spoke with the Cut: Each one posted what they liked and not what they thought would sell, and they weren't making much money in doing so — like a Pinterest board, but with random prices assigned. One Margiela seller, too nervous to have her eBay handle published, said her interest in the collection was "personal," but the items weren't moving. Another user, capitolcityclothes, who is a student of international management in Louisiana, added, "It's just a way to spend a little bit of time for me."
For Jennifer Lubke-Wheeler (eBay: czuklz1968), a stem cell researcher in Madison, Wisconsin, it's a hobby and a job. She started two years after her husband lost his job, when she was "getting sick of not being able to pay bills." She had never even heard of Missoni when her sister called and asked her to pick up some pieces from the Target collection on her way home from work (there are three Target stores within a five-mile radius of Lubke-Wheeler's office). She liked the range so much that she bought up nearly the entire collection for herself, and then extra she could sell online. She did the same for Jason Wu. Although she tries to resell things for double the retail price, her average profit is just $5 to $10 per item. In one year, she's made $15,000.
An eBay spokesperson says the company "supports and encourages new approaches to retail," and they've even launched their own holiday diffusion line (with Chris Benz, Billy Reid and Tibi among others) to see how profitable collaborations can be. H&M ignored repeated requests for comment, but Maison Martin Margiela was unfazed by the resellers. "Our philosophy isn't limited to the locations in which customers purchase our designs," one employee wrote via e-mail. "So point of sales, be they on the secondary market, are inconsequential to the Maison." Target spokeswoman Jessica Carlson was a bit more resigned: "To be honest, we really do encourage guests, if they're looking for a specific item, to shop in our stores for those items," she says. "Obviously, with past collections, they're no longer available in our stores, but with this collection" — the one with Neiman Marcus — "that's really the only way that we can guarantee that the guests are getting the best price."
But as collaborations have become so prevalent, that may not be true. Once items make it to eBay, the spokesperson pointed out, "the prices stabilize and reflect the actual consumer demand." The key to the high-low eBay dynamic was always demand outstripping supply — items selling out in store and people still wanting them — but now we're seeing what happens when that relationship tilts. As of this writing, a search on eBay for "neiman marcus target" turns up 2,571 listings, and the only ones with bids are selling below retail. The Alice + Olivia suitcase is still there, although the price has been reduced to $349.99, just $170 more than it would cost you at Target. Remarkably, there are no takers.