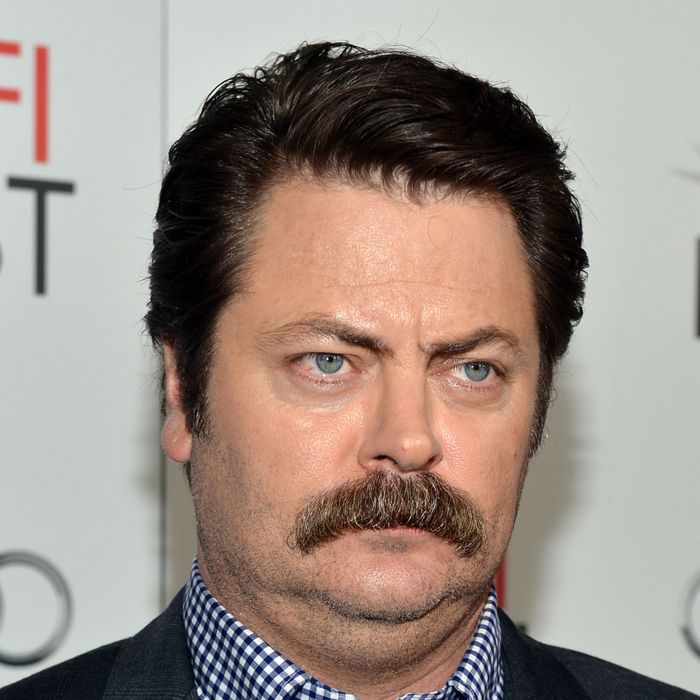 Nick Offerman, the official upper lip of Movember.
Photo: Alberto E. Rodriguez/Getty Images
Men love to talk about facial hair. It's an instant conversation starter: how often he shaves; what kind of facial hair he's capable of growing; if he secretly yearns for a glossy, lush goatee. Even if he's clean-shaven for a boring reason, like a corporate job, a man will usually have something to say about this. "I grew it out once last year, and my girlfriend almost dumped me," perhaps. Or, "Thank goodness, because I can't grow facial hair anyway."
Therein lies the brilliance of Movember, an Australian-born initiative to raise awareness and money for men's health by asking men to grow mustaches during the month of November. "It's a fairly simple concept," Movember COO Jason Hincks told me over the phone a few weeks ago. "We only have one product, and that's the mustache." This year, the movement had well over a million partipants (1,124,765, to be exact), blowing past last year's record of 855,000. They also raised a record-breaking total of $117,810,408.
So how did Movember's organizers transform men's health, a subject traditionally considered to be un-manly, into a rapidly growing global trend? Notably, Movember's origins had nothing to do with health or charity. "It started in 2003 as a conversation in a pub on a Sunday afternoon, as many good ideas do," explains Hincks in his Aussie drawl. A group of male friends were bemoaning the increasing rarity of mustaches and decided to organize a sort of boys' club rebellion. "A couple of beers later, no doubt, they made a bold commitment to bring back the mustache," he says. Gathering together 30 men, they all grew facial hair the following month, which happened to be November.
Their efforts touched a nerve. "The conversations initiated by the mustaches and the recognition they got for growing them made them realize there was potential for something bigger," says Hincks. In 2004, they got 450 men to grow mustaches, and coupled it with a fund-raising initiative that brought in a total of about $45,000 dollars, which they then decided to donate to the Prostate Cancer Foundation of Australia.
Men are notoriously unwilling to talk about their health, especially when it involves the word prostate, and certainly not to one another. Women, on the other hand, are far more prone to discuss their bodies, which is why they're much more likely to consult their doctors, catch diseases early, and live longer. A widely cited 2001 study by the Centers for Disease Control found that men are 100 percent less likely to visit a doctor for care than women. (Case in point: As I type this, a female friend is texting me about her UTI.)
Indeed, Hincks says that much of Movember movement was modeled after Breast Cancer Awareness Month, which has raised billions of dollars over the past 25 years. "Women are much, much more aware of the risks that they face, and what types of tests and examinations they should be undertaking," says Hincks. But the awareness-raising tactics that work for women, like pink ribbon paraphernalia, won't work for most men.
That Movember began as a movement to reclaim something intrinsically masculine — the mustache — has been an essential part of its success. Men may be squeamish about discussing their health, but they will talk about their facial hair, which in turn leads to more serious discussions. "We like to say that those little hairy billboards under our noses tend to be the most powerful conversation starter that we have," says Hincks. "It may start off as friendly ribbing, but they do fairly quickly turn to the causes that sit behind the mustache."
While there are no concrete studies on Movember's efficacy, the organization has heard from thousands of men who say that, for the first time in their lives, they've had conversations with their fathers, uncles, or other male family members about hereditary health risks. And research shows that simple conversations often lead to better education and, finally, health-seeking behavior.
Movember now operates seven offices — four main ones in Melbourne, Los Angeles, London, and Toronto, as well as small satellite offices in South Africa, Ireland, and New Zealand; they've also made inroads in Asia and central Europe. But perhaps the best indication of the movement's success is growing commercial interest. Several men's grooming brands have smelled a trend and launched corresponding ad campaigns. If you live in New York, you've surely seen the Movember-pegged Art of Shaving ads in subways over the past month. The brand also provided free mustache trims throughout the month of November and a free shave on December 1.
Meanwhile, Gillette launched a series of Movember-themed initiatives for the first time this year, including a Facebook contest for best mustache. The contest's winner will have a time-lapse video of his hair growth played in Times Square. "We're calling it 'Your 15 MOments of Fame,'" explained Gillette representative Susan Baba, who says traffic to their Facebook page has increased significantly as a result.
Movember participants are the ideal targets for sexy male brands. The movement is largely dominated by men ages 18 to 35 who live in urban areas — generally a group with plenty of disposable income. That this demographic has become Movember's core is no coincidence: With its slick website, rugged aesthetic, and cheeky taglines, the organization has carefully marketed themselves to a youthful, savvy crowd. For the past three years, they've done creative campaigns with masculine themes supported by viral videos, tutorials, and other content to boost web traffic. Last year's theme was "The Country Gentleman," and involved material on how to fish and build a campfire. This year's is "Movember and Sons," which targets the transfer of knowledge between male generations. "Not only is that fun, but there's also a nice symmetry in terms of men's health," explained Hincks. "We're encouraging men to have health conversations with their fathers, because a lot of health risks do come from your parents."
The trick now is for Movember to take its efforts even more mainstream. This involves getting cool celebrities, like Nick Offerman, the mustached star of cult comedy Parks and Recreation, who ate a raw onion on-camera for Movember's website this year, to participate. Several athletes have also signed on, and Gillette enlisted rapper Andre 3000 to do Movember-themed public appearances. See our slideshow of famous upper lips from this past month, and prepare yourself for a furry onslaught next year, when Movember celebrates its tenth anniversary.
Related:
A Tale of Five Mustaches: Movember, Week Four
A Tale of Five Mustaches: Movember, Week Three
A Tale of Five Mustaches: Movember, Week Two 
A Tale of Five Mustaches: Movember, Week One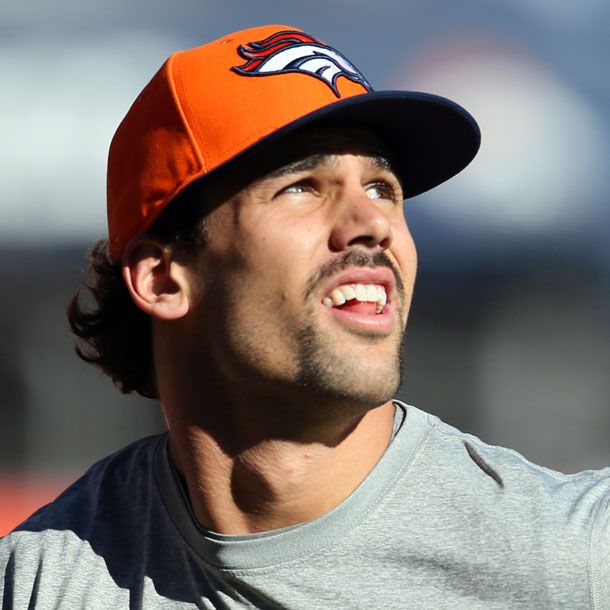 Eric Decker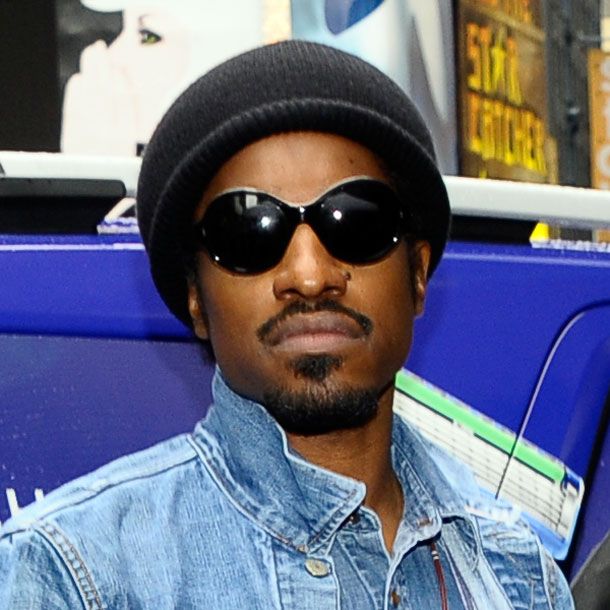 Andre 3000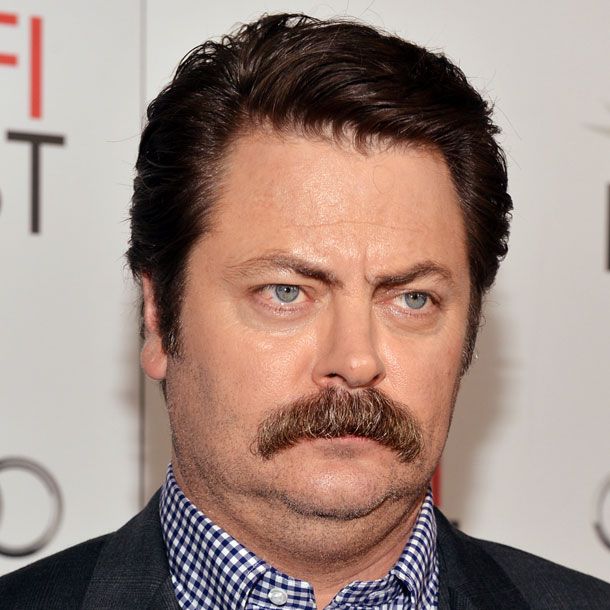 Nick Offerman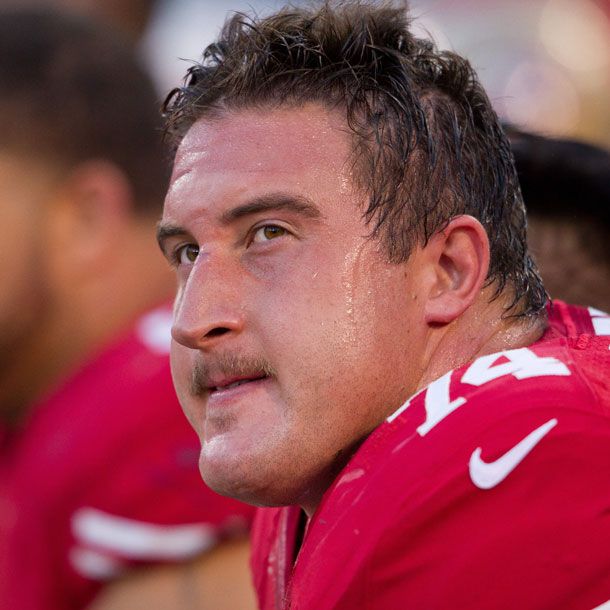 Joe Staley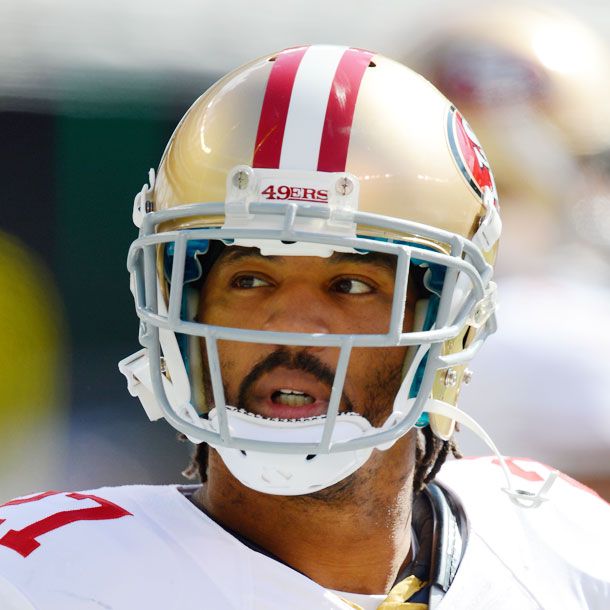 CJ Spillman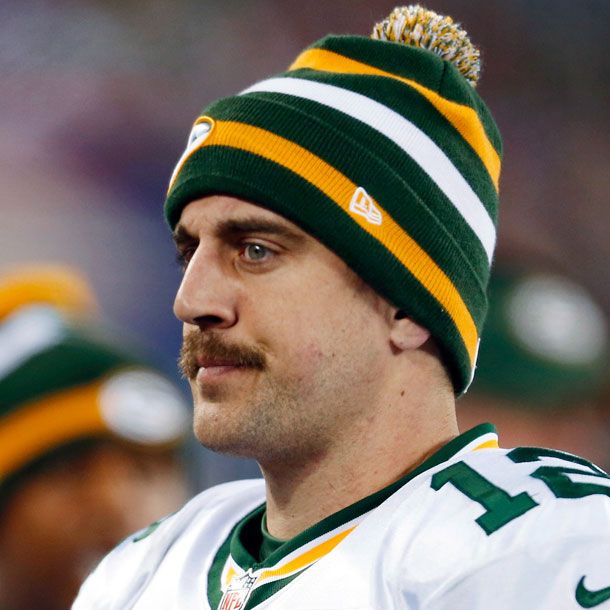 Aaron Rodgers