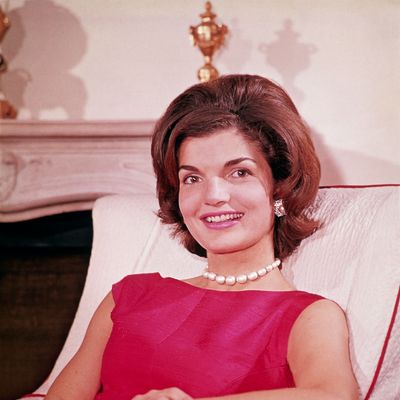 When you are from New England, certain truths are indisputable. Iced coffee is a seasonless beverage; whimsical bow ties are appropriate for family parties. And the Kennedy family is important and their dramas are absorbing.
Thus, it was with reverence and the inborn curiosity of a New Englander that I decided to give up Marilyn and become "a Jackie" for my latest historical diet experiment. Jackie has always been my favorite Kennedy, for her ability to speak French and the time when she reportedly declared: "Why worry if you're not as good at tennis as Eunice or Ethel, when men are attracted by the feminine way you play tennis?" That is a sentiment with which I wholeheartedly agree.
Jackie Kennedy famously watched her weight "with the rigor of a diamond merchant counting his carats," according to one poetic staff member. One diet consisted, according to legend, of nothing but a single baked potato, stuffed with Beluga caviar and sour cream, eaten once a day. Since surviving on caviar spuds is both financially and medicinally impractical (which would happen first, insanity or rickets?), I decide to bolster my Jackie Kennedy diet with recipes and practices from her housekeeper Marta Sgubin's cookbook, Cooking for Madam.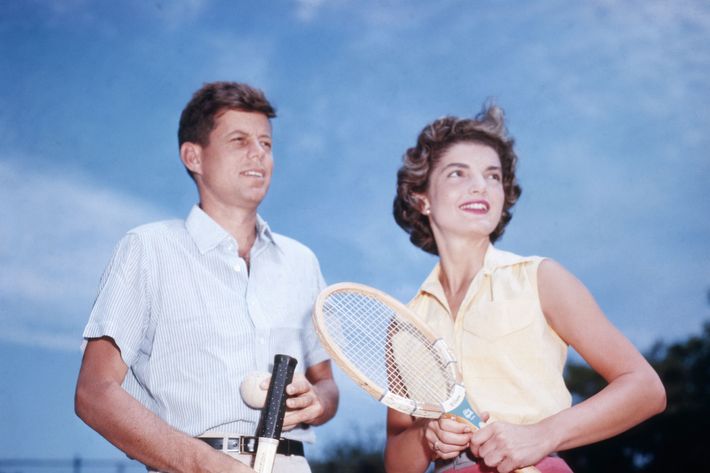 PREPARATION
Caviar is a surprisingly difficult thing to buy. For example, you cannot just go to Gristedes and demand caviar, because I have tried it. I decide to purchase my caviar at the Grand Central Station fish market in midtown. I am initially shocked (and rather outraged) that the tiny amount in a can smaller than the palm of my hand costs approximately 30 dollars. By comparison, though, this is cheap. Jackie Kennedy's beloved beluga caviar comes from a sturgeon only found in the Caspian Sea; according to Wikipedia it currently has a market price of $7,000 to $10,000 per kilogram and must be eaten off a mother-of-pearl spoon. To consume it today is to toy with illegality, so I decide that once again, I must sacrifice my art in the face of practical reality.
DAY 1
As I embark on my diet, I decide to live as Jackie did, and select white jeans and turtleneck to wear, even though it is winter. In Jackie Kennedy's high-school yearbook, she lists her favorite song as "Limehouse Blues" and her favorite saying as "play the rhumba next." As I put on my white jeans, I listen to Django Reinhart's rendition of Jackie's beloved jazz standard, which sounds like music that would play if you ever had a seizure in an amusement park. I like it!
I take a potato to work with me and microwave it within an inch of its life around 2 p.m. It emerges shruken and weirdly hard in some parts, but I cut it open, slather it with sour cream and caviar, and take a bite. Despite the vagaries of the potato itself, the concoction is delicious. I am not hungry for many hours, although I do leave halfway through an 8 p.m. showing of Anna Karenina, because I am too hungry to concentrate. Or maybe I just hated it, which is extremely un-Jackie of me considering the woman edited a Russian costume book and I cannot even get through a richly costumed movie version of a Russian classic.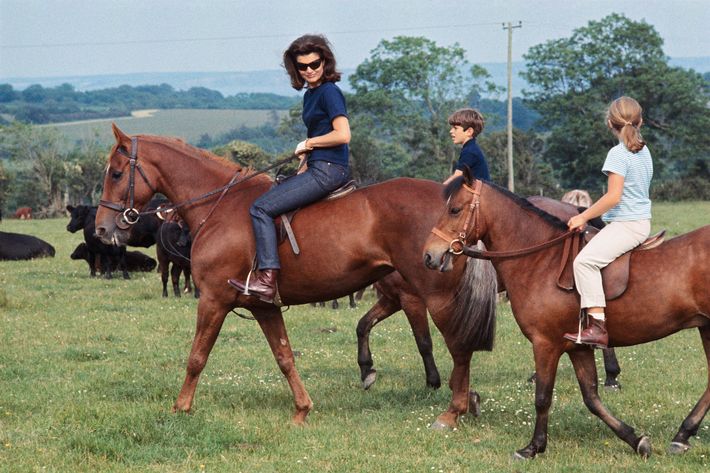 DAY 2
I wake up really hungry. This is to be expected, but still I am surprised given how well the "one potato" thing was going yesterday. I put "Limehouse Blues" on, but it makes me feel jittery. I eat a potato at work, then pack up my caviar and assorted potato accessories and board a bus to Rhode Island, where I am spending Thanksgiving. Packed in ice, the caviar gets its own seat.
DAY 3
I weigh myself in my childhood bathroom. I have lost three pounds in two days. This is by far the most effective diet I have ever done. But when I open my tiny jar of caviar, I realize I might be going crazy — it's nearly empty, which means I gave a piece of trash its own seat on a bus. I have cottage cheese and tomatoes for lunch today, which was one of Jackie's favorite lunches. It is a horrible combination, I must say.
DAY 4
Today is Thanksgiving. Cooking for Madam has a whole chapter about Thanksgiving, which Marta says was "opening day of the hunt" for the Kennedys. (Tallyho!) The menu is pretty traditional, so to honor Jackie specifically I choose a fruit dessert that Marta says Jackie preferred over other types of desserts. I make Peaches Cardinal, which is basically steamed peaches and raspberry sauce. It is not as good as pie and I am the only one who eats it. When my mother throws out the raspberry sauce — which has taken many hours to strain — I am tempted to call my mother "a real prune," as Jackie once called Indira Gandhi, but I do not.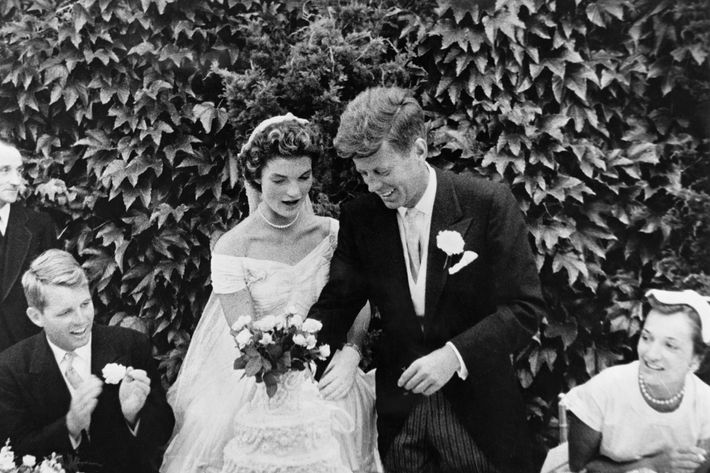 DAY 5
Today is my sister's birthday. We go to Newport, Rhode Island, the site of Jackie's wedding to JFK, and drive by the church they got married in. It is made out of brownstone and looks dark and imposing. I have mussels, another Jackie favorite, for lunch, and try to imagine how to say "Play the rhumba next!" in a way that would not completely disrupt a conversation.
DAY 6
After periods of heavy eating, Jackie would go on a fruit fast. Though my Thanksgiving binge also consisted of fruit, I do the fast anyway, which is not particularly terrible, diet-wise. However, it is rather hard to eat fruit while everyone else is eating Thanksgiving leftovers. People rib you about diet journalism. Food is an emotional conundrum, after all. A paragraph in Marta's cookbook about Aristotle Onassis illustrates this maxim quite well. Apparently one day, Onassis arrived for dinner after everyone else had eaten. He asked Marta to pass the salt and when she tried to hand it to him, he made her put it flat on the table. Then he said, "If you hand someone salt, you will have a fight with them and I don't want to be fighting with you." Very puzzling, but probably true?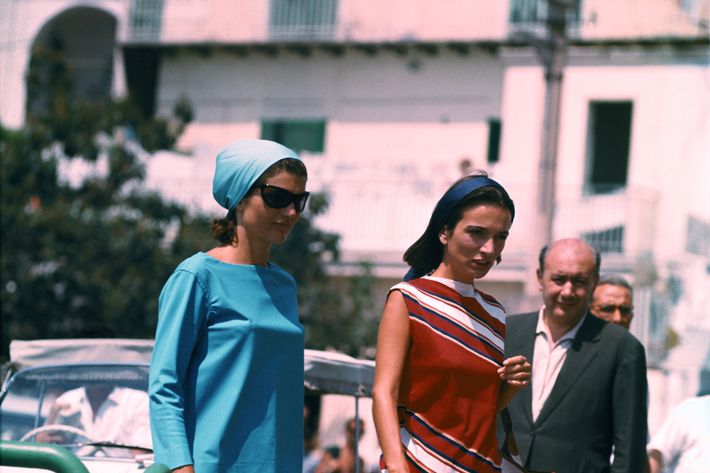 DAY 7
Today I decide to make the dinner Jackie lovingly supervised when her sister Lee Radziwill came to visit in Washington. The menu involves poulet à l'estragon — basically chicken cooked in oil and tarragon — and casserole marie blanche, which involves sour cream and cottage cheese. At the time these dishes were the height of sophistication. In her book Grace and Power: The Private World of the Kennedy White House, Sally Bedell-Smith notes that the Kennedy-Radziwill party attendees sat at tables "covered in yellow linen with white, embroidered organdy top cloths, and decorated with low vermeil baskets of spring flowers." They danced to a live orchestra until 3 a.m. In my version of the party, my mom and I eat the disgusting casserole as we watch Liz and Dick on Lifetime. Liz Taylor combined sour cream with cottage cheese, too. I still don't understand why anyone would do this, but chalk it up to the inscrutable sixties.
DAY 8
Back in New York, my poor friend and I make a dinner after Jackie's own heart: bay scallops with small strips of pepper and a spinach risotto. Jackie was a big fan of risotto, but I am concerned that this recipe does not incorporate cheese, which has been essential in most risottos I have loved. This is just rice mixed with spinach leaves I put in a blender. It is supposed to turn a "nice green color" and I guess it does, if that is a thing that food is supposed to do. It tastes like dirt. As Marta said, "That was the thing about Madam and food. She was very refined about it in the ways she was about everything, but [dining] wasn't really what she was most interested in."
DAYS 9–10
I have just gotten to the part in Marta's cookbook where Jackie discovers Lean Cuisine. According to Marta, "She couldn't get over that you just had to put one in the oven and after a short time you took it out, and there was everything from soup to dessert. She thought that was great." I don't know what this means — soup and dessert, all in one Lean Cuisine? Are we eating the same Lean Cuisines? I buy a Lean Cuisine mac and cheese and microwave it for lunch. A suspicious amount of water collects at the bottom of the tray — soup?
DAY 11
I am off the diet and feel both thinner and more refined. My white jeans even fit better, even though I will never wear them again. In the end, Jackie had impeccable taste, even in diet food. Despite the times in which she lived, she always ate pretty okay things and wrote such incredibly nice notes to Marta, including a particularly gushing one about mango sorbet. She makes Liz and Marilyn look like low-class broads in comparison. Diets, it turns out, can be elegant affairs. Play the rhumba next!