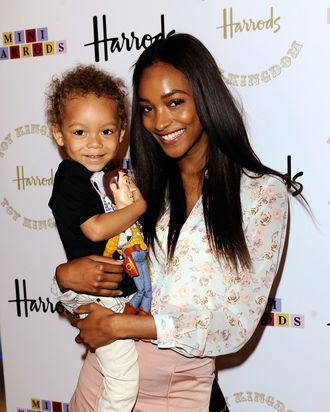 The 22-year-old model, host of Well Dunn With Jourdan Dunn, and — of course — mom to Riley, age 3, talked to British Vogue about her "balancing act." As the story goes, Dunn found out she was pregnant at 18, and soon learned that her baby had sickle-cell anaemia. She continued to work until she was six months along, famously booking a slot on Jean Paul Gaultier's spring 2010 runway. She told the magazine:
I have felt very supported within the fashion industry. The agency really looked out for me. I went back to work after nine months — I didn't feel any pressure to go back quickly, and when I did everyone was really supportive. I've had a good experience. The models with children would make sure I was eating properly and gave me a private area to breastfeed, and Heidi Mount, who has a child, is great.
Support within the industry? Models helping models? A magical place backstage where a woman can breastfeed unbothered? We take back everything we've ever said about dresses and skinny people. Dunn adds, "More than anything, having a son has made me realise I have to make shit work: I'm his voice, I'm his lifeline, I have to be driven. I think he pushed me in the right direction. I've always been ambitious, but now I have more focus." And a little man she has to keep an eye on. Wink.