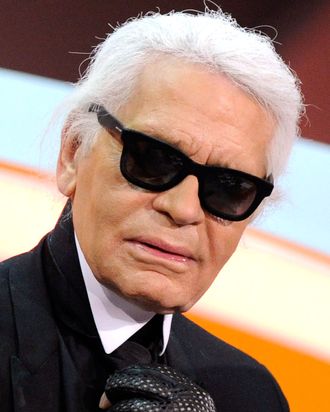 Karl Lagerfeld.
Photo: Marius Becker/© Corbis. All Rights Reserved.
Remember when jelly sandals were really cool in the nineties, and the Gap sold sparkly high-heeled versions that our middle-school selves were terribly impressed with? (Mom outlawed them, which obviously compounded the fixation.) Anyway, the trend is on its way back again: Melissa, a Brazilian brand that recently opened a store in New York, has resurrected the style with their all-rubber footwear, which resemble a three-way combination of Crocs, rain boots, and normal cute shoes. Now they've enlisted Karl Lagerfeld, who never met a random collaboration he didn't like, to design capsule collections for the next four seasons, WWD reports.
Starting in March, Lagerfeld will debut four styles of rubber shoes for fall 2013, which his company's CEO calls "truly ironic, fun fashion products." Thank goodness they're not sincere, serious fashion products. Maybe they'll even have Choupette's face on them — or at least his own.