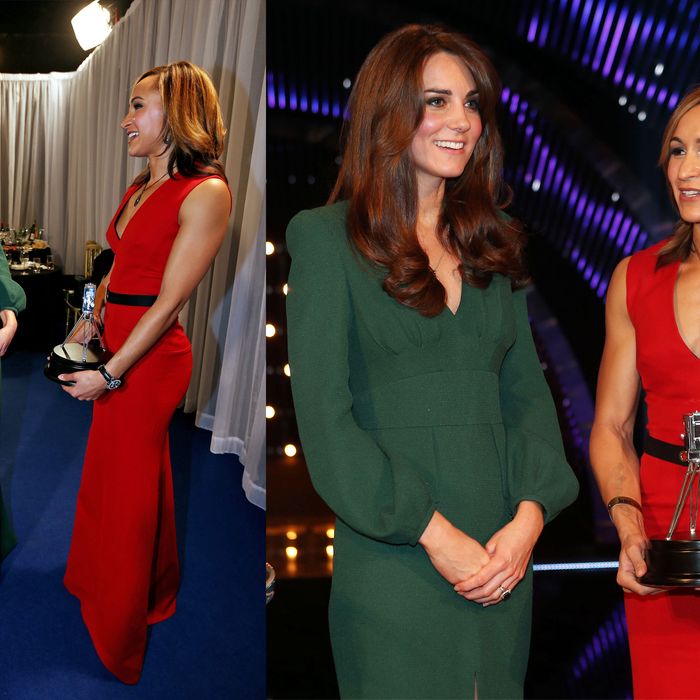 Kate wore McQueen.
Photo: David Davies/PA/AP
Although journalists predicted that pregnant Kate would stay cooped up in the palace until Christmas Day at the earliest, she made a surprise appearance last night at the BBC's Sports Personality of the Year Awards, where she presented a trophy to Bradley Wiggins and, best of all, stood next to David Beckham onstage. Dressed in a long Alexander McQueen dress with loose sleeves, a peplum, and a slit up the leg, she didn't look any more pregnant than she did last week, which is to say she didn't look pregnant at all. She stuck around for less than an hour before being whisked back to her sick bed, according to the Telegraph; her health has reportedly improved, but she still needs a lot of rest.
So, let's discuss her dress: It looks quite a bit like the green and black McQueen ensemble she wore to play field hockey at St. Andrew's just over two weeks ago, complete with the belly-friendly split-front peplum — not that her belly looks any different from normal. Perhaps Sarah Burton really did pop by Kate's cottage last week when she collected her OBE at Buckingham Palace. Either way, if custom McQueen remains Kate's maternitywear of choice, then this shall be a very glamorous pregnancy indeed. See video of her appearance, below.