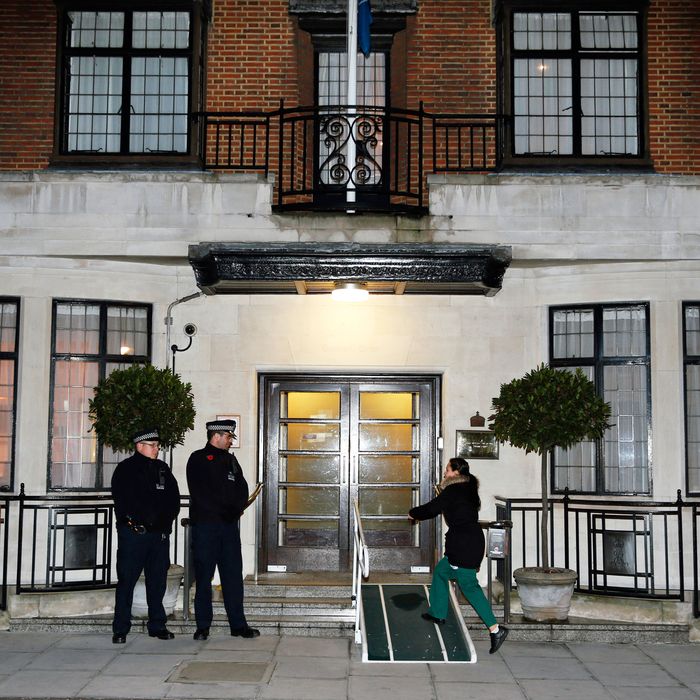 A nurse enters King Edward VII Hospital earlier today.
Photo: Lefteris Pitarakis/Corbis
Jacintha Saldanha, a nurse at King Edward VII Hospital who answered a prank call made to Kate Middleton earlier this week, was found dead at 9:30 a.m. today, possibly owing to suicide. Paramedics were immediately summoned when her unconscious body was discovered a few blocks away from the hospital, but they were unable to revive her. Authorities have called her death "unexplained," and police are currently investigating, according to the AP. An earlier report from the Daily Mail said Saldanha was the receptionist who mistakenly patched through the aforementioned call; a subsequent report from the Telegraph confirms that she was a nurse helping out at the reception desk.
On Wednesday, two Australian radio announcers called the hospital pretending to be the Queen and Prince Charles. Middleton's nurses fell for the prank and revealed confidential information about the duchess's health over the phone. The radio station has since apologized, but they continued to broadcast more details about the call, with one of the D.J.'s tweeting just seven hours ago, "It's almost show time!! The latest on the #RoyalPrank is coming up on the @Hot30Countdown!!"
Update: The two Australian D.J.'s behind the prank call, 2Day FM's Mel Greig and Michael Christian, have been taken off the air, according to Reuters's Matthew Keys.* Their Twitter accounts have also been taken down.
Update 2: King Edward VII Hospital has released the following statement, according to the Telegraph:
It is with very deep sadness that we confirm the tragic death of a member of our nursing staff, Jacintha Saldanha. Jacintha has worked at the King Edward VII's Hospital for more than four years. She was an excellent nurse and well-respected and popular with all of her colleagues. We can confirm that Jacintha was recently the victim of a hoax call to the hospital. The hospital had been supporting her throughout this difficult time.
The hospital's chairman and CEO have also extended their condolences to Saldanha's family.
Update 3: A spokesman from St. James's Palace has released the following statement on behalf of Kate and Will:
The Duke and Duchess of Cambridge are deeply saddened to learn of the death of Jacintha Saldanha. Their Royal Highnesses were looked after so wonderfully well at all times by everybody at King Edward VII Hospital, and their thoughts and prayers are with Jacintha Saldanha's family, friends and colleagues at this very sad time.
Update 4: Prank callers Mel Greig and Michael Christian have been suspended indefinitely, according to a statement released by Southern Cross Austereo (SCA), the radio conglomerate that operates 2Day FM:
Southern Cross Austereo (SCA) are deeply saddened by the tragic news of the death of nurse Jacintha Saldanha from King Edward VII's Hospital and we extend our deepest sympathies to her family and all that have been affected by this situation around the world. 

Chief Executive Officer Rhys Holleran has spoken with the presenters, they are both deeply shocked and at this time we have agreed that they not comment about the circumstances. SCA and the hosts have decided that they will not return to their radio show until further notice out of respect for what can only be described as a tragedy.
Earlier: Kate Middleton's Nurse Fooled by Prank Caller
* Correction: the prank callers have been taken off the air, but they have not been fired.