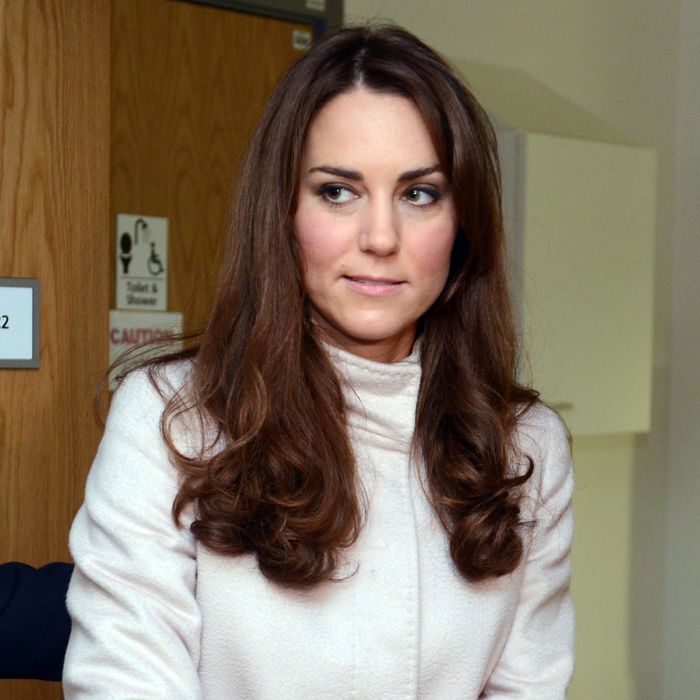 Kate Middleton.
Photo: WPA Pool/Getty Images
Two presenters from an Australian radio show, 2Day FM, pretended to be the Queen and Prince Charles when they prank-called King Edward VII Hospital yesterday to ask about Kate Middleton's condition. To their surprise, the receptionist put their call through to Kate's personal nurse, who gave the callers confidential details about the Duchess's condition, reports the Telegraph. Presenter Michael Christian, who was pretending to be Charles, said he was "completely shocked" when the hospital fell for it, explaining, "I thought we'd get hung up on!"
The radio station later released a version of the recording (embedded below) after editing out information about Kate's condition to protect her patient privileges. Their spokesman has since stated, "2Day FM sincerely apologises for any inconvenience caused by the enquiry to Kate's hospital, the radio segment was done with the best intentions and we wish Kate and her family all the best." Christian also said he regrets his actions:
We were very surprised that our call was put through, we thought we'd be hung up on as soon as they heard our terrible accents. We're very sorry if we've caused any issues and we're glad to hear that Kate is doing well.
Mel Greig, who impersonated the Queen during the call, opened the conversation by saying, "Hello, I'm just after my granddaughter Kate, I wanted to see how her little tummy bug is going." After the nurse answered her question, Greig continued, "Okay, I'll just feed my little corgis then," and Christian made barking noises in the background. The dialogue continued:
Greig: "When are you going to walk those bloody corgis?"
Christian: "Mumsy, I'll go and take the dogs outside."
A spokesman for the hospital said: "This call was transferred through to a ward and a short conversation was held with one of the nursing staff. King Edward VII's Hospital deeply regrets this incident."
The hospital's chief executive, John Lofthouse, said: "This was a foolish prank call that we all deplore. We take patient confidentiality extremely seriously and we are now reviewing our telephone protocols."
St. James's palace said it won't comment on the call, and they have not made a formal complaint to the radio station. However, it seems that 2Day FM is in plenty of trouble anyway, having broken Australia's broadcasting regulations that forbid radio stations from treating participants in a "highly demeaning or highly exploitative manner."
Meanwhile, the palace stated that Kate is "continuing to feel better" as she begins her third day in the hospital.
Related: 
Kate Middleton to Remain Hospitalized for Several Days
Kate Middleton's Hyperemesis Gravidarum, Explained
Palace Confirms Kate Middleton Is Pregnant