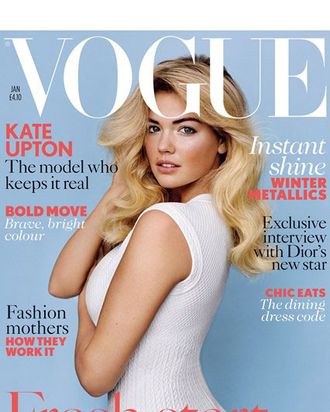 Kate Upton's debut British Vogue cover.
Photo: Vogue
Kate Upton has landed her second international Vogue cover, this time for British Vogue's January issue, out December 10. Amazingly, her cleavage is not on display in the picture — a monumental shift from every other magazine she's covered. How subversive! Alexandra Shulman explains her choice in the editor's letter:
When I decided to shoot Kate for our first cover of 2013, it was to kick off the year with a young woman who is not a stereotypical fashion model - although, let's face it, she's hardly a heffalump!
Oh, those quirky Brits! But Kate's continued popularity among the Vogues reinforces their collective campaign to make her their new poster girl for "healthy" models, whether people like it or not. Shulman also points out, "It's very rare for a girl … to move from one area of the business to the other, largely due to the fact that fashion models are almost without curves, whereas swimwear girls are celebrated for them." She's right, but Kate still has a ways to go; despite her editorial success, she still hasn't landed a major high-fashion ad campaign. Thus, the heffalump in the room remains: Kate may sell magazines, but can she sell clothes?
Related:
Can Vogue Make Kate Upton a Poster Girl for Healthy Models?