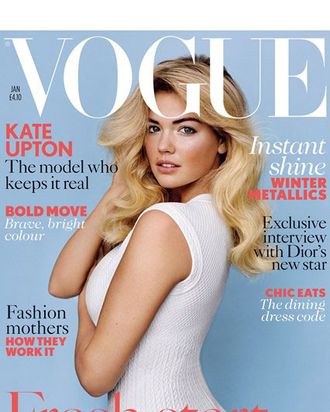 Kate Upton's Vogue cover.
Photo: Vogue
Kate Upton's British Vogue cover story hit newsstands today, and it features lots of predictable quotes about her boobs and overall body size. To her credit, Upton diplomatically navigates the "role model" label that the Vogues are so set on giving her:
I never imagined that I would be in a position to be a role model.  I just focused on being healthy and being the best that I could be.  I'm happy to be seen as a good example.  If I can help and influence girls who are going through body-image issues then I think that's amazing.
This is a smart answer. While it's great to see Upton, who admits that wearing sample sizes is "complicated for a model with boobs," succeeding in an industry overrun by prepubescent teens, this "role model" talk is pretty cheap until we see actual evidence of a shift in the business. Indeed, one wonders how much Upton's editorial popularity has to do with magazines wanting a token "healthy" woman — one who they know will sell, of course — to hold up as a poster girl for their good intentions. But does one successful Kate Upton offset basically every other model working today?
Of course, one hopes that Upton's increased visibility will provide yet another reason for the industry to diversify its beauty standards. Upton touches on this idea, too, quite articulately:
I'm sure every designer has a certain person in mind who they would ideally like to wear their clothes, but the problem is that a lot of the time that person doesn't actually exist, unless she is a 15-year-old model.  I don't really have a personal opinion on whether they should change the sizes of samples or not, but I do think it's a topic that should be looked at, and I do think there won't be many women buying those clothes, if, size-wise, they don't seem realistic.
She's right; what's more, it's wise of her to maintain a careful distance from these size questions. For the sake of her career's longevity, her measurements can't be her only selling point.
Related: 
Kate Upton Cleavage-Free on British Vogue Cover
Can Vogue Make Kate Upton a Poster Girl for Healthy Models?