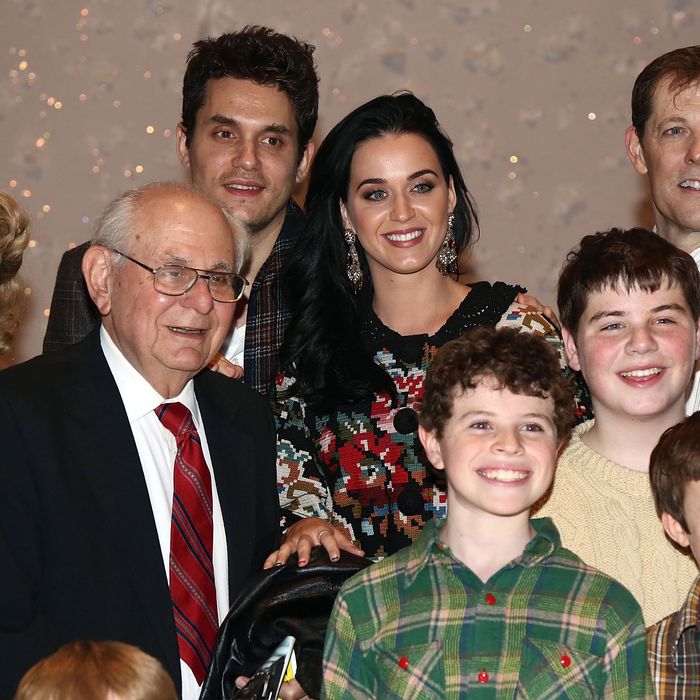 Katy Perry, John Mayer, John's dad Richard, and child actors.
Photo: Astrid Stawiarz/Getty Images
Now's the time of year to nail down whomever you've been making out with for the past few months. Even if you're still not sure about this person, you need a title to share with with your family, and "the guy I'm banging" is not an acceptable thing to say to one's grandmother. What's more, you can't dump someone right before the holidays, so you might as well throw in the towel and decide you're a real couple, at least for the next month. For Katy Perry and John Mayer, this involves walking red carpets together, hanging out with John's dad (see above), and posing for photos together in earnest instead of pretending to think they're not.
This has been a long time coming; the pair has been photographed together on and off since July, which means they've had quite a long time to decide what they "are" (four months is practically a decade in celebrity years). But this past week brought about several "firsts" for them, including Katy meeting John's dad, Richard, and her calling John her "boyfriend" in public when the three of them went to see Christmas Story on Broadway, according to Us Weekly. Before posing for photos with the children in the cast, Katy reportedly said to him, "Come on, baby, let's take a picture," a request that basically sums up John's love life, if you think about it.
The couple also went to the Rolling Stones concert in New Jersey last night, where they were photographed gazing up at the stage together with rapt expressions. Somewhere, a lonely Baptiste is wiping his tears with Choupette's tail.