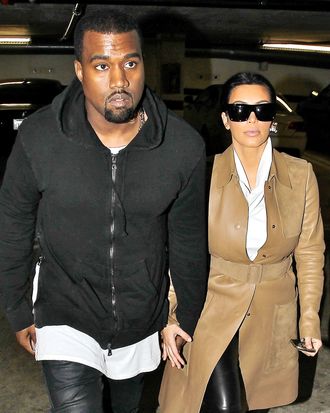 Photo: enewsimage.com/ /Splash News/Corbis
At a concert in Atlantic City last night, Kanye West asked the 5,000 fans present to "make some noise for my baby mama right there" (Kim Kardashian), before singing a song that contained the words "now you having my baby." Baby? What baby? Like a Céline cross-body bag or a tiny human being? Kim's sister Kourtney tweeted, "Been wanting to shout from the rooftops with joy and now I can! Another angel to welcome to our family. Overwhelmed with excitement!" Khloe wrote, "Keeping secrets is hard with so many family members! Especially when you are so freaking excited!!!!! LOVE is everything!!!!" And Kris Jenner posted, "Im a happy girl !!!!!!!!! Wowza!" So it seems it is a child! This also might explain why Mr. West dressed up as a crystal-encrusted sperm two evenings earlier.
Watch the heartfelt moment from Atlantic City below.