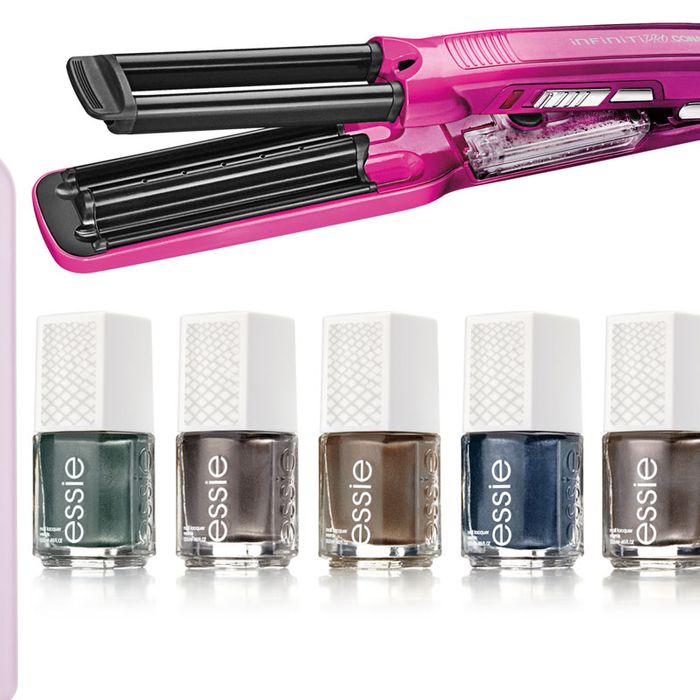 Each weekend, I test out a few of the many beauty products to hit my desk so you don't have to.
Conair Infiniti Pro Steam Waver ($68.99): This "wave-making" styling tool is not all that different from an eighties crimper. But this updated, very pink version adds steam and a blast of ions to quickly set the style without damaging follicles. Meanwhile, the tool can reach temperatures of 437 degrees, so it left my locks smelling like I got a little too close to a candle. The tongs also leave tighter crimps in hair, which left mine looking and feeling like a cocker spaniel's ears.
Essie Repstyle Nail Polish ($11.25 each): Available in six metallic shades, Essie's latest magnetic polishes leave snakeskinlike prints on nails. Of the five nails I tested this polish on, only two came away with the intended print. Here's the trick if you try it yourself: Get the magnet as close to the nail as possible, without ruining the still-wet polish. This means resting an edge of the magnetic cap on your cuticle, then angling it up just enough as to not touch the wet polish. If done correctly, the finished look leaves behind a chic 3-D effect on nails — great for women who are nail art averse.
Aveda Stress Fix Body Lotion ($28): Formulated with French lavender and clary sage, this new body moisturizer from Aveda is meant to use the power of aromatherapy to relieve tension. The overall scent is certainly calming, especially because it's reminiscent of those eye and neck pillows spas sometimes have in their waiting rooms. But the texture of the lotion is a bit watery and slow-absorbing, so don't try to put on a pair of skinny jeans post-application.