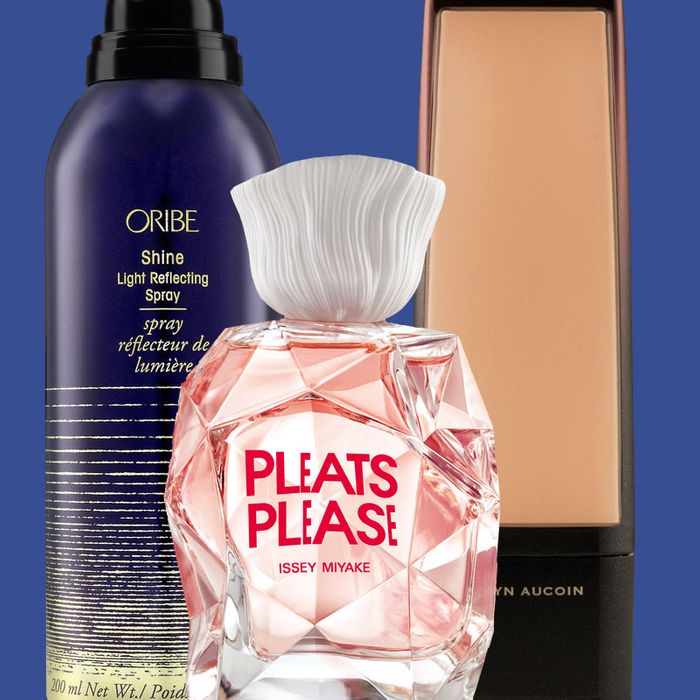 Each weekend, I test out a few of the many beauty products to hit my desk so you don't have to.
Kevyn Aucoin the Sensual Skin Tinted Balm ($48): This foundation-and-moisturizer mix has a soft, mousselike texture that instantly melts into skin. Like the name suggests, it doesn't provide full coverage — you'll still need a dot of concealer on trouble spots — but it manages to even out skin's tone and leave complexions a bit glowy. For dryer skin, like mine, regular foundation tends to cling and accentuate dry patches, but not so with this hydrating formula. The lightweight, ultrathin tube also takes up hardly any space in your makeup bag/vanity/tiny apartment bathroom. 
Oribe Shine Light Reflecting Spray ($36): My short, chin-length bob falls straight and usually doesn't need a lot of styling. During warmer months, I really do just wash and go, but during colder, winter months, I'll blast my hair with a blow dryer post-shower. This usually leaves a bit of frizz at the crown and a lot of static on the ends. However, a spritz of Oribe's spray calms the static without making hair any stickier. It's easily brushable so you can avoid that overstyled look. The shine factor is a bit harder to discern; I probably should've sprayed one side and not the other to compare, but the stuff smells so good that I keep getting carried away each time I use it. 
Issey Miyake Pleats Please ($66): The bottle itself, inspired by Miyake's collapsable Bao Bao bag and his signature pleats, is cute-cool enough to display anywhere — mine sat on my coffee table all weekend long. And though the top note is a very crisp Asian pear, the scent itself isn't too fruity. White musk, cedar, and patchouli make it a bit more grown-up and wearable, even during winter months.
Check out our full list of the best foundations for dry skin.