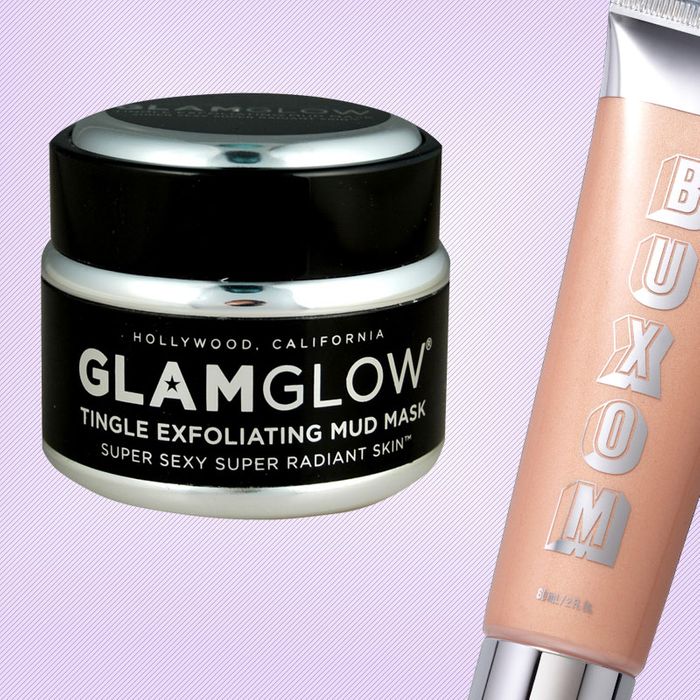 Each weekend, I test out a few of the many beauty products to hit my desk so you don't have to.
GlamGlow YouthMud ($69): This mud is supposedly loved by Hollywood gals for its instantaneous "super sexy super radiant skin" effects in just ten minutes. Throughout, your skin will feel like someone has taken a small amount of acid and slathered it all over your face. The burning sensation, which I kept cool by fervently fanning myself with a leftover Christmas card, comes from detoxifying and hydrating ingredients like green tea leaf, volcanic minerals, and French sea clay. Once it's washed off — use a soft wash cloth to get every bit of the greenish, lavender-scented stuff  removed —your skin will feel smoother, softer, and look a bit pinkish and radiant in the cheeks, like you've just been out in the sun. 
Buxom Divine Goddess Luminizer ($28): Though the product appears to be flesh toned, this liquidy luminizer doesn't actually have a tint to it. It goes on sheer, leaving behind a subtle trail of pearly-gold shimmer. Its consistency is thin enough to be mixed into foundations, rubbed all over legs and decolletes, or just dotted onto cheekbones for subtle highlights. On bare skin, it'll make complexions look lifted and glowy. For the face, you'll want to use the smallest amount possible, which can be tricky with its squeeze-tube bottle.
MAC Pro Longwear Eye Liner in Mountain Air ($19.50): I never wear liners that aren't on the black/brown color spectrum. But these grey winter days drove me to giving this teal shade a try and I was pleasantly surprised. Even as the only color on my face, it didn't overwhelm and I didn't look too tweeny. It just made me believe that more people should wear teal liner, as it contrasted excellently with my brown eyes. The liner lasted all day long without sliding around or melting off, even without a primer.