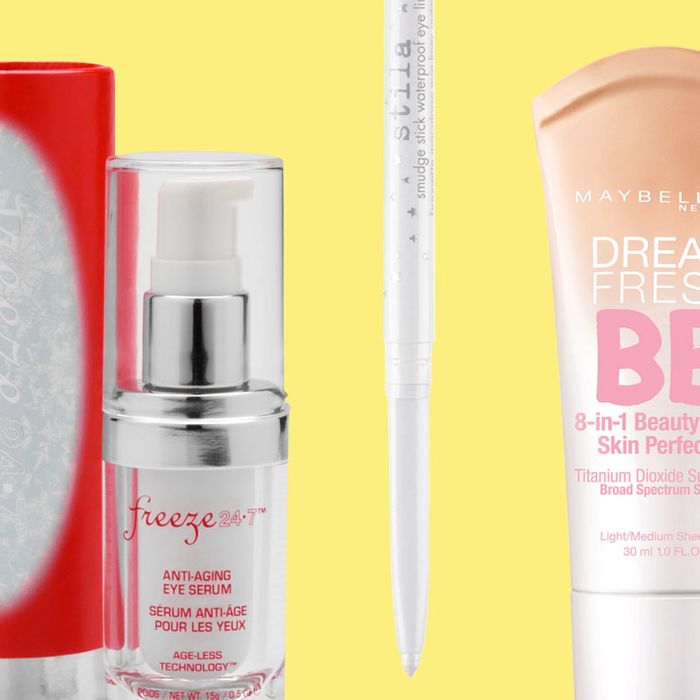 Each weekend, I test out a few of the many beauty products to hit my desk so you don't have to.
Stila Smudge Stick Waterproof Eye Liner in Empress ($20): This pearly white eye liner will be your surprising new go-to this holiday season. Since it's neither stark nor matte, the line it creates won't be as jarring and obvious as other white eyeliners. Dotted near the tear duct, it brings light and balance to a dark, smoky eye look. But if you draw it along the waterline on your lower eye, you will instantly look more awake. The pencil point is soft enough that it won't irritate sensitive eyes, and the shade instantly brightens whites of eyes without looking too retro.

Maybelline Dream Fresh BB Cream ($7.44): The best part about this BB cream is its texture, which feels like you're rubbing the smoothest pudding all over your face. The product blends in evenly and leaves skin looking naturally luminescent. It's too soon to tell if any of the brightening, tone-evening, or skin-smoothing effects are working, but this is one BB cream that feels as nice as a good, lightweight face cream.
Freeze 24-7 Anti-Aging Eye Serum ($115): It's meant to instantly eliminate puffiness, dark circles, and fine lines upon application. After a few days of testing this serum out, my under-eye area doesn't look any different, but I definitely enjoyed the sensation — cool tingling, tightening— that it provides. The only downside is that a lot of the liquid-y serum comes out with each pump of bottle, and you'll only need a quarter of the amount dispensed.