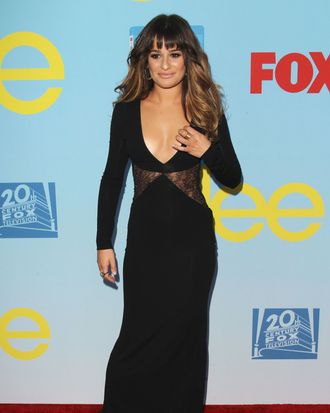 Photo: Jen Lowery/Splash News/Corbis
In her cover interview with Marie Claire this month, Glee actress and theatre kid par excellence Lea Michele discusses on-set/off-set boyfriend Cory Monteith, her rumored feud with Kate Hudson, and recent contract negotiations with her breasts.
"These babies are great" [she jokes, pointing to her breasts]. They are my prizewinners. For a while they were out and about, showing off on Broadway every night, then they came to L.A. and were like, 'No one else looks like me here!' They were nervous to make their appearance but feel they've earned their place. So they asked if they could come out, and I was like, 'All right, you guys.' They definitely rose to the occasion, so I'm going to continue to give them more opportunities."
Congratulations, Lea Michele's breasts.