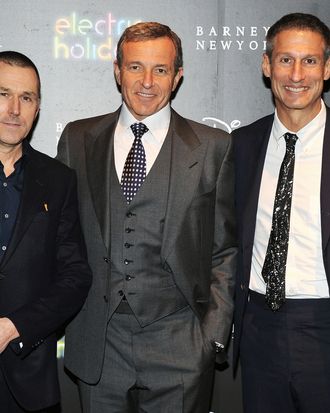 Richard Perry.
Photo: Theo Wargo/Getty Images
It's no secret that Barneys is in the process of recovering from its fair share of money troubles. Following bankruptcy in 1999, a decade of financial ups and downs, and a major overhaul of its executive team two years ago, the retailer was bought by New York–based hedge-fund manager Richard Perry this past May. Perry, who is profiled by Cathy Horyn in the forthcoming Sunday Times Magazine, acquired the store from Dubai-based Istithmar World and ushers in what could be a new era for the store.
Indeed, according to several people, Perry saved the store from a second round of Chapter 11: "If they didn't have someone like me to come to, they would have gone into bankruptcy," he told Horyn. So who is this magical Barneys savior, and what's he doing with the store? Eight facts, from Horyn's piece:
1.  He's very, very rich, and he likes to buy nice things.
Perry and his wife live in a $10.9 million penthouse apartment on Sutton Place and collect fancy art by the likes of Jeff Koons, Chuck Close, and Roy Lichtenstein. He's not really a "fashion" person, per se, but Horyn notes that he wears suits by Thom Browne and Lanvin.
2. He's married to Lisa Perry, a fashion designer whose clothing is carried by Barneys.
Although Perry counts his wife as one of his closest advisors, he insists she's not why he bought the store. Her clothes were carried by Barneys years before he took a financial interest, and he tells Horyn, "Listen, if it turns out Lisa's line is not doing well, I think Daniella [Vitale, Barneys' C.O.O.] will have a tough conversation with her."
3. He's not known in the fashion world.
At a Barneys party, Horyn had to explain to Inez Van Lamsweerde who he was:
[She] looked blankly after the man in the strange knit suit. When I explained that he'd just bought Barneys, she said, "Oh!"
4. He likes to invest in things no one else wants.
He tells Horyn, "Everything that people hate, I buy." 
5. He got a great deal on Barneys.
Perry generally avoids investing in high-end retail, because he thinks it's too risky; however, he considers Barneys a great investment because its precarious financial position allowed him to get it for a good price, and he always figured he could find another buyer if he wanted to. In Horyn's words, "No matter how difficult the retail environment, there would always be someone who wanted to own Barneys for the right price."
6. Some would say he got too good a deal.
One former executive tells Horyn, "His attitude was basically, 'You guys will never be able to make it work, so why don't you just hand over the company.' He was a bit pompous … the irony is there was nothing wrong with the company."
7. He's very hands-on.
He visits the Madison Avenue flagship four to five times per week, and urged Fred's restaurant to serve more local offerings.
8. He loved Raf Simons's Dior designs. 
And for that, Horyn loves him.