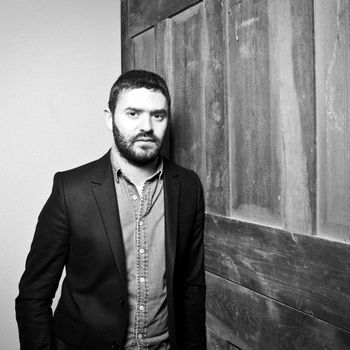 Over espresso and orange juice in Paris last week, 32-year-old Alexandre Mattiussi recalled leaving his "comfortable job" at Marc Jacobs three years ago. "I didn't want to be stuck in my life, I wanted to be happy in what I do," he told the Cut. "I always say, if I were a chef, I'd be opening a restaurant — I'm a designer, so I wanted to have my own brand." He began Ami two years ago, offering only men's clothes. "The guys are nicer, and the factories, actually, the people who make the clothes, are more quiet and calm and concentrated," he explained. "And because I am a guy, it was easier for me to think about clothes for myself at the beginning." The line was quickly picked up by Barneys New York, Mr. Porter, and Lane Crawford; however, Mattiussi had no store of his own until yesterday — when he opened his first boutique at 109 boulevard Beaumarchais in Paris's third arrondissement. Read on (and click through our slideshow) for more about the space and its apartment feel, details on Ami's "special commissions" — which may soon include a scarf created by Papa Mattiussi — and what's next for the so-called menswear darling.
Tell me what you were like growing up.
I was a very creative little boy when I was young … for ten years, I was a ballet dancer — a little Billy Elliot in my village [Laughs.] Then, at age 14, I realized, Oh my God, I don't want to do it anymore … so I chose to do my schooling at Duperré. I really wanted to make fashion — I liked the idea of being a not just designer, but working on a store or a show, doing a casting, and working with photographers to make beautiful pictures.
Before starting Ami, you worked at Dior, Givenchy, and Marc Jacobs.
At Dior, I was working on a line called 30 Avenue Montaigne. It was a link between Dior Homme by Hedi Slimane and the old Dior Homme thing — the classic suits and beautiful shoes. Dior's a big company, and because I was young and they didn't expect anything from me, I was more in observation mode. Then at Givenchy, it was more experimentation, and then Marc Jacobs was the end of my formation. At Marc Jacobs, menswear was kind of a game, I think, because they put all their energy in the womenswear collections and Marc by Marc. It was more of an accompaniment. Those were the perfect three jobs, and after, I felt ready to start my own brand.
So, tell me about Ami.
It means friend in French, and it's part of my name: the A from Alexandre, the M of Mattiussi, and the last letter of Mattiussi. When I started out, there was a disconnection between the things I was drawing and the things I wanted to wear personally — because it was too expensive and because it was too creative. I've always been pushed to make things more pretty, and I would say, "What about a very beautiful navy jacket?" And they would be, like, uh, no. I think people want something very simple. It's like when you go to the boulangerie or the patisserie, you see the cake in the window, you want to eat it, but really, you just want to look at it like, Oh, it's a beautiful cake, and then go away. For clothes, it is the same for me … it has to be the right balance of making a nice product with quality, with a creative point of view, but always easy to understand without conceptualizing or intellectualizing everything, because in the end, the concept can kill the clothes.
Your presentations are known for being laid-back.
At the beginning, it was because I felt like people didn't know me, so I thought it would be really impolite to arrive, and say, "Hello!" and do a show, or a catwalk. And again, because Ami means friend — and I wanted to make it a kind of friendship — I wanted to see how we can present a new collection without making it too "fashion," which is to say, back and forth with little 18-year-old blond guys. So, last summer we rented a beautiful house in the 14th [arrondissement] with a garden, and we had a picnic and a jazz band. The next one's going to be a little bit different, because we have lots of demands, and we can welcome more people now.
And how did you choose the location for your store?
They chose us. [Laughs.] Actually, it was because we've known the real estate agent for a long time and visited so many places. He called me six months ago, and … in the end, we came here. It used to be a decoration store — fabrics, curtains. And he said, "You have one day to say yes." It was a fight. Everybody wanted this space. But it was the right moment for us, because we planned it; you know, in the business plans, we said we wanted to open a store after the two first years. And that's what we are doing.
You told me it's going to have an apartment feel.
At the beginning, my brief was to make it a nice store, which doesn't mean anything — I wanted to make it elegant, to make it masculine, to make it comfortable, cozy, chic, but not pretentious. It had to be cool; it had to be easy to enter. It's sort of an apartment feeling, but it's not real, because there's just floors and the wooden racks I designed when I first started Ami. As for the dressing rooms, I wanted to make them big, because when you are a man, organically, you just don't like shopping, so you have to be in a very good mood, even listening to good music … This is the first store, so maybe it's going to be completely wrong. We worked with Studio KO — Karl Fournier and Olivier Marty are the architects. They are quite famous and we're very proud that they accepted to do it.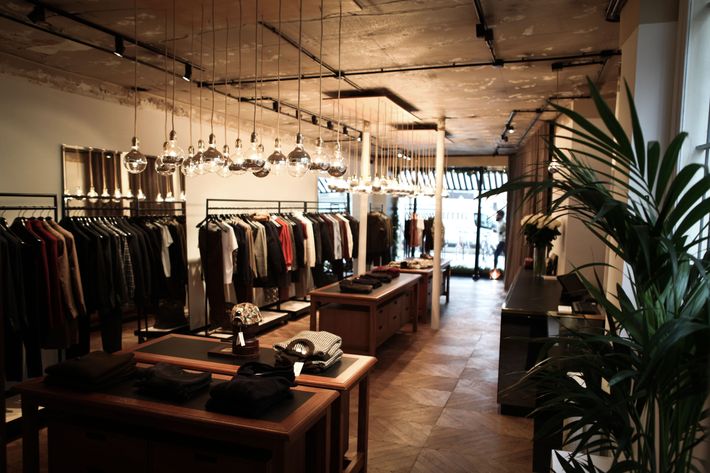 You'll also be selling "special commissions from friends."
It's like inviting people to dinner; I invite people to create something. It's a kind of collaboration, but it's not about going mainstream or doing marketing. It's a real invitation to a friend — someone I know, someone I love — to just express himself in a design. The first is with Larose, a caps brand. The guy is Canadian and he's working as a journalist in France, building his little brand. So we put together a cap with a flower print from our fall-winter collection. We're just making 30 of them. I always say my father will make something, too.
Your father?
Yes. [Laughs.] He wants to make a beautiful red scarf — big. He told me, "I always wanted to have a big red scarf," and I'm like, Okay, Papa, you will do it.
What's next for Ami?
It's just about trying things step-by-step. We want to open more stores, because this has been the best experience ever, just to connect with the customers directly. I want to have a store in London. I want to have a store in New York. We have a partner in Japan that wants to open stores fast, but I said, "Wait a bit." I don't want to be a millionaire. I don't have an ego. This is the life I wanted to have … to be better season after season, and try to be more precise in the way we do the collection — because in the end, we sell clothes.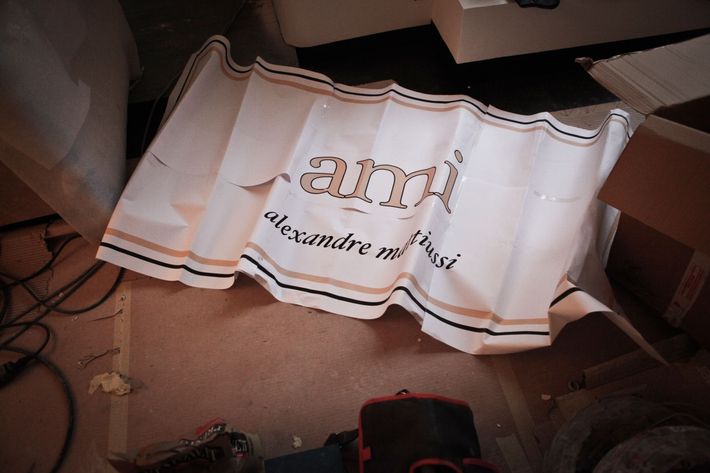 The store under construction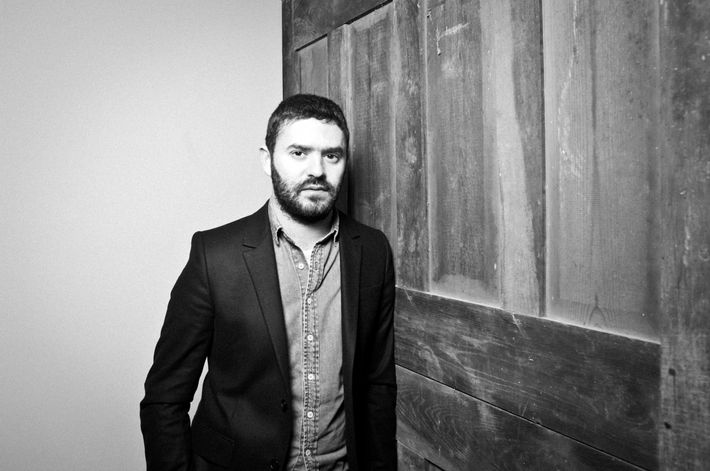 Alexandre Mattiussi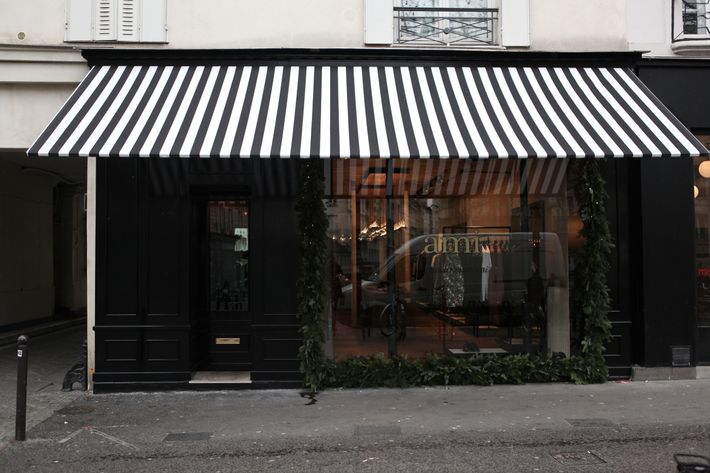 Opening day