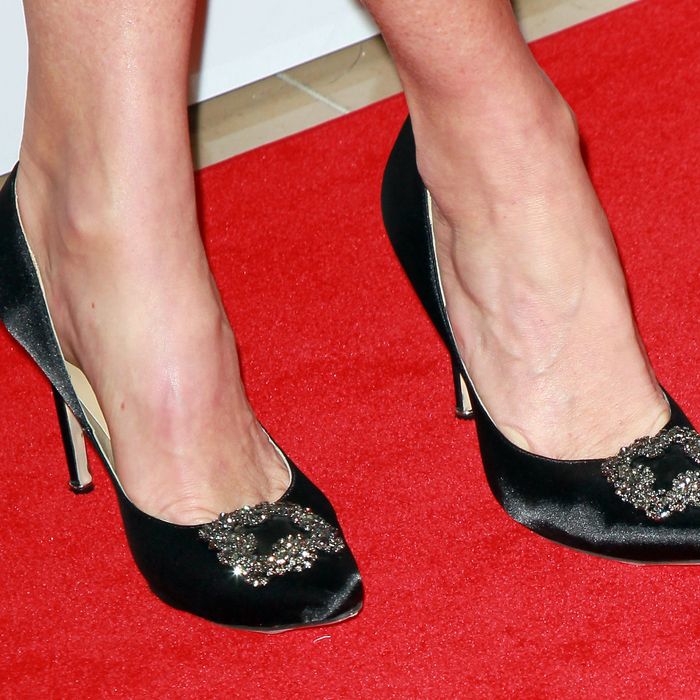 Manolo Blahniks.
Photo: David Livingston/Getty Images
Lots of sample sales hold special hours for "friends and family" (i.e. editors and socialites) to get first dibs before the commoners descend. Usually the fancier the brand, the stricter they are about the door policy. The annual Manolo Blahnik sample sale sends out nontransferable invitations about a week beforehand and actively denies people if they're not on "the list." One poor woman tried to check in ahead of us, and even though she had a paper invitation in hand, she was turned away when she let it slip that she was using her friend's name instead of her own.
The exclusivity of the sale makes it awfully civilized inside, though. Instead of crazy hordes fighting over sizes, a smattering of shoppers peacefully examined the offerings and tried things on at their leisure. So, this must be what it's like to get a real lunch hour, we thought to ourselves as we perused the tables. The staff was equally relaxed and cheerful, probably because of large, silver vats of coffee and the remnants of red-velvet layer cake served on china plates. When we took off our shoes to try on a pair of pumps, the carpet felt plush and expensive — a far cry from the cold cement of less luxurious warehouse sale venues.
The merchandise was mostly seasonal and didn't include a lot of basics. This means you'll find lots of the label's more exotic offerings, like floral-print kitten heels and bright-pink patent leather. "Do these make my feet look fat?" one customer asked her friend, modeling a pair of black suede sandals with furry pom-poms on the toes. Another freshly pedicured woman bemoaned the ordeal of suing her podiatrist. "It's really hard to press charges," she warned a fellow shopper. "At the end of the day, it wasn't about the money — it was about my feet. I had nerve damage! I had to get numbing injections in my soles." Nearby, Fern Mallis tried on a pair of slingbacks. (I'm happy to report that she and I have the same shoe size.)
The sale is cash-only, with prices ranging from $100 for leather pumps to $500 for specialty boots. It's not uncommon to see customers peeling apart rolls of hundred-dollar bills. We saw one woman buy exactly five pairs with a crisp stack of $50s.
The doors will open to the hoi polloi tomorrow, and it's sure to be mayhem — but if Manolos are your thing, it'll be worth it. Don't forget to wear slip-ons.
Sale open to the public on Thursday, December 6, 9 a.m. to 4 p.m., the Warwick Hotel, 65 W. 54th St., btw. Fifth and Sixth Aves.