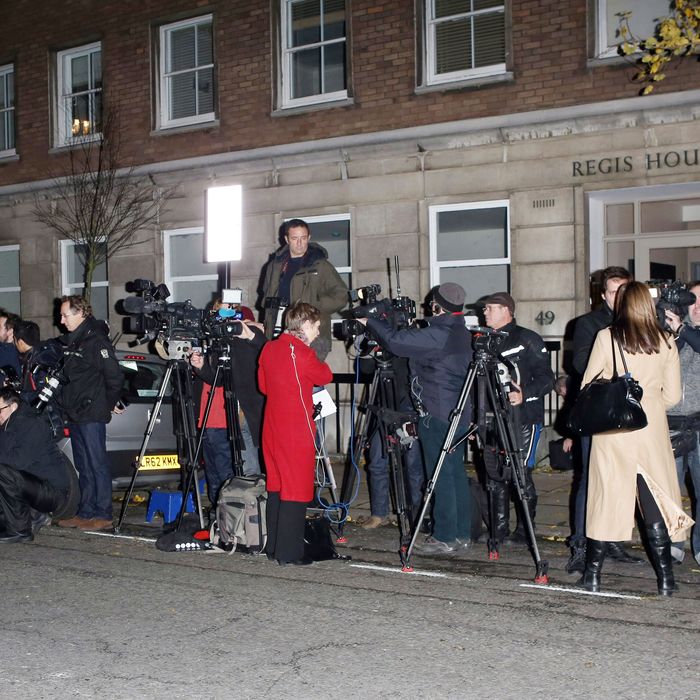 The scene outside the King Edward VII hospital last night.
Photo: Neil Mockford/FilmMagic
Kate Middleton, whose pregnancy was officially announced yesterday, remains in the private King Edward VII hospital for a second day and is expected to stay for at least several more, reports the Guardian. She is undergoing treatment for hyperemesis gravidarum, a severe version of morning sickness that requires fluids and nutrients to be supplemented intravenously.
Although previous reports suggested Kate was just shy of twelve weeks into her pregnancy, the Guardian says she could be only two months in. William, who drove Kate to the hospital from her parents' home yesterday morning, left the hospital late last night and returned at about 11:30 a.m. today. Kate's parents and sister are expected to pay her a visit later today, which will surely be documented by the swarms of photographers, camera crews, and other reporters camped outside.
In a further indication of Kate's long-term pregnancy complications, all the parking spaces outside the hospital have been blocked off with a sign stating they'll be reserved through March 2013. Indeed, many women who suffer from Kate's condition — just under half of those affected — experience symptoms throughout their pregnancy and require frequent hospitalization. We'll keep you posted as developments unfold; it's safe to say Kate will not be playing field hockey anytime soon.
Related:
Man Who Is Not Prince William Attempts to Visit Kate Middleton
Kate Middleton's Hyperemesis Gravidarum, Explained
Palace Confirms Kate Middleton Is Pregnant