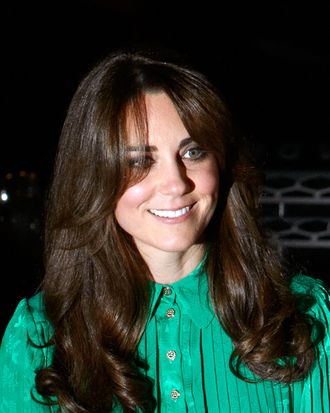 Kate Middleton.
Photo: Ben Pruchnie/Getty Images
The palace announced Kate Middleton's pregnancy today after she was hospitalized for hyperemesis gravidarum, a rare condition best described as abnormally severe morning sickness. If you've never heard of it, that's because it affects a very small number of pregnant females — between .3 and 2 percent, according to the American Journal of Perinatology. The symptoms sound awful: affected women experience such persistent vomiting that they become deprived of essential nutrients and often lose over 10 percent of their body weight. 
Although hyperemesis gravidarum is sometimes misdiagnosed as common morning sickness, its symptoms are far more extreme and can cause long-term damage to both the mother and fetus. While it sometimes tapers off after the first trimester, slightly fewer than half of those affected experience symptoms throughout their entire pregnancy, resulting in complications like gastric ulcers, esophageal bleeding, and overall malnutrition owing to consistent vomiting. If untreated, it can be life threatening, according to the HER Foundation of Hyperemesis Education and Research. While the cause of the condition is unknown, multiple theories about its origins lead researchers to believe that it's a very complex disease affected by multiple factors.
The good news is that Kate is surely in good hands, and if treated early and carefully, she and the baby have an excellent chance of being just fine in the long run. Sadly, there's a chance she'll be in and out of the hospital for the remainder of her pregnancy.