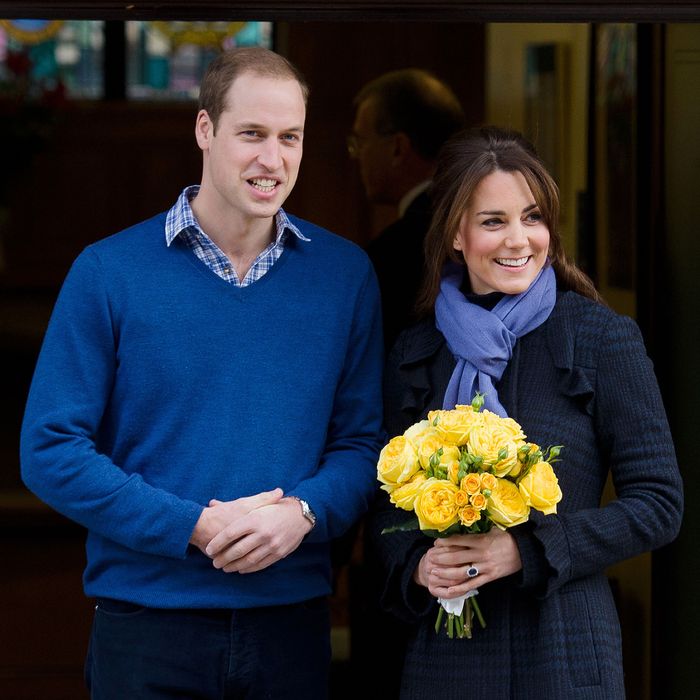 Will and Kate.
Photo: LEON NEAL/AFP/Getty Images
Jacintha Saldanha, the nurse at King Edward VII Hospital who died of suspected suicide after answering a prank call intended for Kate Middleton last week, reportedly left a note for her family before her death, according to the London Evening Standard. Today, her husband demanded more answers from the hospital about the circumstances surrounding her demise. Saldanha, who was 46, is survived by her husband, 49-year-old Ben Barboza, and two children, ages 17 and 14. Her family is being represented by Labour Party MP Keith Vaz, who said today:
[The family was] in the dark about the hoax call. They hadn't watched the news or seen anything about it. They didn't know they were involved until after Jacintha's death.
The hospital is still "making internal inquiries" into Saldanha's death, which occurred last Friday in a building near the hospital. In related news, the hospital announced today that they've canceled their Christmas party.
Meanwhile, Kate Middleton is said to have suffered another bout of acute hyperemesis gravidarum since returning to Kensington Palace, where she is under the care of the Queen's private surgeon-gynecologist. She canceled her scheduled public appearance at the London premiere of The Hobbit tomorrow evening, and will "continue to rest privately," according to a royal official. Prince William will reportedly attend by himself.* 
Related: 
Australian Radio Station Donates Ad Profits From Middleton Prank Call 
Kate Middleton's Nurse Dead of Suspected Suicide [Updated]
Pregnant Kate Middleton May Hide Until Christmas
* Correction: Prince William's attendance does not qualify as part of his yearly public service requirement.