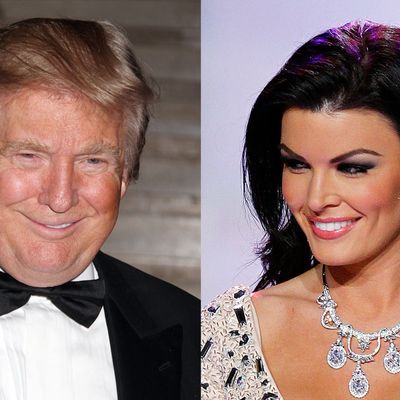 Photo: Corbis, Getty Images
Do you remember Sheena Monnin? In June, the Miss Pennsylvania USA posted on her Facebook page that she was resigning from the competition, calling the governing Miss Universe Organization "fraudulent, lacking in morals, inconsistent, and in many ways trashy," adding, "In my heart I believe in honesty, fair play, a fair opportunity, and high moral integrity, none of which in my opinion are part of this pageant system any longer." And, in a follow-up message, she alleged the pageant was rigged, writing, "I witnessed another contestant who said she saw the list of the Top 5 BEFORE THE SHOW EVER STARTED."
Then the Miss Universe Organization told E! that Monnin really resigned because she didn't think transgendered contestants should be allowed to participate; Monnin stopped by the Today show to have a heart-to-heart with America; somewhere in there, President of the Universe Donald Trump declared he would sue Monnin for "suffer[ing] from a thing called loser's remorse."
And now the results of the arbitration action are in! From the Post:
Late last week, retired US District Court Magistrate Judge Theodore H. Katz ruled that Monnin defamed the Miss Universe Organization, and awarded it $5 million in damages. He found that "the method in which the Miss USA Pageant is judged … precludes any reasonable possibility that the judging was rigged." Katz stated that Monnin's "defamatory" statements "were false" and, "showed a reckless disregard."
Five million dollars? Even Trump was all like, Damn, Sheena. Actually, he said, "It is an expensive lesson for her," while the rest of the Miss USA contestants patted him on the back in unison for being such a great teacher.