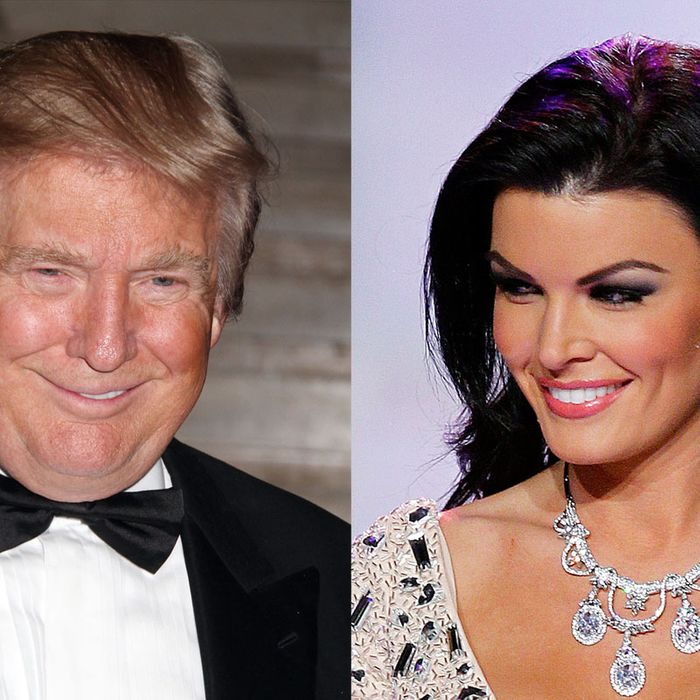 Photo: Corbis, Getty Images
Sheena Monnin, the Miss Pennsylvania USA who resigned from May's Miss USA pageant, claiming it was rigged ("I witnessed another contestant who said she saw the list of the Top 5 BEFORE THE SHOW EVER STARTED," she wrote on Facebook), finally spoke to reporters about her resulting legal battle with Ze Donald. Earlier this month, retired U.S. District Court Magistrate Judge Theodore H. Katz decided that Monnin defamed Trump's Miss Universe Organization, awarding it $5 million in damages. As quoted in the Pittsburgh Tribune-Review, Monnin "was shocked that was ruled against me, frankly," and said, "the most logical course of action is to fight" the ruling, but she's exploring other options. Like … reality TV, right? It's definitely reality TV.
But — twist! From the Trib, as they call it:
Monnin wrote on her Facebook page Thursday that a clause in the Miss USA contract gives top pageant officials the power to pick the top five finalists and the winner. She said her father, Philip Monnin, only recently pointed it out to her.

"I was not aware of the clause in the Miss USA contract which says that the Miss Universe Organization, Donald Trump and others have the legal right to choose the top five and winner," Monnin wrote. "This is irrespective of any publicized selection process."
So, legally, the top five could have been chosen BEFORE THE SHOW EVER STARTED, and Monnin agreed to that; however, according to Michael Cohen, executive vice president and special counsel to Trump, the clause "has never been used. The judge's decisions have never been overruled by Mr. Trump, NBC or the Miss Universe Organization." Honestly, all of this sounds really confusing. We're clearly not cut out to be beauty queens.