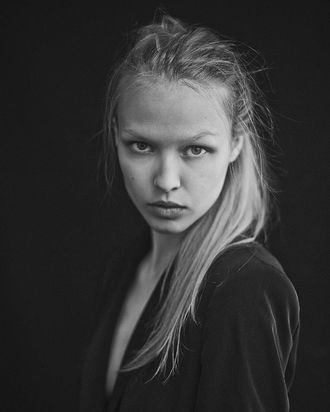 Photo: Mathieu Vladimir Alliard
It's hard to believe that Belarus native Natasha Remarchuk was scouted in the Minsk subway about six months ago, scooped up by Elite, and then walked as an exclusive for Calvin Klein in New York. (It's hard for Remarchuk to believe, anyway.) She also booked eight other spring 2013 shows, including Prada, McQueen, Givenchy, and Dior — and the opening spot at Jil Sander. For pre-fall, the 17-year-old took another turn for Calvin Klein and stars in Donna Karan's look book. But, when it comes down to it, she's a girl after the Cut's heart, having admitted to sitting online all night long while eating candy in her model apartment. Remarchuk also told us about studying abstract painting, wanting to meet Albert Einstein, and listening to her favorite band, 30 Seconds to Mars.
Tell me about growing up in Belarus.
I grew up in a small family — not so rich, but not so poor — with my mom, and my dad, and I have a little brother. A little monster, really. He's 8. In school, I studied art. I love painting, drawing, and before I started modeling, I couldn't imagine doing it. I was just trying to be a good daughter and a good student … I like abstract painting. You can't see real things — you can only think about it and imagine your world in your mind.

How were you discovered?
A scout found me in a subway station in Belarus and I decided to try it. It was half a year ago. I had already finished school, which is really important because I think you must have some education. Then the scout sent my picture to Elite, and that was that.
Was Calvin Klein your first show?
Yes, and I was an exclusive. I went to a casting and then to a callback. I met the designer, the stylist, and the producer, and I guess they liked me, so I got it. Before the show started, I was thinking, Oh my God. I will be so scared. I will be so nervous. But when it was my time to walk, I didn't feel scared or nervous.
Then you opened for Jil Sander in Milan.
Opening is a little nerve-wracking, but it was so important for me to do it. I walked first, and when I came back, I noticed that [Jil Sander] was crying, I think because she was so happy — I think it's really important for her to be a designer, to make clothes. And really, it was her comeback.
What was Dior like?
I really love Raf Simons. He's always smiling — some designers are always serious, and he's always smiling and always nice. But, in terms of the show, it was such a long runway. It was two big rooms with so many ways to walk. It was hard, but it looked amazing … I really liked the eye makeup for Dior with the crystals. Each girl had different crystals, different colors, and different shapes. I think the makeup took three hours, maybe longer, and just two hours for the eyes because it was so hard for the makeup artists to put on the crystals.
You walked for some pretty big names.
Yes, but before I started fashion week, I wanted to do McQueen. I like this sort of crazy collection. Did you hear the music during the finale? It's funny. It's always interesting to see differences in the collections, because for some designers like Jil Sander or like Calvin Klein, it's always a serious, strong collection. It's always simple form and simple color. And with McQueen, you never know. For me, I love painting and drawing and it's an inspiration to see something like McQueen.
Let's talk about your spare time. What types of books do you like to read?
I find interesting Jonathan Safran Foer. I read two of his books — Everything Is Illuminated and Extremely Loud and Incredibly Close. He's simple to read, but you also can think about it. I also like books by Chuck Palahniuk, like Fight Club.

And are you into music at all?
I love music. I like indie rock, pop rock, rock. My favorite band is 30 Seconds to Mars, [Jared Leto's group]. I like them and I like their music. I went to three concerts, in Minsk, St. Petersburg, and Kiev. Ah! I really like them.
Do you have any guilty pleasures?
Eating sweets at night! And also, all models need to sleep a lot — eight hours or more. But I'm always sitting on the Internet. Then, I'm like, Oh my, it's three o'clock in the morning! And I don't sleep at all.
If you could meet one person, dead or alive, from any time, who would it be?
The first thing that I was thinking now was Albert Einstein. I don't know why, but … he's a genius, really. It would be super cool to just talk with this really, really smart guy. And I was thinking about Shakespeare.
What would you tell someone else, like you, who's interested in modeling?
I think it shouldn't be a girl who's, you know, 16 or 15 — I think she needs to be older. Like 18. I don't know why. It's good for me — I'm 17. But I see some girls who are 15 and 16, and I think it's not for them. You must be really strong inside. When you're 15, you don't really think about it. And when you're older, you see when people are telling the truth or when people are fake. And it's hard to always be in form, to keep doing some exercise, keep eating healthy, keep practicing your walk. It's hard to do ten, eleven, or twelve castings in one day. But it's not so hard, because you travel, you meet some really good, different people. You grow up inside. It helps you become an independent person.
Explore other rising stars (plus all the big names) in our extensive Model Manual, featuring runway pics, glamorous editorials, model bios, career timelines, and more.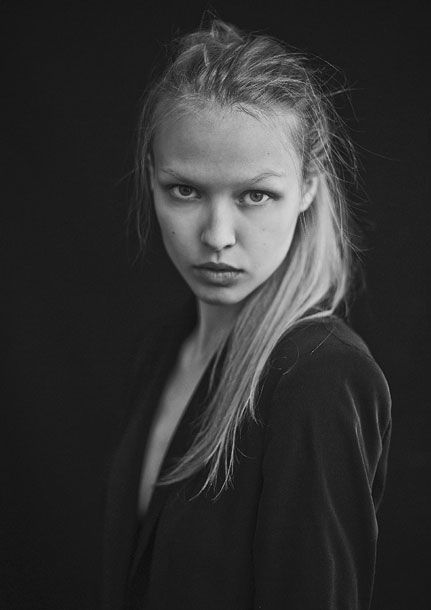 Test shot, 2012.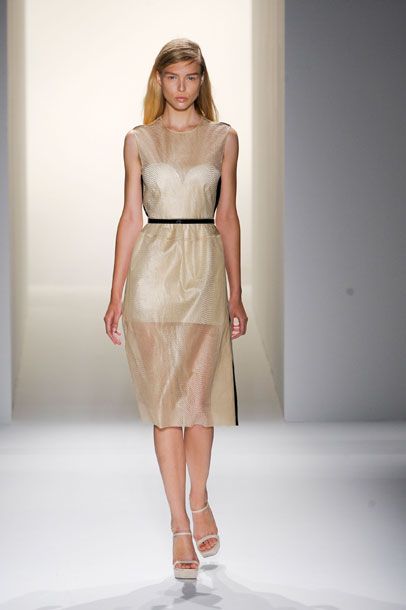 Walking the spring 2013 Calvin Klein show as an exclusive in New York.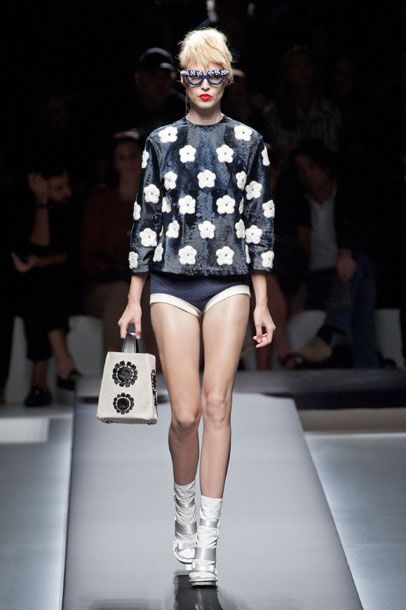 Walking the spring 2013 Prada show in Milan.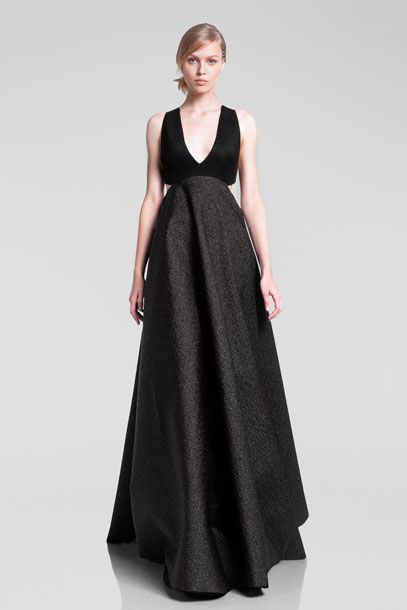 In the Donna Karan pre-fall 2013 look book.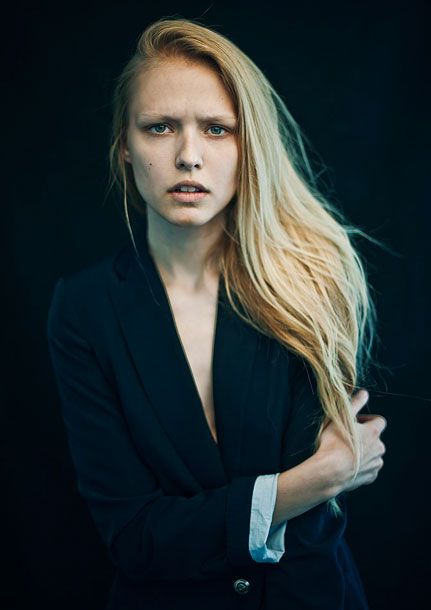 Test shot, 2012.
Comp card, 2012.