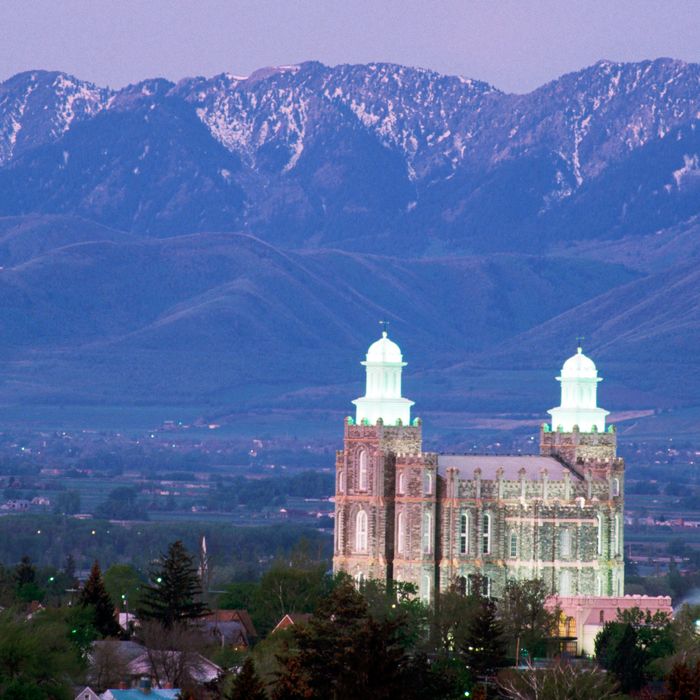 A Mormon church, Utah.
Photo: Scott T. Smith/Corbis
Mormon women are not required to wear dresses to church, but apparently lots of them feel pressured to. Therefore, 26-year-old Stephanie Lauritzen of Salt Lake City decided to start a movement called "Wear Pants to Church," which encourages Mormon women to do just that. On December 9, she began publicizing her efforts on Facebook; last Sunday, thousands of Mormon women showed up to church in pants for the first time, posting photos of themselves on Facebook. Beyond Utah, the movement spanned LDS churches as far-flung as Germany and Texas, according to the Times.
Although the Mormon church declined to comment on the movement, the Salt Lake City–based church leadership issued this statement:
Generally church members are encouraged to wear their best clothing as a sign of respect for the Savior, but we don't counsel people beyond that.
So really, this shouldn't be a huge deal. (Also, from a logistical standpoint, wearing pants during the winter just makes much more sense.) However, women who wore pants reported mixed reactions. One person, who is currently being investigated by Facebook and the police, threatened to shoot the pants-wearers; Lauritzen received several other threats sent to her personal account. Meanwhile, the Times reports that some participants got dirty looks and negative comments, such as, "Women who want to wear pants, they just don't know how to follow the Lord." Bishop Michael Durham, from Nevada, had this outlook on the movement:
I think wearing pants is not liberating … Liberation comes from inside. I'm not sure they have a clear understanding of the church's position on gender.
They wouldn't be the only ones: What is the Mormon church's position on gender, exactly? This topic was swept under the rug throughout the past presidential campaign; maybe this pants business will finally get people talking.