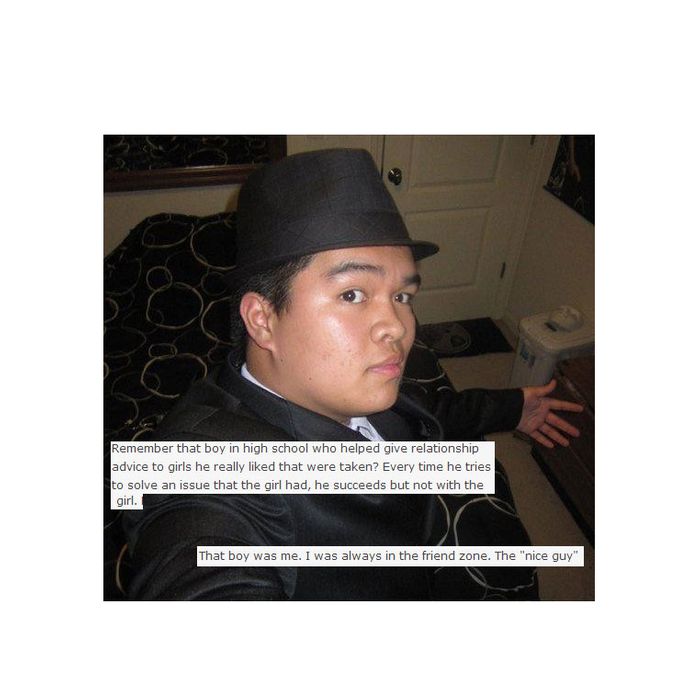 Photo: niceguysofokc/Tumblr
Is it too late to change our vote for best Tumblr of the year? This is so much better than political memes. Nice Guys of OkCupid (hat tip Jezebel) publishes pictures and quotes from the profiles of self-proclaimed "nice guys" on the dating site. Despite their sad puppy pictures and tragic tales from the "friend zone," the nice guys of OkCupid are less pathetic than they are frightening. They complain about being overlooked in favor of "douches" and "assholes" and in the same breath reveal their resentment of their "superficial," "disgusting," "slut" exes. Where can this nice guy be found on a Saturday night? "Fucking bitches." Psychological profiling aside, that's just bad advertising.
Most disturbing — after, perhaps, the high proportion of "nice guys" who wear fedoras — is the number of nice guys who answer "yes" to the question "Do you feel there are any circumstances under which a person is obligated to have sex with you?" Another said that "no" doesn't mean "no," it's "just a yes that needs convincing." Coercion! So nice.
Come for the photo collages but stay for the blog's brilliant, anonymous author, who appears to be in the throes of a breakdown over its subjects and the pickup-community types who come out of the Tumblr woodwork to defend them. "i literally don't know what you're trying to say here … am i ready to be the nice guy what does that even mean … why do u all speak in code." And newfound respect for all online daters brave enough to weed through these weirdos.