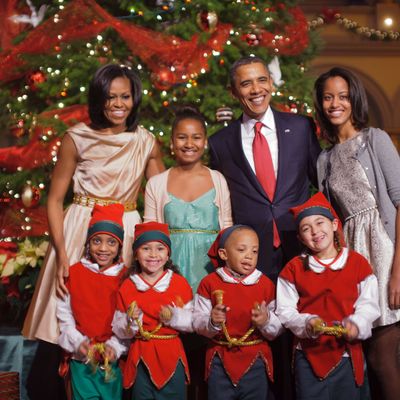 Aw.
Photo: MANDEL NGAN/AFP/Getty Images
The Obamas attended the annual Christmas in Washington concert last night, where they took family photos with headliner Diana Ross and some adorable children dressed as elves. Michelle wore a sleeveless, shiny gold dress with a jeweled gold belt; her daughters also went the glittery route, with Malia in silver brocade and Sasha in mint green flecked with sparkles. As always, the first family was subtly coordinated with each other as well as their surroundings: Michelle and Sasha wore matching belts, and Sasha's cardigan was the same color as her mom's dress. Meanwhile, Barack wore his usual navy suit with a red tie that matched the elf costumes, and Malia's silver palette went with the beadwork on Diana Ross's dress.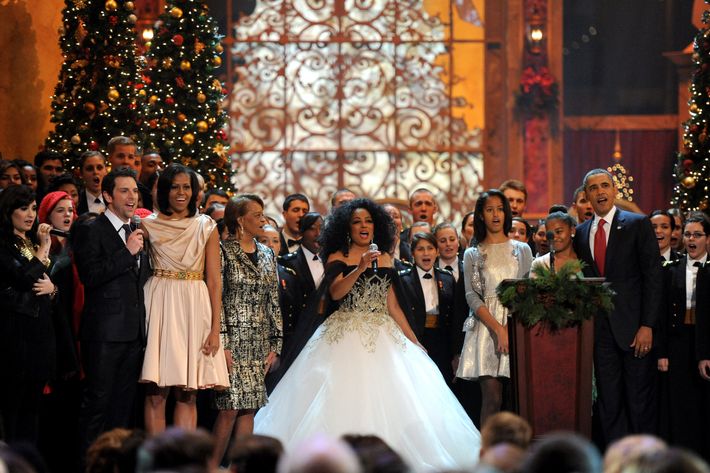 Speaking of, Diana Ross looked pretty great in her tulle gown, one of her two performance outfits. She also wore a shimmery dress with a ruffle down the front, which was the same shade of blue as Malia's ballet flats — a sure sign that she conferred with the Obamas before selecting her wardrobe, in case there was any doubt.