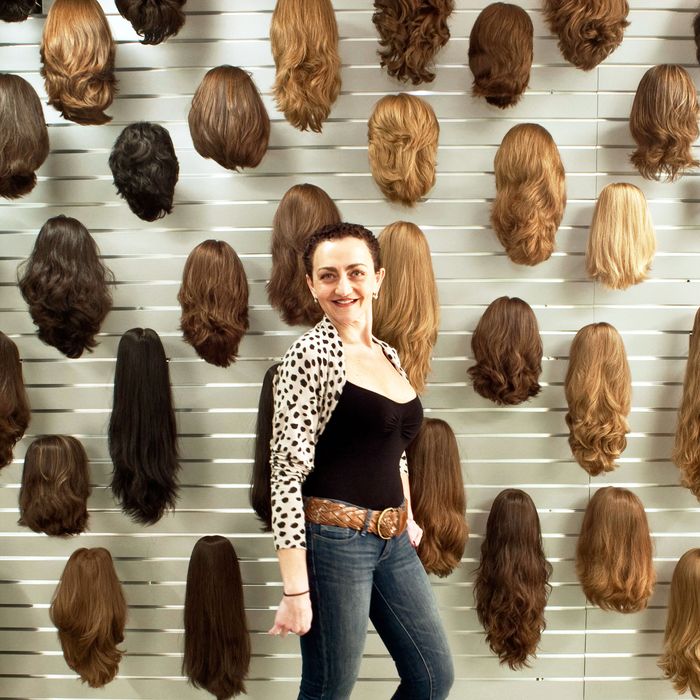 On Christmas afternoon, Adina Mittel, a pretty, perky, 20-year-old Orthodox Jewish college student, bounded into Sherels Hats on Avenue J in Midwood, untied her ponytail, and let her long, wild mane fall around her shoulders and down her back.
"I'm getting married," she explained as she dug into plastic bins full of 100 wigs organized by color, from mousy brown to deep chocolate hues. In March, after her wedding, Adina's thick curls will be tucked under a wig she will use to cover her hair in public, as Orthodox law dictates that only a husband can see his wife's real hair. The best ones, favored by the most stylish women in the community, are made of human hair imported from Russia.
And they're designed by Flora Shepelsky, 45, who has been in the wig business since she was an 18-year-old beauty school student. The cost of her all-natural creations ranges from $1,000 to more than $6,000, depending on color, consistency, and length. These prices are steep, of course, but have become even harder to afford for families in the area, many who live in Jewish enclaves near the Brooklyn waterfront that was devastated by October's Superstorm.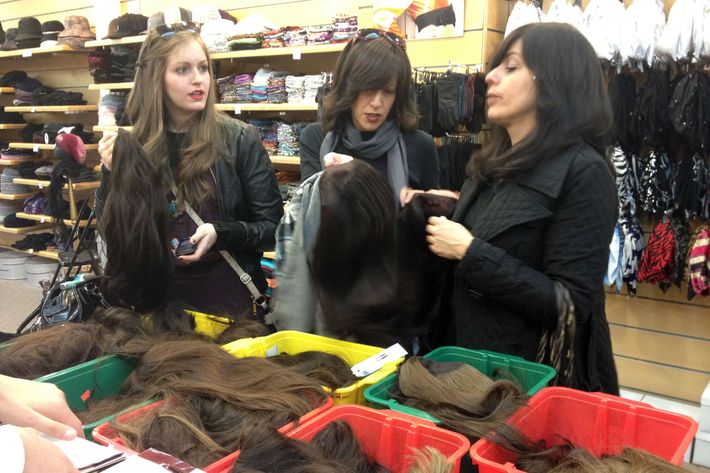 As Orthodox women from Seagate, a gated Jewish community near Coney Island, and Far Rockaway struggled to get their lives back on track and rebuild their flooded homes, Flora decided to do a Christmas mitzvah for the community that's supported her business for decades. "When I heard how bad the storm was for them, I wanted to help," explained the entrepreneur, who has two Design by Flora shops in Manhattan and New Jersey, and also makes wigs for secular women. "I don't have the cash to help but I have thousands of wigs in stock."
Women like Goldie Silber brought their sisters and nieces to the hat shop, excited for a fresh head of hair. "My wig smells like dust," Goldie told the Cut. When the storm hit, her house in Seagate was flooded with dirty saltwater that subsumed all of her belongings, including her layered, shoulder-length hairpiece, which had gone a bit stiff as she continued to wear it.
The most popular wigs and "falls" — long locks that clip onto the hairline — are made of flowing, thick hair that make the women look like Jewish Serena Van Der Woodsens. The hair is never colored or processed, Flora proudly told each woman in the room as she dug through shiny hair. Despite it being Christmas elsewhere in the city, Sherels Hats was bustling.
A shy older woman getting married for the second time timidly tried on headbands and wigs. "It's okay to look a little younger! Don't be nervous!" Flora advised, pointing to a luscious, long auburn wig in a red bin. "You look like a woman on the streets of Paris." The client's husband-to-be encouraged her as she modeled a periwinkle beret to cover the new hair.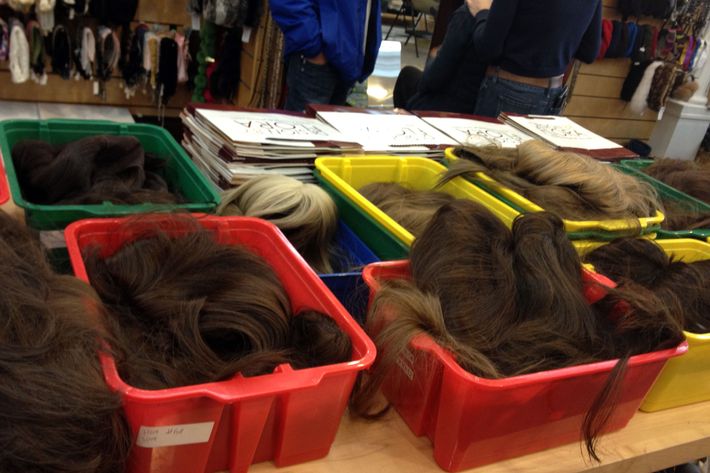 "She's very nervous," Flora explained later. "It's harder getting married the second time around. Once you take the wig off, it's hard to put it back on."
Most Orthodox women have at least two wigs they wear regularly. But having their favorite damaged in the flood can be as traumatic as a hole in the roof. "It changes the face you see in the mirror," Flora added. "You don't recognize yourself. We can lose weight or gain weight, but none of that has as much impact as the hair. The single hardest thing for a woman to lose is her hair. Women mourn."
Throughout the day, Flora gave out nearly 40 wigs, though it was the experience itself that provided more catharsis. "I didn't even want to come, I was too embarrassed," said Goldie's sister, who opted for the privacy of a fitting room to try out a new hairpiece. "The storm wiped out my house."
Many came because Flora is well-known among Orthodox women, even though she isn't one herself. "I don't feel the need to cover my hair," she said. And she encourages women to keep their own hair — not to shave it, as ultraconservative sects demand — beneath their wigs.
But when someone like Adina shows up, a crown full of thick curls, Flora tells the college student to cut it shorter so that a bump of a bun doesn't protrude from under the wig. "Everyone's always excited to cover their hair because they hate their hair, but I like mine," Adina responded, as Flora fit the bride-to-be with a long, straight, light brown "fall" that made it look like she had an instant blow-out. As Adina bounced out of the store, Flora offered up her website address "for styling and washing advice," then provided one last tip: "It's twenty smelly, sweaty wears before you wash it."
As the store filled up, Flora's son checked I.D.s from shoppers to confirm their addresses matched up with devastated zip codes. But Mom also told him not to hassle a woman who admitted she did not suffer damage by Sandy and happened upon the wig giveaway by chance. "If someone feels the need to take one for free, it means she needs the help," she shrugged. "I always say we're lucky if we have problems that we can fix with money."