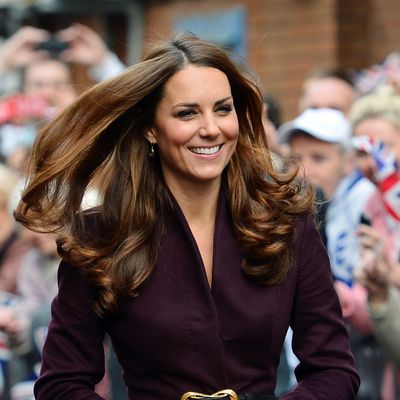 Pregnant Kate Middleton.
Photo: PAUL ELLIS/AFP/Getty Images
St James's Palace has announced that the Duke and Duchess of Cambridge are expecting their first child! No word on a due date, but according to the press release, Kate's had a rough go of it with morning sickness:
The Duchess was admitted this afternoon to King Edward VII Hospital in Central London with Hyperemesis Gravidarum. As the pregnancy is in its very early stages, Her Royal Highness is expected to stay in hospital for several days and will require a period of rest thereafter.  
Her condition, which is a polite way of saying she's been throwing up a lot, calls for supplementary hydration and nutrients. Anyway, AHHHH!!! A princess baby! Hopefully Kate will recover quickly and get to enjoy a big Beyoncé-style reveal moment: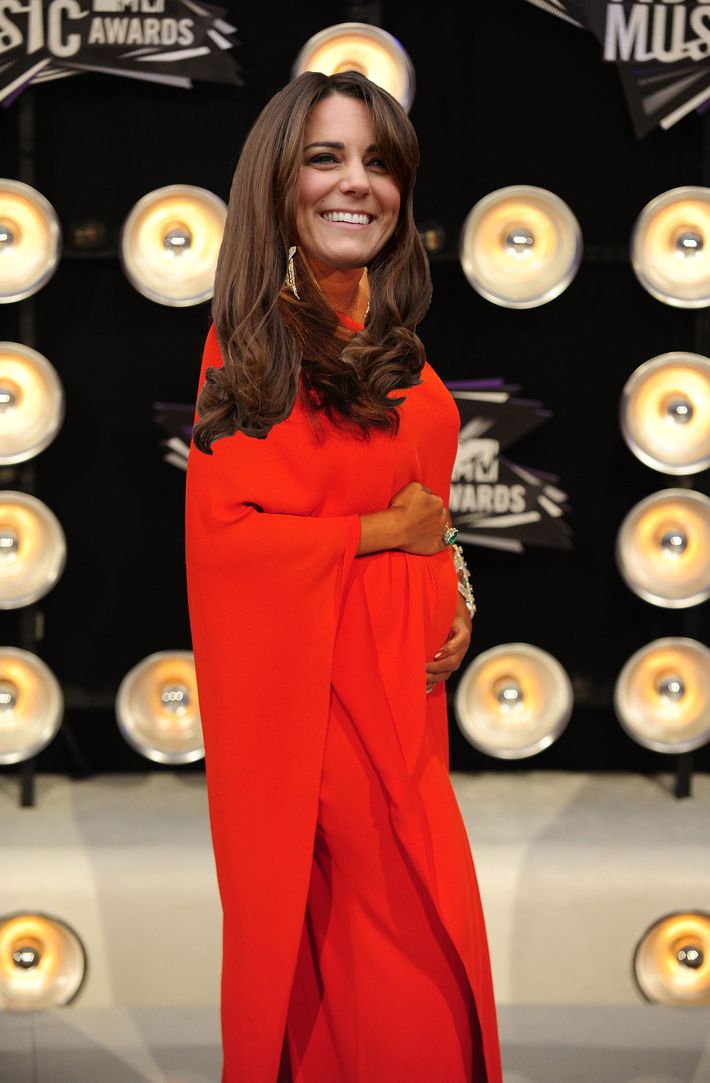 Update: The Guardian reports that Kate is not quite twelve weeks along, which means she's due in June and was impregnated sometime in mid-September… when she and Will were in Southeast Asia! A vacation baby! That adds a whole new dimension to these Tuvalu photos from September 18 — apparently that was a babymaking dance, not just your normal grass skirt photo-op. 
This announcement confirms a previous report in New Idea magazine stating that Kate would reveal her pregnancy in December. New Idea's source was a former roommate of Kate's, Jessica Hay, and thought to be more credible than any previous pregnancy speculations that have plagued the royal couple since before their wedding. 
There are many indications that this baby was carefully planned for. It's been a year and a half since Kate and Will were married, and they sensibly waited until after the summer's London Olympics and the Queen's Diamond Jubilee celebrations. What's more, it's not recommended for pregnant women to visit areas where there's a risk of contracting malaria, so they probably avoided conception before their Southeast Asia trip. There's been some concern that Kate still had anti-malaria medication in her system during the early weeks of pregnancy, but according to the Center for Disease Control, there's no medical evidence that such drugs cause congenital defects.
Also of note: This baby will be third in line for the throne, bumping Prince Harry down to fourth place.
Update 2: Kate is spending the night at the King Edward VII Hospital and has cancelled her next three royal engagements, reports People. A stern-looking William was seen leaving the hospital late a few hours ago. Meanwhile, Prime Minister David Cameron and the Obamas have extended their respective congratulations to the couple.
Related:
Kate Middleton's Hyperemesis Gravidarum, Explained
Kate Middleton Really Pregnant This Time, Says Former Roommate
Kate Middleton Plays Field Hockey in McQueen