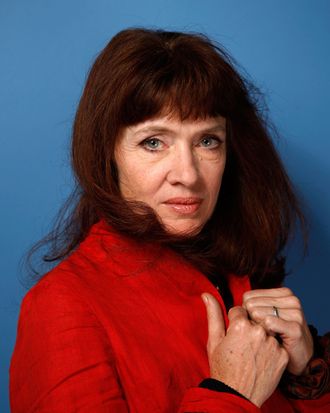 Photo: Eric Fougere/Corbis
Canadian writer Nancy Huston won the U.K.'s Bad Sex in Fiction award today for a three-way scene in her latest novel, Infrared, involving "a photographer, her camera and her lover" Bloomberg News reports. Huston, who lives in Paris and studied under Roland Barthes, beat out Tom Wolfe and Nicola Baker for the honor. But why don't you be the judge:
"The Canon is part of my body," Huston's heroine confides. She isn't coy when it comes to describing her encounters.

"Kamal and I are totally immersed in flesh, that archaic kingdom that brings forth tears and terrors, nightmares, babies and bedazzlements. The word pleasure is far too weak for what transpires there. So is the word bliss."

Instead, she tries musical metaphors, bad Italian and images of "undulating space where the undulating skies make your non-body undulate."
Straight-up erotica is not eligible for the prize, if you're wondering why Fifty Shades Something didn't win.