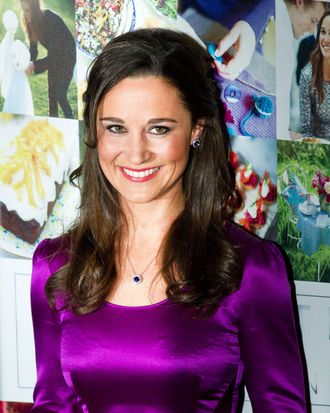 Photo: Albert Nieboer/Corbis
Pippa Middleton's 400-page party-planning guide, Celebrate, was a flop. In mid-November, the Telegraph reported that only 2,000 copies of her book had been sold since its release two weeks earlier, and it was in 177th place on Amazon's best-selling list in the U.K., and 303rd in the U.S. Since then, the sister to the royal uterus probably pawned off a few more copies (on her future niece or nephew).
Writing in the Spectator, Pippa explains:
I have been much teased for my book, Celebrate. Lots of journalists are saying that my advice is glaringly obvious … It's all good fun, I know, and I realise that authors ought to take criticism on the chin. But in my defence, let me say this: Celebrate is meant to be a guide to party planning and, as such, it has to cover the basics. If I were to write a cookery book, for instance, I would be compelled to say that, to make an omelette, you have to break at least one egg.
Per the Daily Mail, Pippa continues, "Actually, that's not a bad idea. Or maybe I should write a sequel and call it Bottoms Up? Now that could be a bestseller." Because people like to talk about her bum.