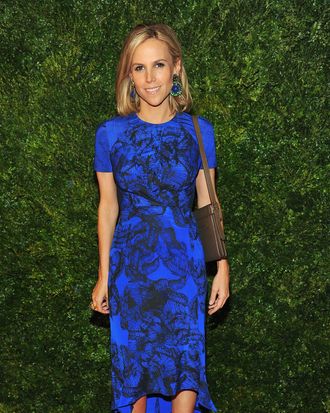 Tory Burch.
Photo: Theo Wargo/2012 Getty Images
The latest doings in Burch-land: Tory is now accusing Chris, her ex-husband and business partner, of withholding documents "pertinent" to their respective lawsuits that supposedly show he used inside information about her company to research his own retail venture, C. Wonder. WWD reports:
Chris Burch has "failed to produce any documents concerning the business, financial or other relationships" between the plaintiffs and Tory Burch and board members, the designer's counsel said.
Tory's legal team has filed a motion asking presiding judge (and part-time comedian) Leo Strine to order Chris to turn over documentation of his communications with various members of Tory's board as well as his travel calendar. What's more, Tory's lawyers claim Chris can't prove that he's totally "open" about his plans for the C. Wonder brand, which has been accused of copying Tory's eponymous label. Sidenote: How does Longchamp feel about C. Wonder's Nylon Easy Tote?
Related: 
Tory Burch Finally Got Around to Countersuing Chris Burch
Judge on Burch Trial: 'Are the Burches WASPs?'