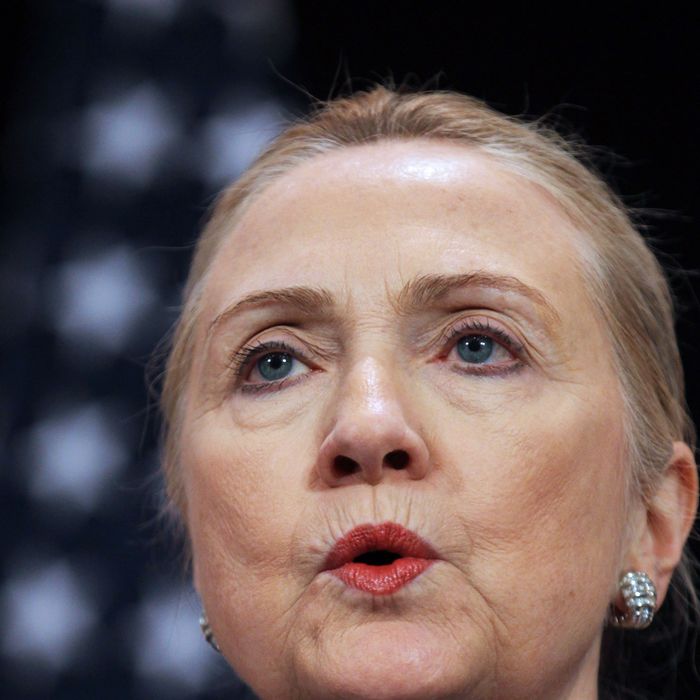 Photo: OLIVIER HOSLET/Corbis
In case you thought the New York Post's endorsement of an assault-weapons ban signaled the dawn of a fuzzier, leftier era at the tabloid, make sure you check out today's other editorial, which alleges that Secretary of State Hillary Clinton is faking her recent concussion in order to avoid testifying before Congress about Benghazi. In order to say it without saying it, the Post defers to the immortal verse of "late poet Shel Silverstein."
"I have the measles and the mumps / A gash, a rash and purple bumps," said Clinton, in effect, informing the House and Senate (with regrets!) that she was suffering too many maladies to testify as expected about the Sept. 11 attack in Libya.
Clinton's advisers and doctors say that she had a concussion after fainting owing to dehydration from the stomach virus she picked up in Europe — a story the Post says "beggars belief." (That's British for "is bullshit.") The Post writes: "We've chided the Obama administration in the past for its lack of transparency — but this looks like one of the most transparent dodges in the history of diplomacy." Judging from the Atlantic Wire's collection of conservative blog quotes and #tcot tweets, Clinton's concussion report is poised to be the next Obama's birth certificate.
The Daily Caller's Jim Treacher wrote:
"If she has a concussion, let's see the medical report. Let's see some proof that she's not just stonewalling. If it's true, then we can all wish her a speedy recovery. But it's ridiculous to expect us to take her word for it."
Welcome back to the presidential race, Hillary!