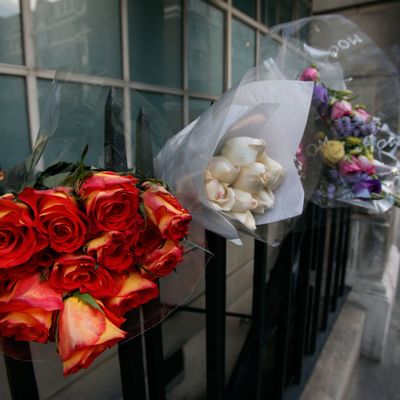 Flowers in Jacintha Saldanha's memory placed outside King Edward II's Hospital.
Photo: Lefteris Pitarakis/Corbis
The radio station behind the tragic prank call made to Kate Middleton's hospital last week will donate all ad sales profits from now through the end of the year to a fund benefiting the family of nurse Jacintha Saldanha, who died of suspected suicide days after taking the call. Southern Cross Austereo (SCA), which owns 2Day FM, pledged a minimum contribution of $500,000 Australian (about $524,650 U.S.), according to the Guardian. They suspended advertising on the station on Saturday, when the news of Saldanha's death broke in Australia, but they will resume on Thursday.
While this move is indeed a charitable one, it's surely intended to lure back several advertisers who ditched the station in the wake of the incident, including supermarket chain Coles and telecommunications company Telstra. (Alternatively, they could just donate directly to the fund, which was set up by King Edward II's Hospital, here.) Although SCA CEO Rhys Holleran has extended his condolences to Saldanha's family, he continues to deny any wrongdoing on 2Day FM's part. 
Related: 
Kate Middleton's Nurse Dead of Suspected Suicide [Updated]
D.J.'s Who Pranked Kate Middleton's Nurse Are Reportedly 'Shattered' Over Suicide 
Video: D.J.'s Behind Middleton Prank Call Give First Interview