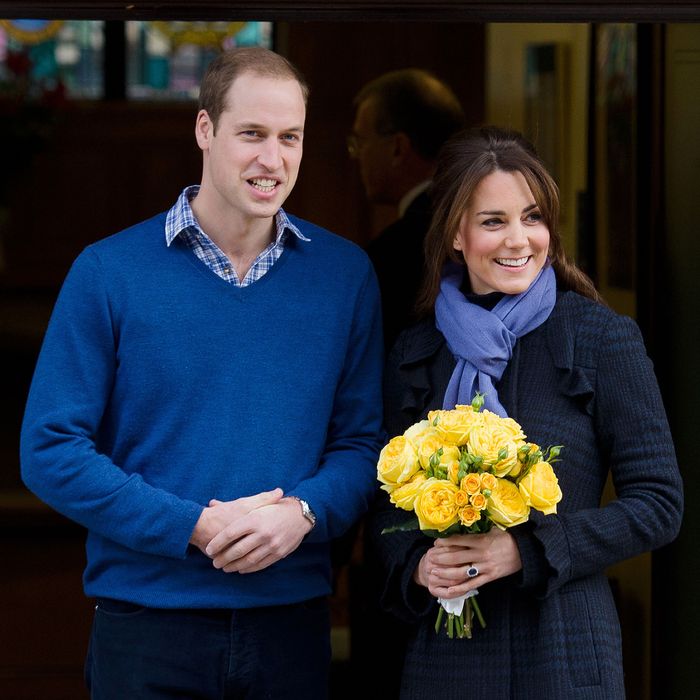 The last Kate Middleton pregnancy outfit we'll see in a while.
Photo: LEON NEAL/AFP/Getty Images
Now that Kate Middleton is resting under the care of the Queen's private gynecologists at Kensington Palace, it appears she won't be gracing us with new pregnancy outfits anytime soon. A spokesman for the palace announced yesterday that she'll have to forgo her engagements this weekend, including a charity ball on Saturday and a visit with the British Military Tournament on Sunday, but Prince William will still attend them both by himself, reports the Telegraph. In fact, Will doesn't have much wiggle room to take time off, as he's close to dropping below the minimum of public service hours he's required to put in each year.
Perhaps even sadder yet, Kate will probably miss her planned appearance at the London premiere of the new Hobbit movie next Wednesday; to think she'll have to sacrifice the latest on Bilbo Baggins! Palace aides said that her attendance is now "doubtful," adding that her schedule will be "governed by medical advice." It now seems that her next outing will be the Royal family's traditional Christmas Day church attendance at Sandringham.
Kate's expected to stay in London near her doctors until she has fully recovered, which could take months. This means that she and Will may be separated for some time, as he is due back for a shift with his Search and Rescue squadron at RAF Valley in the remote area of Anglesey.
In other news, here's a video of Kate leaving the hospital yesterday, should you need something to tide you over.
Related: 
Kate Middleton Leaves Hospital 
Kate Middleton's Hyperemesis Gravidarum, Explained