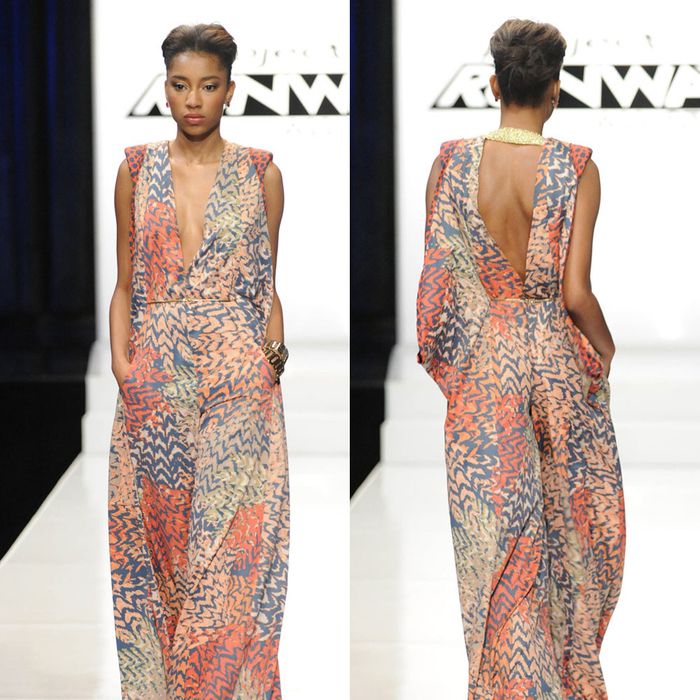 This week, the designers meet Carolyn at the High Line, and while I'm concerned that they're going to start tearing up grass and railroad ties to make steam punk coveralls or something, they've merely been brought outdoors so that they can be told that it's the green challenge. "All Stars is going green! But not literally! A green dress for the red carpet!" (This is what happens when Carolyn goes off the TelePrompTer.) Put into more clear terms: The designers will use AirDye fabrics to create a red carpet look that Carolyn will wear at a red-carpet event.
There's no trip to Mood this week, since the fabrics are being provided to the designers, but there are still several boxes of recycled fabrics, notions, and trims in the break room for the designers to scrabble over. I'm interpreting this as a move on the producers' part to try to stir up some drama in this sluggish season, but it's no use: Everyone cheerfully chooses their recycled materials and then gets right to work. Anthony Ryan says he's mostly ignored the trims, since that's not what evening gowns are typically about, and I predict that this will either land him in the top three or send him home. Uli mopes about how her fabric is more subdued than she'd hoped. "So depressing! Like a rainy day!" Meanwhile, Laura keeps gushing about how much she loves Diane von Furstenberg, who will be guest-judging. She manages to use the terms role model, idol, and hero, so clearly she's serious.
Before too long, Uli's shaken off her ennui, and announces, "It's time for an Uli Explosion!" (God, I love Uli.) This mainly consists of her using every available type of trim at once, with an end result that's actually kind of great. Joanna turns up for her critique, and she starts with Laura. "You are a DVF fan … hopefully you're not in the bottom three!" Coming from anyone else, that would seem rude, but from Joanna it's weirdly supportive. Joanna loves Emilio and Anthony Ryan's work in progress, as always, but is concerned about Althea's fabric being too dreary. This is particularly unfortunate, since Althea had the last pick of fabrics and the judges have been particularly hard on her fabric choices. Joanna worries that Ivy is running short on time and cautions Cassanova against "nipple-focus." A lesson for us all.
That evening at the designers' hotel, Joshua throws out what's clearly a prescripted prompt for small talk. "Has anyone amongst us dressed a celebrity for a red-carpet event?" Althea says she's dressed all the Kardashian and Jenner girls, and Emilio says that Audra McDonald wore his dress to the most recent Tony Awards. Emilio is sure this means that either he or Althea will win, and he says it like he's kidding, but also like he's very, very serious.
The next morning, it's the scrambly-est pre-runway in All Stars history! Okay, I made that up, but still, everyone's in a panic, particularly Althea, who's completely starting over on her look; Emilio, whose dress is still half-cut on the floor; and Ivy, who's just in bad shape all around. Given that Ivy's dress had something like a hundred pattern pieces, this seems wise. Meanwhile, Anthony Ryan's model can't walk in his dress, and Joshua spends a not-at-all-insignificant period of time looking at himself in a mirror. Everyone makes it to the runway fully clothed, which is saying something, but both Ivy and Emilio wind up sewing their models into dresses.
Down at the runway, Carolyn's "I'm going to wear it to a red-carpet event!" makes for some uneven judging, since her opinion weighs heavily. On top of that, Isaac has little patience for the designers who claim that they don't normally do red carpet. Finally, in response to Ivy, he huffs, "I never understand what that even means, red carpet. Red carpet's just a really good dress on a really good girl." But all of that aside, having Diane von Furstenberg there is kind of magical, and lends the judging panel the weight and credibility it's been lacking all season. (Is it going too far to call her a national treasure? That's pushing it, right?)
Still, someone has to go, and Althea's dress sends her home; Laura wins, and gets to be told that she won by Diane, which seems like the bigger prize. 
Next week, it's All Stars Christmas! Nothing can possibly go wrong.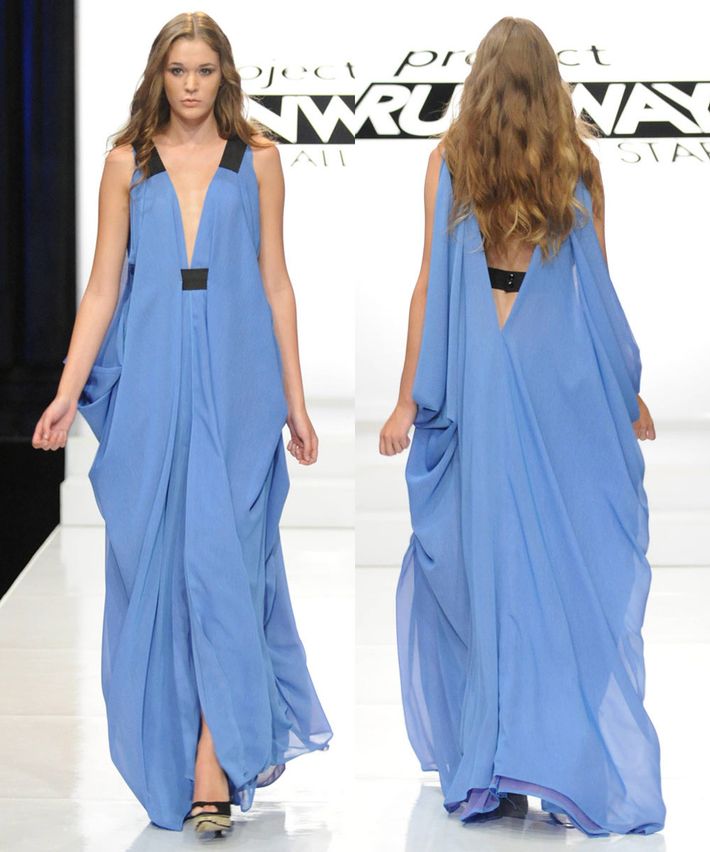 Anthony Ryan Auld – Top Three
DVF liked this look a lot; she called it comfortable, cool, and elegant, even though she thought there might be "just a little too much fabric somewhere." Isaac, on the other hand, said that something about the color gave him a Hare Krishna vibe, but he seemed to like it other than that. Carolyn loved the color, and said that normally she'd wear it, but she noticed the model's "undies hanging out of the side."  Georgina was complimentary of the look, too, which makes me think that the only reason Anthony Ryan didn't win was because Carolyn didn't want to wear his look.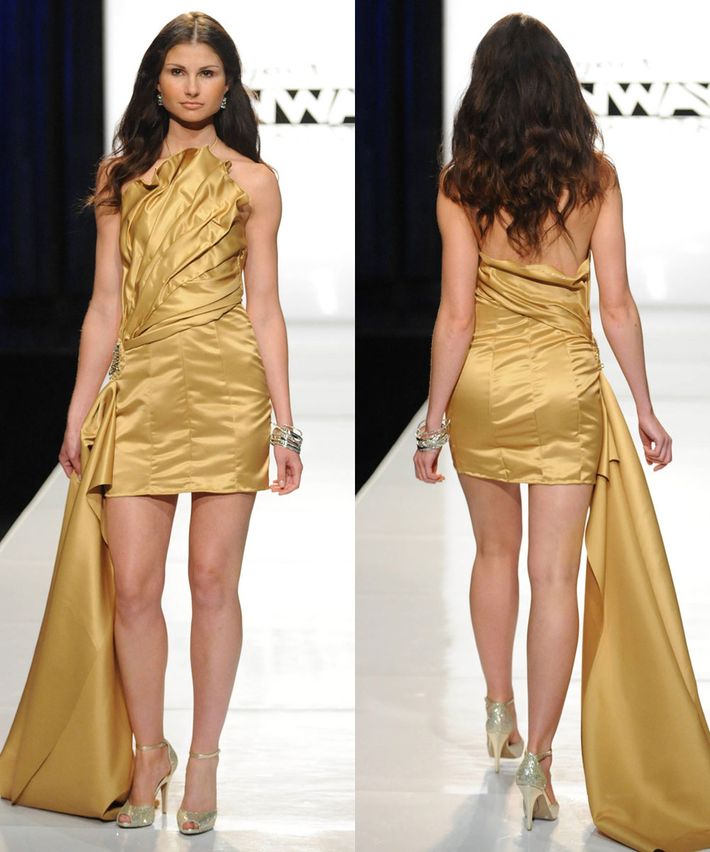 Ivy Higa – Bottom Three
After Ivy explained her look and her inspiration (she wanted to make a dress that evoked the sun's rays), Isaac replied, "This challenge was all about innovative fabric…somehow making it great. And this is the worst this fabric has ever looked." Carolyn said that she definitely wouldn't wear it and asked if Ivy would make something different if she could do it all over again. Ouch. Georgina remarked on the heaviness of the look, and was surprised because Ivy's work is usually so light. DVF said the execution of the look was off, but complimented the intention, because she is classy that way.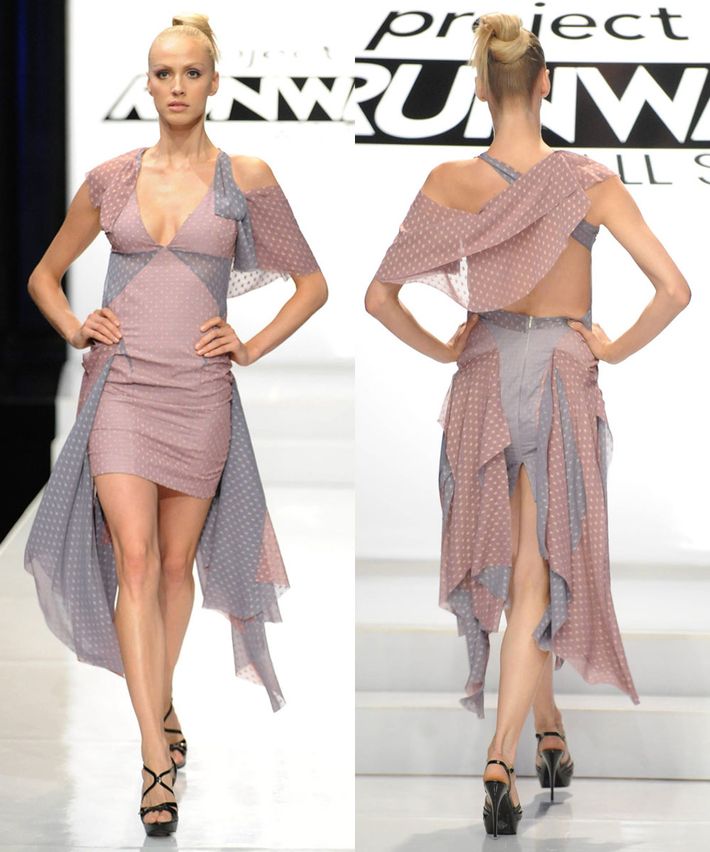 Althea Harper – Eliminated
DVF described the back of this look as "Marie Antoinette meets Frederick's of Hollywood." (Can we please get her on regular Runway so she and Nina Garcia can say stuff to each other?) She also told Athlea that she's very skilled, and she and Georgina both acknowledged that Althea had a tough fabric to work with. Isaac said that she needed to go for something with this fabric, but instead, the whole look felt like it was stopping itself. It's surprising to me that Althea's struggled so much this season; her body of work, portfolio, and client list outside the show are incredibly impressive.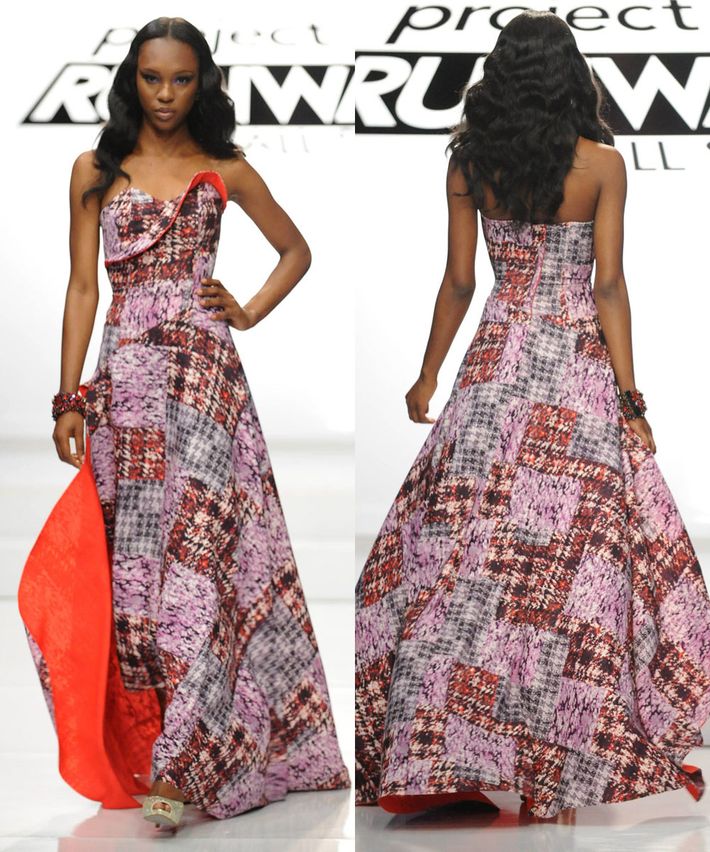 Cassanova
I actually really liked this look. Cassanova really seemed to take showcasing the fabric itself seriously, and while that wasn't a specific component of the challenge, I like that he wanted to play up the versatility of the fabric he chose. I think it's a really pretty, feminine silhouette, and the print should be totally distracting and out of place, but it kind of works. I think the neckline is a little too much, but this dress seems as deserving of a spot in the top three as any of the others.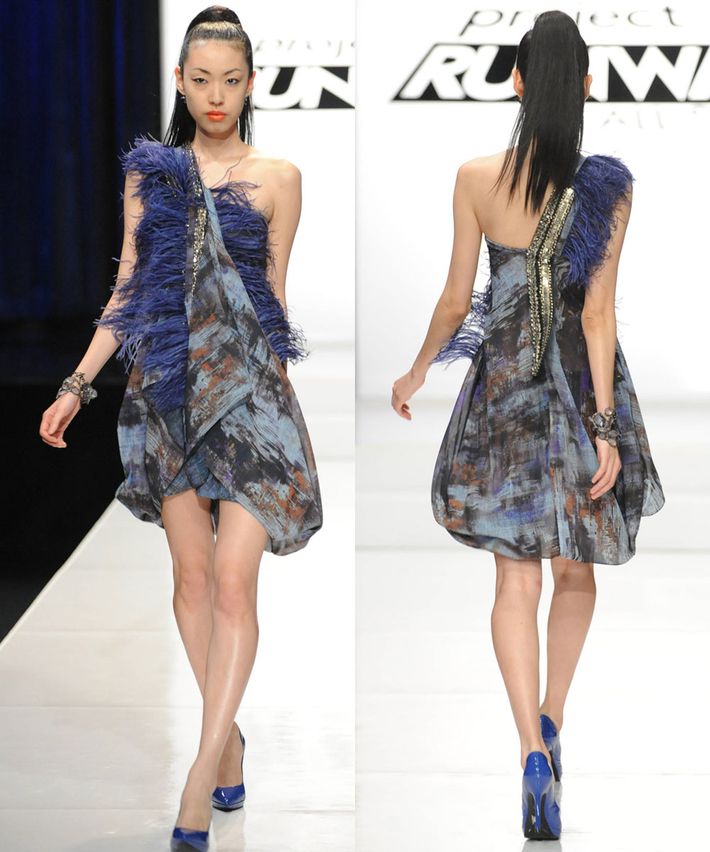 Uli Herzner – Top Three
Uli began her description of her look by promising that this is the last time she'll use feathers and trims (I'll believe it when I see it). DVF's response was, "I think you should absolutely not not use feathers!" because Uli manipulated it so well. Isaac said that he typically doesn't like dresses like this, where there's a lot going on and it's all muddied together, but that he really liked it. Georgina pointed out that without the trim, this dress verges into sarong territory, and that there were some finishing issues, but on the whole, the response to this look was very positive. Who would've thought?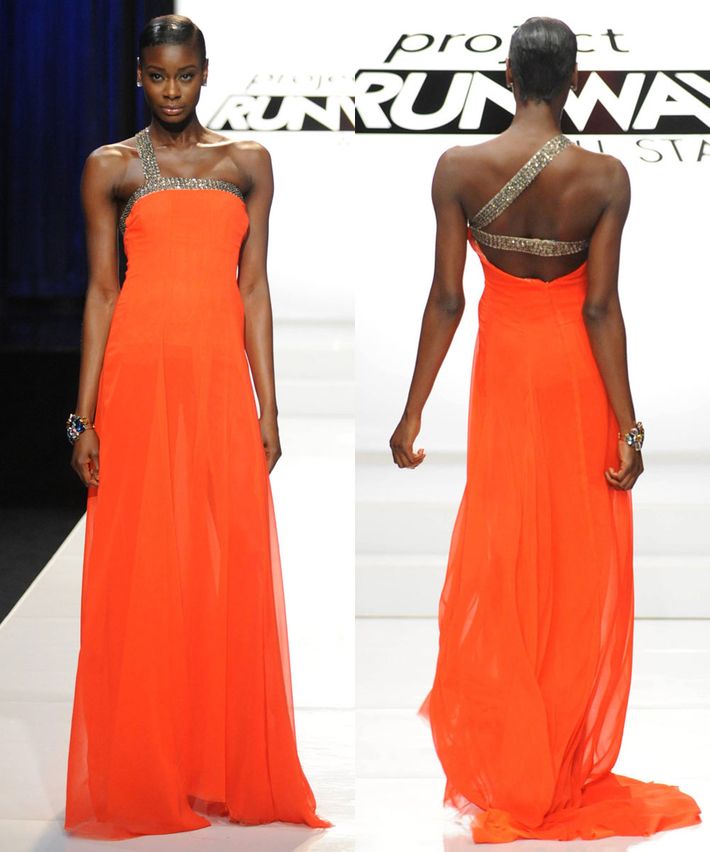 Emilio Sosa – Bottom Three
Emilio talked about being attracted to the color of the fabric, and the judges responded by saying that the color drew them in, but the lining and the flaws in the construction were so noticeable that they overpowered the entire design. Emilio said a lot of these issues were a result of the chiffon, and in response Isaac said he should've "just gone all the way with this idea of doing a beautiful red dress on this beautiful black girl," which seemed a little bit strange. DVF said that the slip, lining, and trim were all either problematic or unnecessary, and summed up her feedback with, "The dress has missed." Ouch.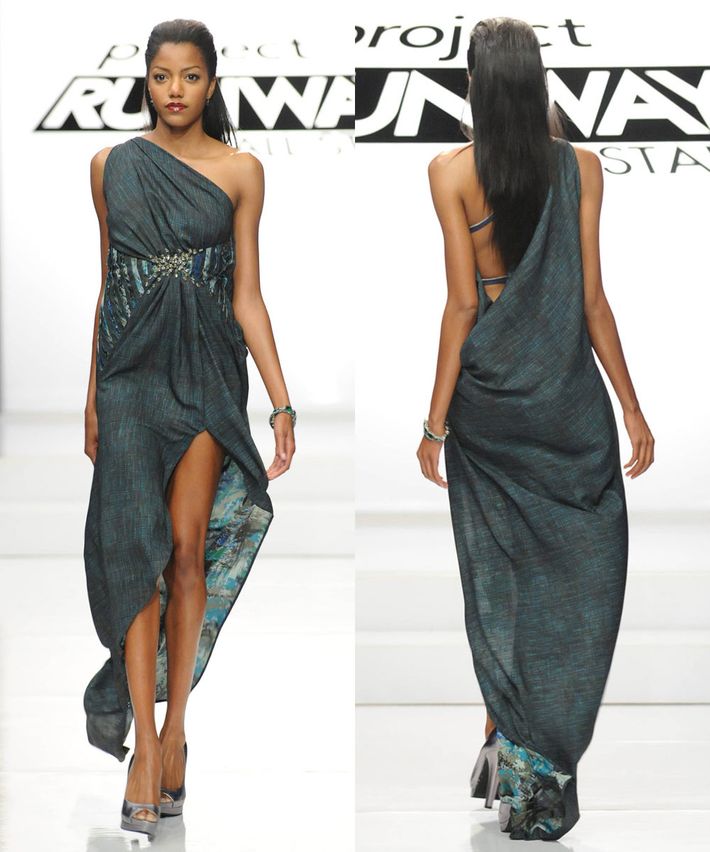 Joshua McKinley
Joshua must be so frustrated not to be gaining any traction with these judges – I think this is the fourth or fifth consecutive week that he's been safe. Don't get me wrong, though, the middle of the pack was exactly where this look belonged. The color is great on the model, but I'm not necessarily sure it's great for a red carpet. The belt is an interesting detail, but I'm not sure that the look would work without it, and that's problematic.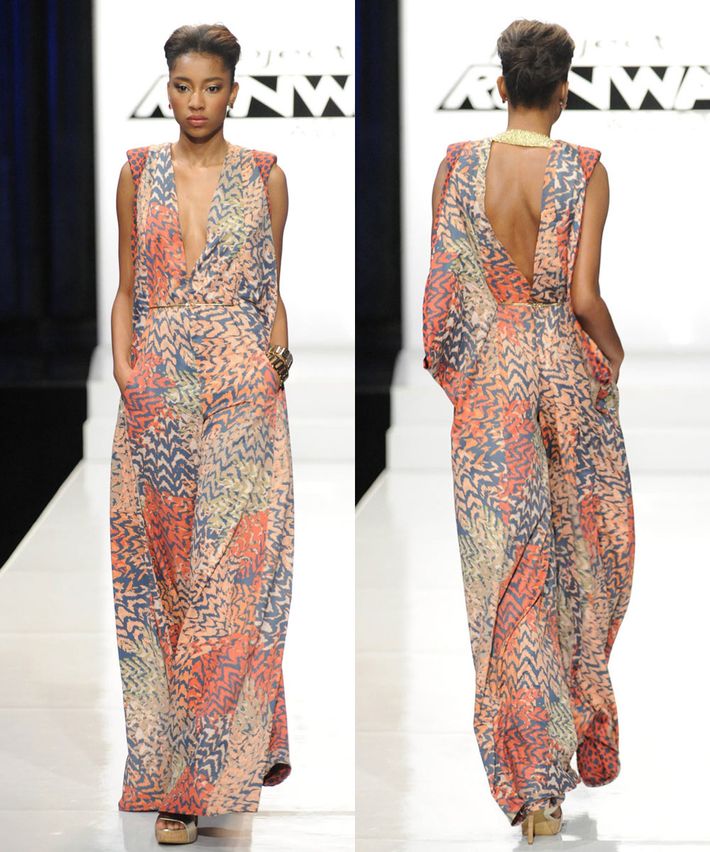 Laura Kathleen – Winner
Laura got a little criticism about the proportions of the look, but overall, her feedback was very positive. That said, the best part of her critique was when DVF launched into a story about being 20-years-old and living in Rome and going to couturiers and being engaged to a prince and wearing pajama palazzo pants for the first time. That said, this is a striking look and it's well-made, and I agree with Isaac that the print looks really fresh, which is a surprise. I'm just not sure I see Carolyn wearing it at all, let alone on a red carpet.