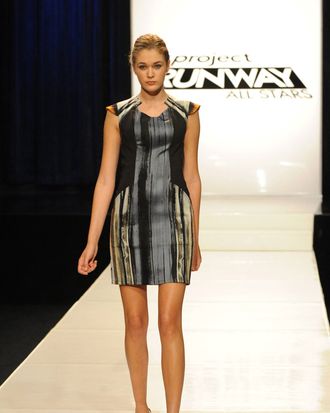 When there's a designer left on Runway or All Stars who absolutely must go home because it's baffling how they've survived this far in the competition, one of two types of episodes will result. Either the designer won't go home and, as a result, the episode will be an engrossing fiasco; or the designer will go home and the hour will be a slow trudge toward that inevitability. This week's episode was the latter, unfortunately.
The designers meet Carolyn at Elie Tahari's studio, and I'm guessing they weren't told where they were going in advance, because Joshua is wearing neon boxer briefs for some reason. Carolyn tells the designers that this week is the ready-to-wear challenge, and introduces Elie himself to give them the details (he mispronounces Carolyn's name, which I find oddly delightful). He explains the client is modern, sophisticated, and feminine, and points out that because it's a retail-based challenge, the price point should be one of the designers' primary focuses. The winning look will be manufactured and sold in Elie Tahari stores. Elie's fabric storerooms are at the designers' disposal, and he'll co-mentor the challenge alongside Joanna. Everyone flips out accordingly.
Each designer takes a design brief and finds a corner of the office for sketching and planning (my sympathies to the displaced assistants whose desks they clearly stole) and, after a Supermarket Sweep–style trip through the fabric storeroom, they head back to the workroom. Uli's immediately worried that the white she chose isn't going to stand out enough, an anxiety that isn't eased by Emilio pointing out that this will be the fourth white dress she's done in eight weeks of challenges. Ivy chose a print and is duly nervous, while Emilio is (overly?) confident that his gold and orange color blocking will give him the edge on the runway.
Everyone is noticeably on edge when Elie and Joanna come by for critiques, but it helps that Elie Tahari is exceedingly gracious and precise in his critiques. Joanna points out that Ivy's fabric might not be a successful choice, since she's not accustomed to prints. Elie politely says, " … It's bold." When he goes on to express concern about the length of Ivy's dress, she responds that the customer could "hem it to the length she wanted to," which seems almost appallingly unaware of how people choose, buy, and wear clothes. Elie says that the pink lace on Joshua's dress "takes him someplace else"; Anthony Ryan helpfully points out that that place may be the Playboy mansion. Joanna and Elie both express concern about Emilio's color choices, and he starts to consider dialing it back a bit. Uli is actually relieved to hear Elie say that her dress is unflattering, since it gives her permission to start over. And while Joanna fawns over Anthony Ryan's look again this week, Elie turns his critique into a parable about appreciating things and working hard, and everyone ends up crying. Seriously.
Anthony Ryan has a quick video chat with his boyfriend, who tells him, "They were having Beer Thursday at work and I skipped it to talk to you!" True love. Ivy video chats with Casanova, which actually makes me a little sad. I know they were great friends in the competition, but wouldn't she rather talk to a friend or family member from home? (This is what happens when you get overinvested in the lives of reality television contestants.) Still, they have a sweet chat, and he urges her to do her best and keep fighting.
The morning of the runway, Carolyn mechanically recites Elie Tahari's life story to the designers and introduces Stacy Keibler as "the girl with the longest legs in the business." Ivy's finally sent home for her underwhelming near-maxi dress, which is a tiny bit surprising, given that Elie's feedback about Joshua's look is that when he saw his model coming, he "felt like slutty lady." Anthony Ryan gets the win for a dress that's totally underwhelming and seems like it would be out of place at Elie Tahari stores, and I'm really surprised that Uli's perfectly executed, versatile white dress wasn't the winner. These judges seem to favor Anthony Ryan pretty heavily, and while he does do very good work, it doesn't make for very fair competition or interesting television if they're determined to give him the win.
Next week, Katie Holmes guest-stars! I'm legitimately excited.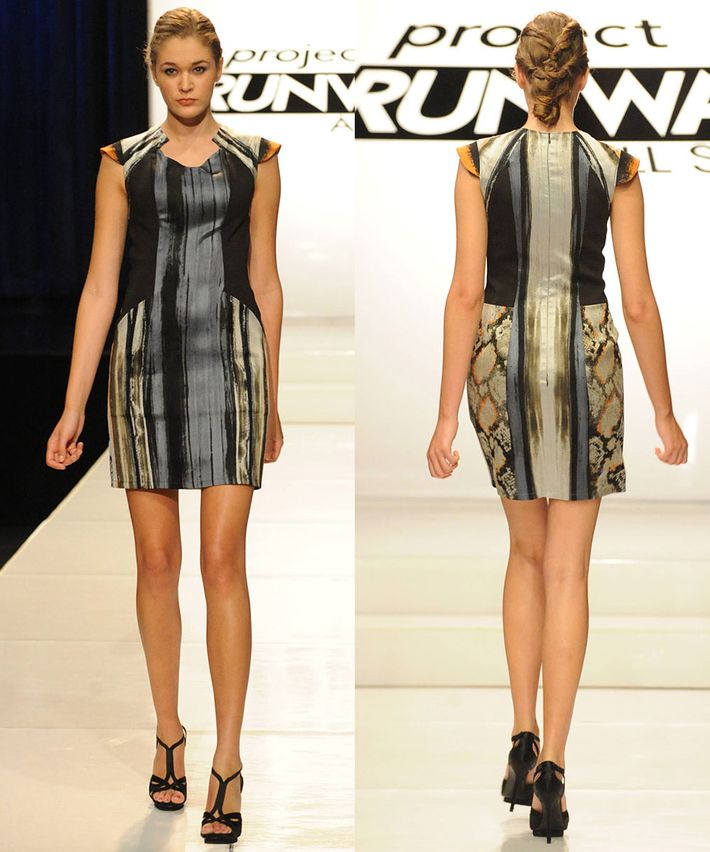 Anthony Ryan Auld — Winner
Anthony Ryan liked how the panels of the fabric he chose could be cut up and rearranged to his liking and combined with neoprene-type fabric to give the dress a bit of stretch. Isaac loved the side panels but "took issue with the neckline." Elie said that the fabric is challenging, but thought Anthony Ryan used it intelligently. Stacy said she loved the dress and wanted to take it off the model and wear it out that night, and Georgina praised the look for being young without verging into juniors territory.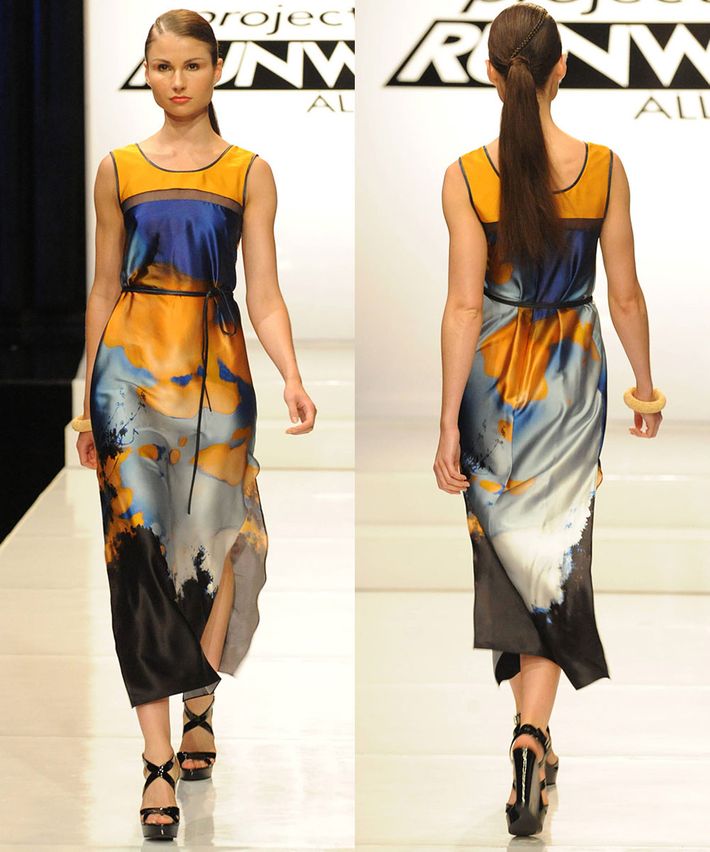 Ivy Higa — Eliminated
Ivy talked about being very inspired by the panel print, and while the judges liked the print, too, they didn't find much else to praise. Carolyn thought the billowing of the slits was unflattering, and Georgina thought the length made the dress look healthy. Elie explained that he had been trying to encourage Ivy to make the hem higher, making the look lighter overall. Isaac, weirdly, liked it when it walked, but called it "awkward" when she was standing still. Given how reliant this look was on the fabric — Ivy all but pulled it off the bolt and called it a day — it was definitely time for Ivy to go.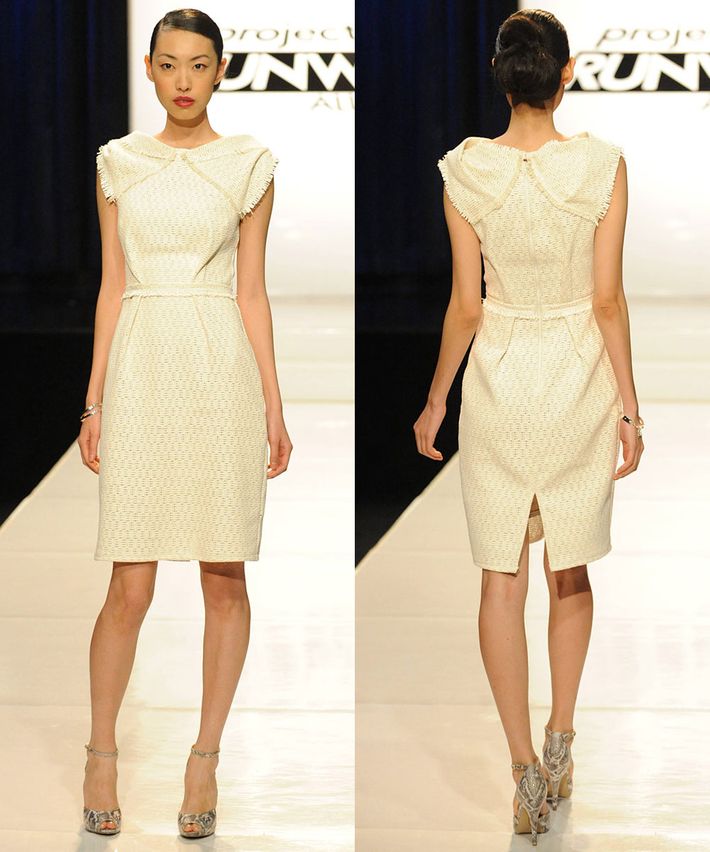 Uli Herzner — Top Two
Uli talked about being drawn to the woven fabric because it's easy to dress up or dress down; while Georgina liked the detailing, she didn't like the length. Isaac liked the length, and said that there's a turn-on to finding "thrift store" style dresses where something seems wrong with them. (Weirdly, this is one of the few aesthetic sensibilities Isaac and I share.) Carolyn said that Uli could make a white dress every week and she wouldn't get tired of them. Stacy said she'd absolutely wear it and called it very classy, and Elie said the fringe was perfectly used and said it was a wonderful achievement compared to what he'd seen at Uli's critique.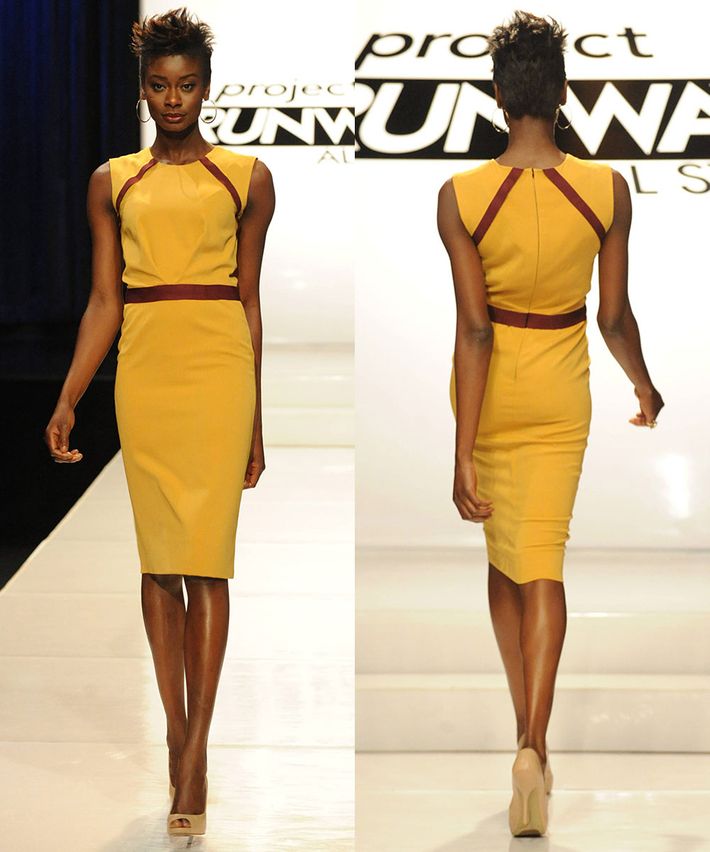 Emilio Sosa
Georgina called this a "very hard color" and wished there had been "more ideas." Stacy said that it isn't a color she'd be drawn to, but noted that it looked really good on Emilio's model, which is true, but everything has looked good on Emilio's model this season. Elie said that both the neckline and sleeve were well-executed, and told Emilio, "I admire your achievement." Isaac, on the other hand, said he expected more from Emilio, because Emilio "is such an all star." Emilio wasn't particularly thrilled with that — he curtly thanked Isaac "for his comments."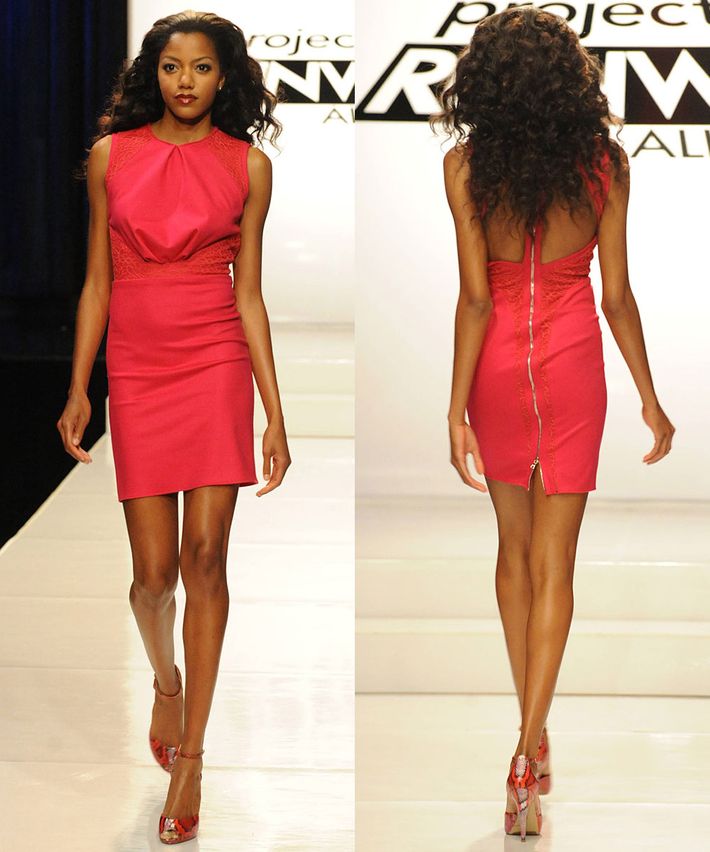 Joshua McKinley — Bottom Two
Georgina loved the color, but said the way the dress was cut in the front made it look like the model's breasts were down to her waist. (This was completely true. Was she not wearing a bra? Are Project Runway models allowed to wear bras?) Isaac didn't like the zipper or the cut or the length, but was most upset with the combination of the lace applique and the wool knit fabric. Elie said Joshua was "home free" with the color, but thought the lace was a misstep. And Carolyn and Joshua got into a little catfight about the zipper (she was totally in the right, but I'd argue with her, too, in that situation).