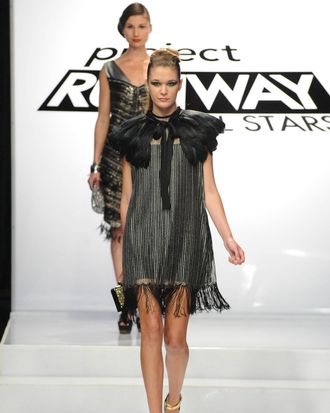 Last week's episode featured glitter and gold and Christmas magic; this week's episode featured weeping, backstabbing, and fights to the (fashion) death. I like that Lifetime is presenting a fair and balanced view of the holiday season!
Carolyn tells the designers that they'll be designing a twenties-style dress for a modern woman, which immediately makes me wonder whether this challenge was filmed before The Great Gatsby's release date was pushed back. Maybe it was initially intended as a tie-in to the film? (Or maybe I'm just reaching for reasons why there have been two period challenges in a single season.) Each designer is given an "invitation" to a social soiree, afternoon garden party, or after-hours speakeasy, and will face off against the designer who randomly chose the same invitation they did. In each pair of designers (who are working separately), only one designer can be in the top; the other will be in the bottom. While I always appreciate it when All Stars tries to shake things up a bit, when this judging format was used on regular Runway this past season, all it accomplished was rewarding some shoddy work and preventing strong designs from getting the win. Onward! Joshua and Emilio are assigned afternoon garden party; Uli and Laura are assigned social soiree; and Ivy and Anthony Ryan are assigned speakeasy.
The designers head to the workroom to sketch, where Joshua asks Laura if she's planning to use any feathers in the design of her social soiree dress. Laura responds, "Hell no. I don't need feathers to compensate for my design." Uli's sitting right there, and she's used feathers throughout the competition, so it's a low, intentional blow, but that's what I've come to expect from Laura this season.
After a quick trip to Mood, the designers get to work, and Laura reveals that her brilliant anti-feathers plan is to use fur instead, which seems risky. Anthony Ryan and Ivy butt heads in their close workspace, and while I usually take Anthony Ryan's side, it does seem like he's inching more and more into her workspace every minute. The bickering is engrossing enough, but I'm distracted by how few designers are left. The end really is drawing near! (Or nearer, at the very least.)
When Joanna comes by for her critiques, she looks at Joshua's work first, and deems one of the panels on his dress "too marsupial." After she looks at Emilio's print, she wonders whether it's youthful enough, and his face falls as he realizes that it does look like fabric you'd find on your grandmother's couch, as Joanna had suggested. The editrix likes the mixture of textures and experimentation with trousers in Laura's look, then worries that the judges are going to take Uli to task for doing something so similar to what she's done in the past. Uli counters by saying that she thinks the judges would be equally critical if she shied away from feathers, beads, and other embellishments in a twenties challenge. Joanna is so enamored with Anthony Ryan's feathered caplet that she threatens to steal it, but spends most of Ivy's critique goading her into saying nasty things about Anthony Ryan.
The morning of the runway show, the designers sit in their pairs, some of them with cocktails and period hairpieces. The hairpieces are cute, but do you really want to hear Isaac Mizrahi tell you your design is garbage while you're standing there wearing a sparkly headband? The guest judges this week are Gretchen Mol and Jenny Packham, both of whom have some very strong insights and are a great fit for the subject of the challenge. Some of this week's looks are a little slapdash, which makes total sense: Twenties looks are about detailing, something you can't do successfully in a one-day challenge.
While Emilio, Uli, and Anthony Ryan come out on top, Anthony Ryan takes the win (a bit of a surprise, given the effusive response to Uli's dress). Laura, Joshua, and Ivy wind up in the bottom three, and Laura's sent home. I'm pretty shocked, since Ivy's been in the bottom three multiple times, and both Ivy and Laura are very shocked, too. Laura sounds much more gracious as she says good-bye than she has all season. That can't be an easy thing to accomplish, so good for her. But seriously: Ivy is in the final five?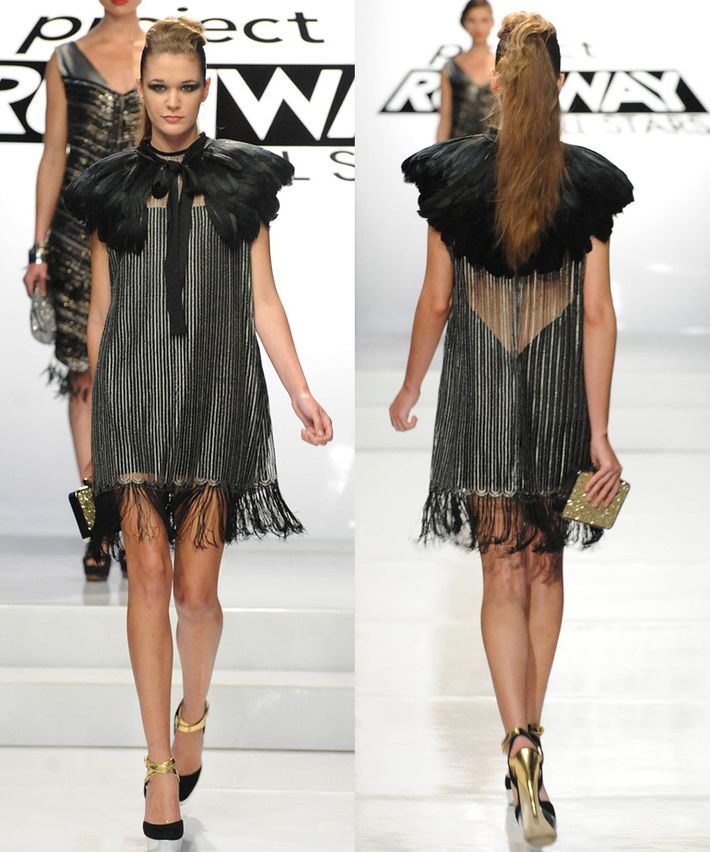 Anthony Ryan Auld – Winner 
Jenny loved how modern the dress felt, but pointed out that the slip could've been more flattering to the model's figure (this isn't the first time Anthony Ryan has had a problem with this). Gretchen called it young and fun and striking. Isaac told Anthony Ryan that he didn't like the capelet and asked him to take it off, but after he had, Isaac decided that hedid like the capelet. Such drama! The judges thought that the look was exciting and fresh and bold, if perhaps a bit too low-cut in the back to be properly period. This was another well-deserved win.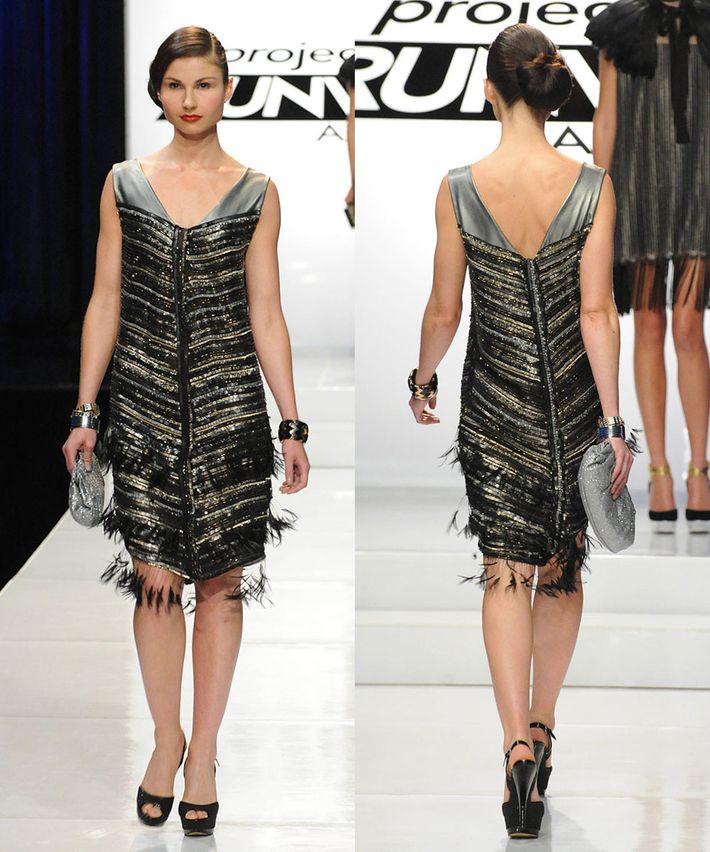 Ivy Higa – Bottom Three
Carolyn called this dress Prada-esque; before Ivy could get too excited, Carolyn said that it's also something she feels like she's seen before. Isaac liked the chevron in the back, but said that it made the look too heavy in the front. Jenny thought the feathers were too light – as soon as they were on top of the dress itself, you could barely see them, so they were more a distraction than anything else. Gretchen said that this dress grew on her over time; she could see it worn at an art opening. But none of the judges mentioned or had a problem with the fact that Ivy didn't do much original beadwork here.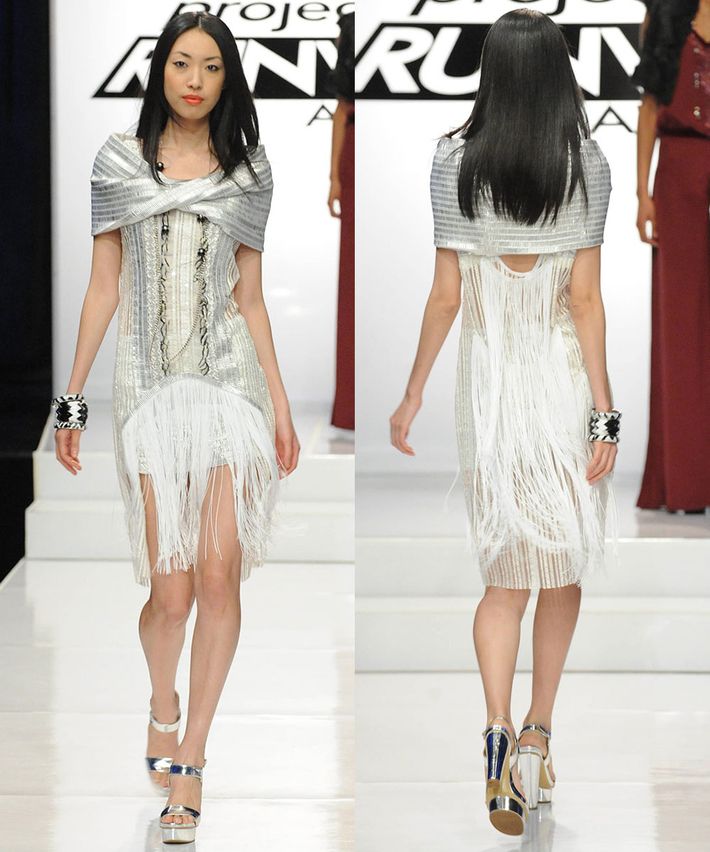 Uli Herzner – Top Three
Isaac actually congratulated Uli on her dress before launching into any other feedback, which shows you how strongly he felt about it – though he did find the white fringe a little cheap-looking. Gretchen liked the thickness of the shoulder straps, and thought the dress looked better without the wrap. Caroyln thought the whole look was very fun. Georgina called this "Uli's challenge," and it truly was, even though Uli had originally worried that the look was too on the nose for a challenge that was asking her to create a modern-day 1920s look. The judges response was "if it works, it works."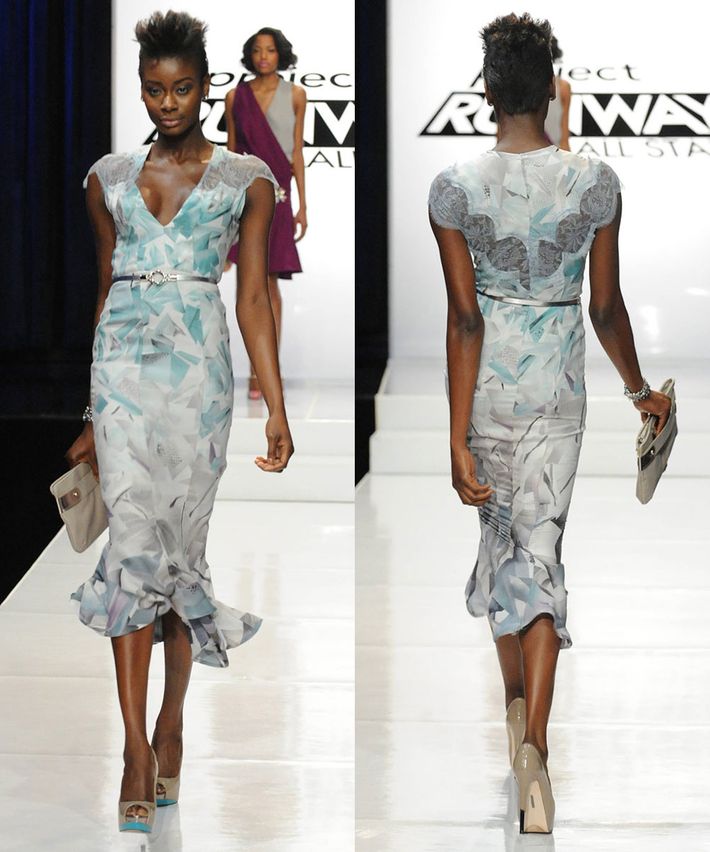 Emilio Sosa – Top Three
Emilio talked about the challenge of making the print look young, and described how he did so by putting the blue flowers on top and having the colors move gradually until the flowers were gray at the hem. Carolyn loved the back of the dress. Gretchen liked that it was ladylike and a length that's currently less common, and Jenny called it elegant as well, if a little bit dated. Isaac said that the length and the shape were more 30s than they should have been. Georgina found the dress to be lacking in personality, and said that it this point in the competition, she needs to see more of Emilio's trademarks in his designs.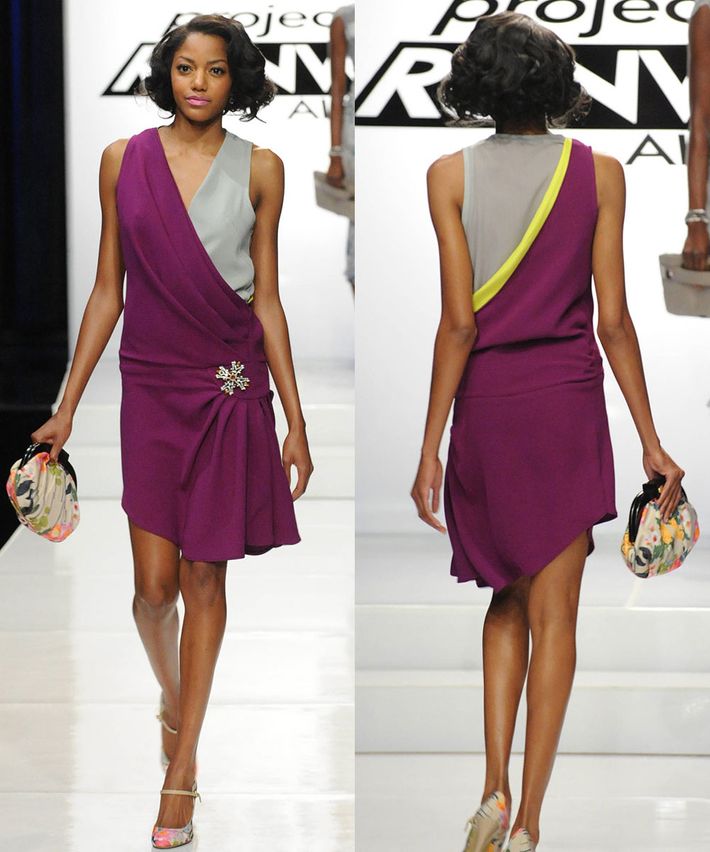 Joshua McKinley – Bottom Three
I cringed when Joshua started insisting on using the brooch in this look. Georgina loved the attitude and how modern Joshua made the back of the dress look, but said that the styling completely undid that. Jenny thought it was very successful and thought the pleating worked well; she called it "fun." Carolyn thought it worked fairly well, too, but she was concerned about it being too safe, and Isaac echoed that concern. He said it wasn't interesting enough in terms of the model's figure, and encouraged Joshua to "show it properly." As long as we're in agreement that the brooch is horrible, I completely agree.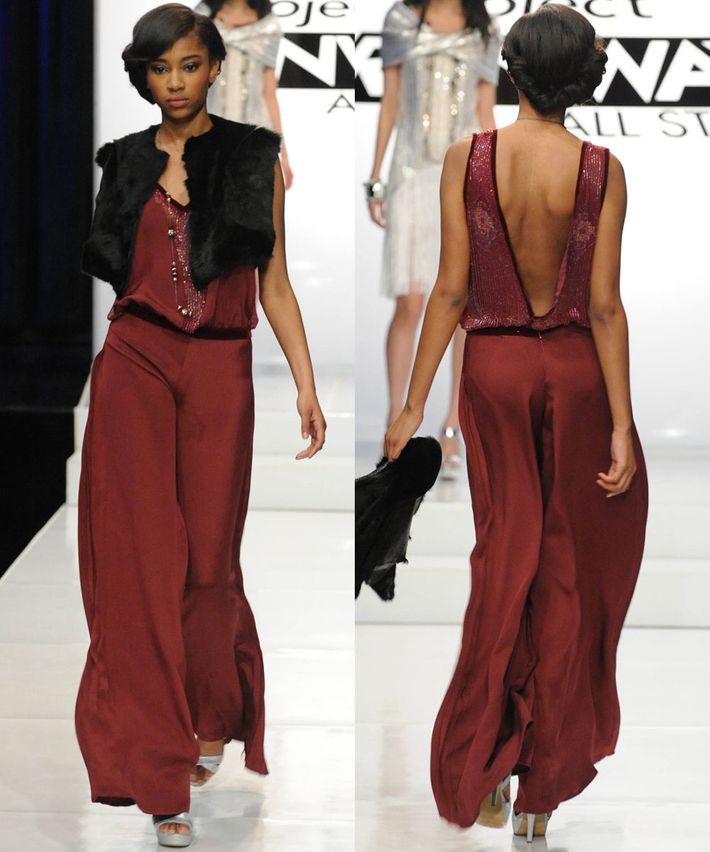 Laura Kathleen – Eliminated 
Laura talked about wanting to do a "whimsical pant" for a fancy affair, and it's worth mentioning that she did something similar to this look for the green design challenge and got a much more positive response from the judges. Isaac thought the entire look worked better without the fur; with the fur, it read "like cavewoman" to him. Both Carolyn and Georgina praised the top, but Carolyn didn't like the flare of the pants, and Georgina said that Laura didn't pay nearly enough attention to the fit of the crotch (a huge problem when you're using reflective fabrics). Was this look the strongest? No. But I'm not sure it was worth going home over, and I'm not sure if Laura would've been in position to go home if the head-to-head judging system hadn't been used. Anyway, off she goes.