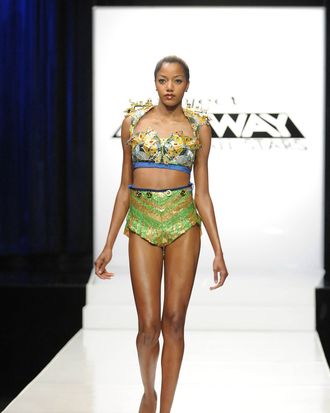 If there's one thing I've learned about myself over nearly six months of recapping Runway and All Stars, it's that I expect — perhaps unfairly — a basic amount of graciousness from the designers. That's probably why complaints about the "unconventional materials" challenge frustrate me so much. Is it awful that you could be sent home over an inability to make a wearable dress out of birdseed? Yes. Is knowing how to make palazzo pants out of jelly beans an essential design skill? No. But it's television, and you knew what you were getting yourself into (especially the returning cast of All Stars), and thousands of other designers would kill to be in your shoes.
Joshua has the first stroke of bad luck back in the workroom; what he'd thought was a roll of blue fabric is actually a blue bag with a rolled-up Hanukkah banner inside. It's hard not to feel bad for him, but it's also legitimately funny. Uli starts working on a dress made completely out of trimmings and embellishments (despite her vow to stay away from them last week), and Emilio immediately begins to flounder a bit, which surprises me a little given his background in costume design. And everyone points out, once again, how Ivy and Cassanova are collaborating, but it doesn't seem to be helping Cassanova much. He's ready to make a tree skirt into a poncho and call it a day.
When Joanna comes by for her critiques, she's concerned with the state of Joshua's look — since he has so little to work with, his look so far consists entirely of a "bralet" and high-waisted shorts. She comes upon Cassanova tearing apart his latest effort, and when she says she'd liked it from afar, he rolls his eyes and says, "You wanna wear that dress?" Emilio's color palette has strayed from red and green, but Joanna is worried that he's going to "let ribbon do the work for him." There's a bit of concern around how similar Anthony Ryan and Uli's looks are; Ivy claims he's "always copying other designers' inspiration," but if that's the case, it's the first I'm hearing of it. Ivy tells Joanna that she plans to make a fringe out of some garland, but when Joanna points out that she doesn't have enough of the garland, Ivy agrees, then doesn't change her plan. Strange.
The morning of the runway, everyone begins to realize just how much work they still have to do — time to break out the glue guns! Cassanova requests donations of fabric and embellishments from the other designers and uses their leftovers to cobble a look together. Peace on earth, goodwill to all! Joshua makes the questionable decision to wrap his model's ponytail in the gold wire from one of his leftover ornaments, and Emilio starts hurling glue guns across the room. It's all very tense!
Then it's off to the runway where Kylie Minogue joins the judges, and LaLa Anthony shows up, too. LaLa is unexpectedly quiet (although she comes out of her shell a bit more when the judges are deliberating) and Kylie is as impossibly energetic as ever. It's a surprisingly strong runway, although things do look much more glued-together (and supported by a layer of muslin) than normal.
In the end, Uli's look won, and she was praised for how light and youthful her look seemed despite how physically heavy it was. And while Cassanova's last-minute recycling efforts were valiant, they weren't enough to keep him in the competition. It was LaLa who was his biggest champion, strangely, pointing out that if he could put together a passable dress with scraps, he must be able to do great things when he has all the material he needs.
We're down to the top six! Any predictions for the final three? I'm thinking Anthony Ryan, Emilio, and Uli.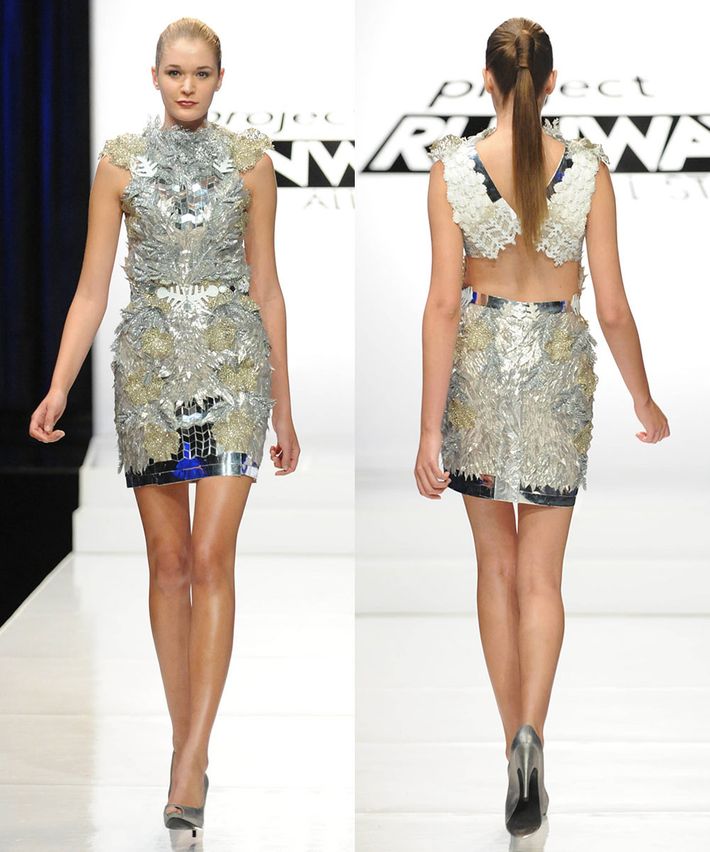 Anthony Ryan Auld – Top Three
Anthony Ryan used garland and ornaments and focused on creating a stage piece with Kylie Minogue in mind (even though that wasn't a component of the challenge). Isaac loved the color of the dress and said that it looked extremely expensive. LaLa was completely blown away by it at first, but then thought that some of the details seemed too Christmas-y when looked at more closely. Carolyn complimented Anthony Ryan for "inventing" this hem length, which makes almost no sense. Kylie liked the hem and the bottom part of the dress, which was mirrored.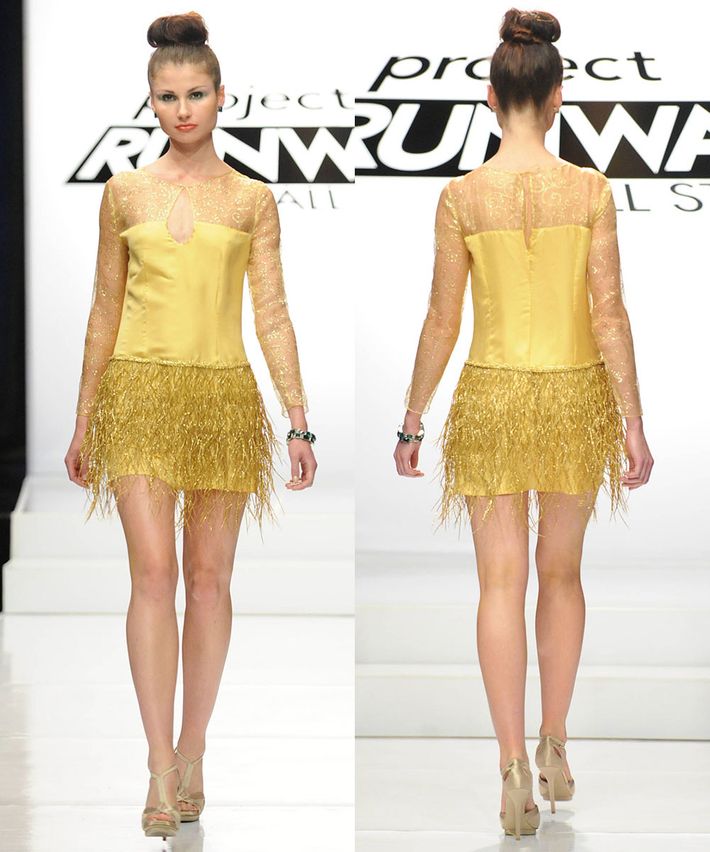 Ivy Higa – Bottom Three
Ivy used garlands and a tree skirt and talked about how her aesthetic is to always "edit down." She thought the judges would like her more simplistic approach, but on the whole, they didn't find it to be innovative or impactful. Georgina liked the idea behind it but thought the proportions were off and that the keyhole and seams made the garment look cheap. While I don't think this was the strongest look of the bunch, I liked the direction in which Ivy was going; if she'd pulled this off, it could've stood out as one of the less costumey looks of the bunch.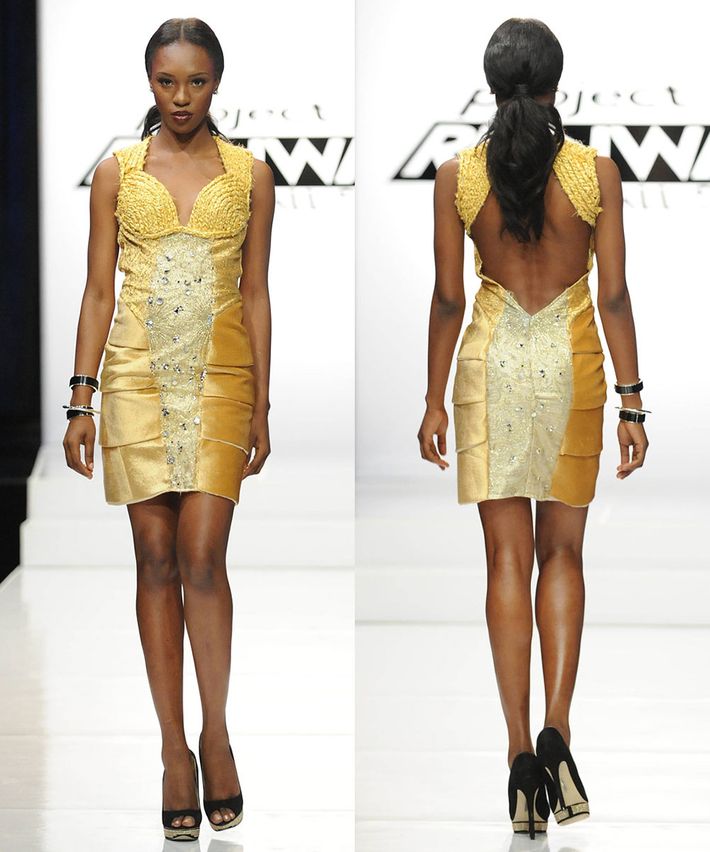 Cassanova – Eliminated
Cassanova used ornaments and a tree skirt and said that his first look "screamed Santa Claus" and his second look was a mess. After he explained to the judges that his look was made entirely out of the other desginers' scraps, they were sympathetic. Georgina thought it felt a little heavy-handed, and Isaac cautioned Cassanova to think more carefully about the age of the end-user of his designs. The Gaultier-esque top really works; it's just a mess juxtaposed with the rest.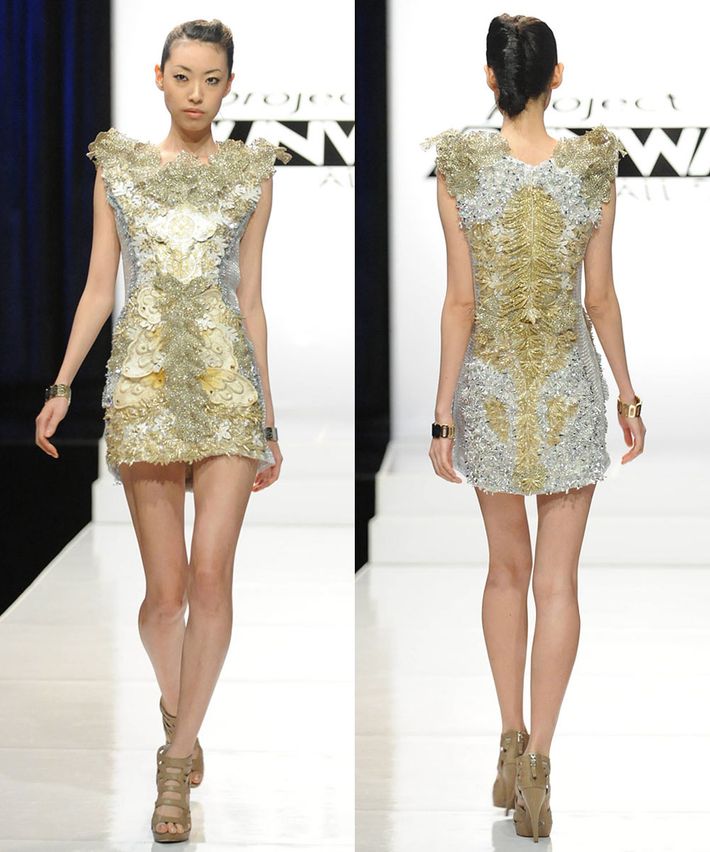 Uli Herzner – Winner
Uli used ornaments and mesh, and while it's true that her dress and Anthony Ryan's were similar, hers was clearly the stronger idea and process. Isaac said that Uli has a strong signature look and that she can make components come together "like magic." Kylie thought it was stunning and loved how it combined silver and gold. Georgina complimented the mesh panels on the sides, which Uli added to give the dress some lightness (and so that it didn't completely fall apart). The proportions here are great, and it feels young and light.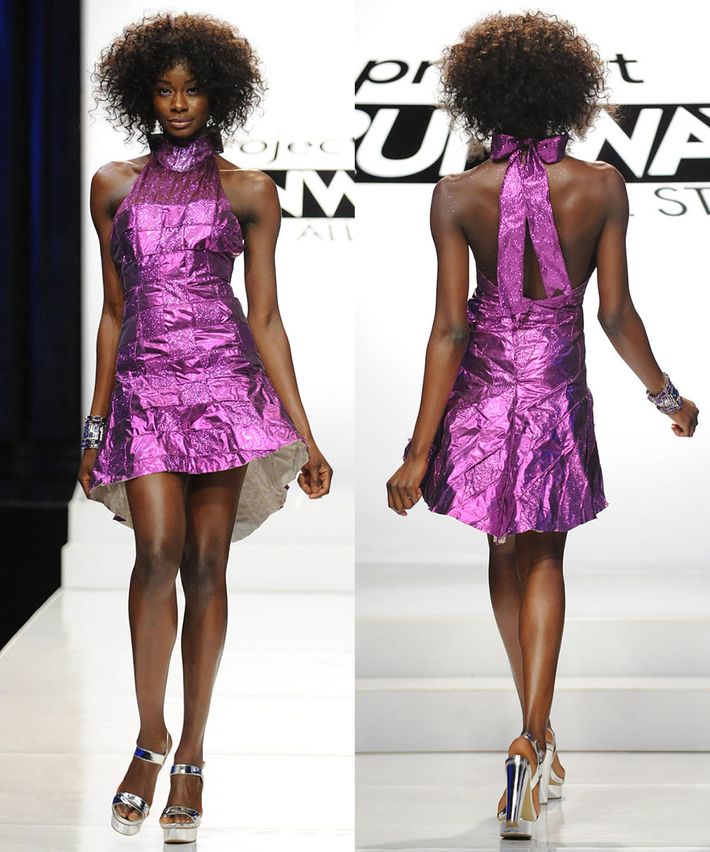 Emilio Sosa         
Emilio only used ribbon, which is surprising. As he was working, he had lots of butterfly and dragonfly ornaments, and he said he would make them into a bodice. I'm not sure when that idea got scrapped or why, but it would've been more interesting than what Emilio sent down the runway. It's clear that Emilio played it safe here, and after his disastrous performance in the unconventional challenge in his original season, I don't blame him. Still, I'm surprised that he's not a bit more confident in challenges like these.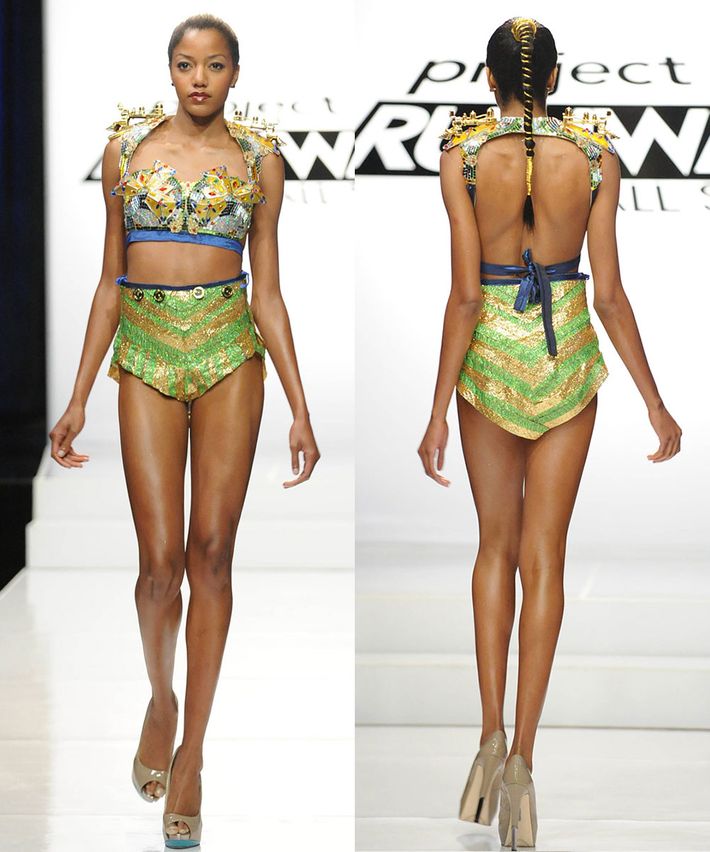 Joshua McKinley – Bottom Three
Joshua used ornaments, ribbon, and a toy train, and I really respected the way he didn't make excuses about his lack of fabric on the runway. The top is gorgeous — I'm still not sure how Joshua actually did it — but the shorts are barely there, and Isaac said he could see into them as the model came down the runway. The rest of the judges agreed — the top was great; the shorts were a fiasco. Even though Joshua was on the bottom here, he should be commended. This was truly something out of nothing.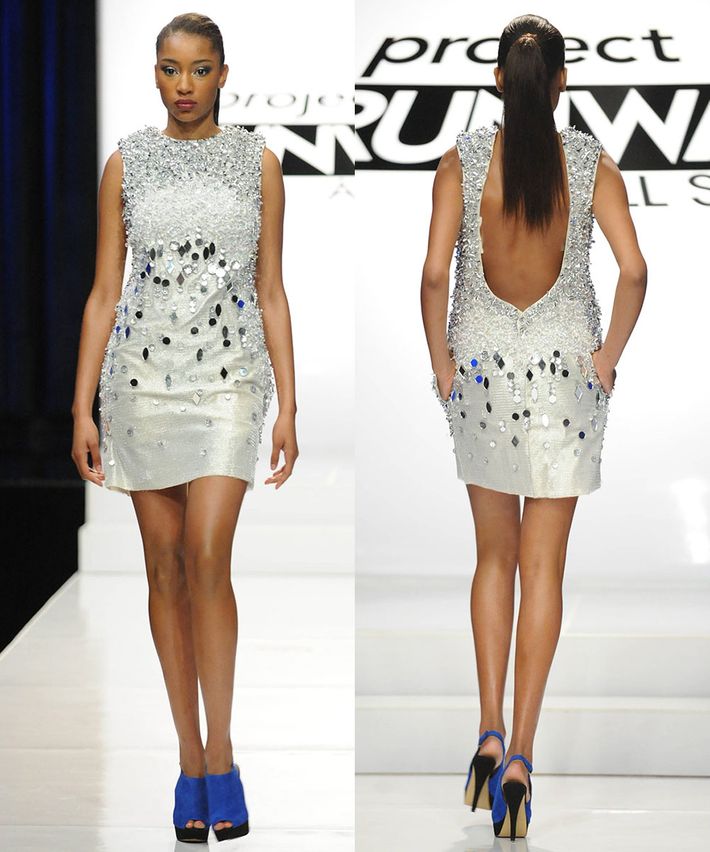 Laura Kathleen – Top Three
Laura used ornaments, crystals, and garland and focused primarily on creating textures that looked like beadwork. Kylie said her favorite thing was that the dress had pockets. (In 2013, can all dresses have pockets?) LaLa thought the garment was well planned and executed, and Carolyn liked the fringe in the back. Isaac told Laura he had "major criticisms" for her and started with, "I think she looks fat." Tactful! Georgina pointed out that that issue could've been resolved by inverting the light and dark embroidery on the dress.