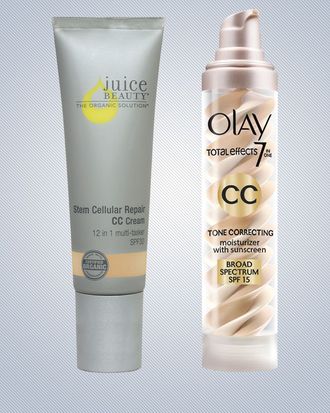 Q: Are the new CC creams just a marketing ploy? Do I need one if I already use a BB cream?
A: While some healthy skepticism is understandable with this one, there are subtle (but important) differences between a CC and BB. If brown spots, dullness, or redness and rosacea are your skin concerns, then a CC, or Color Corrector (like Olay Total Effects CC Tone Correcting UV Moisturizer or Juice Beauty Stem Cellular Repair CC Cream) is a better bet for you than a BB. Both multitaskers act as a primer, tinted moisturizer, sunscreen, and skin treatment for anything from acne to wrinkles.
"Color Correcting creams are precisely targeted on pigmentation," explains Washington D.C. dermatologist Noelle Sherber. "They generally employ sheer, light-diffusing pigments that make dull skin look luminous, and though they're very lightweight, provide more coverage to even out the skin tone." Usually, they're rich with antioxidants; pigment-fading ingredients such as licorice extract, vitamin C, and arbutin; and anti-inflammatories that reduce redness and brown spots, like niacinamide. So take note, because Chanel's CC cream, currently available only in Asia, is anticipated to arrive stateside soon.