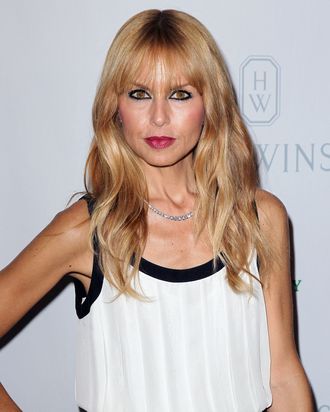 Rachel Zoe.
Photo: David Livingston/Getty Images
A recent trip to discount store Loehmann's revealed a surplus of unsold Rachel Zoe clothing. Even with prices slashed by 50 percent or more, the oversize blazers, gold maxi-dresses, and flared pants hung untouched, their sequins sparkling forlornly. Indeed, Zoe's line seems to be having a rough time these days. Initially deemed an instant success, the label's sales are now rumored to be lackluster; British department store Selfridges dropped the line in September (but not the shoes), and now Saks no longer carries it in stores, Buzzfeed Shift reports, although it's still sold online. 
The problem could be that Zoe's name recognition, which helped the brand get tons of buzz early on, couldn't sustain sales over time. There's also the possibility that business will pick up again when Zoe's Bravo show, which has been off-air for almost fourteen months now, resumes — although a label can't rely on a reality show for success in the long run. 
See Rachel Zoe's spring 2013 collection.