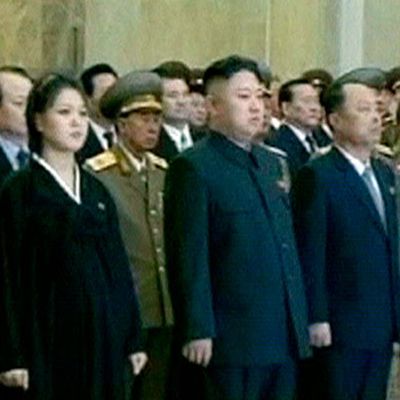 Photo: Reuters TV / Reuters
Maybe! At a memorial service on the first anniversary of Kim Jong-il's death, the wife of Kim Jong-un looked "heavily pregnant," says the Telegraph — not that her "traditional mourning clothing" (a.k.a. hanbok, or "small jacket paired with a full skirt, which starts just under the boobs, creating a voluminous, 'preggy' effect," explains Cut Christina) was doing her any favors.
Per the newspaper:
There was speculation in October that Ri might be pregnant after she failed to appear in public for 50 days, triggering speculation that she might have fallen foul of the old guard in the North Korean regime for dressing too fashionably or failing to be sufficiently respectful to conservative members of the party or government.

An alternative theory was that she was pregnant.
Ri hasn't been smoking or enjoying any amusement-park rides recently, so the alternative theory seems possible.