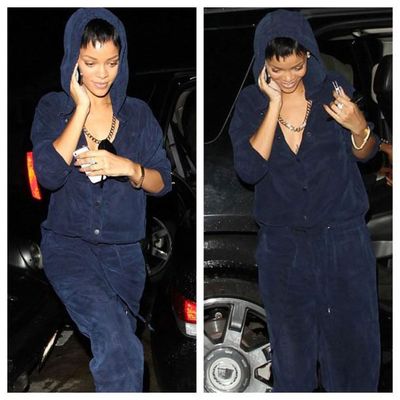 Rihanna's River Island jumpsuit.
Photo: River Island/Facebook
You may recall that Rihanna is collaborating with British-based clothing label River Island on a capsule collection for spring 2013, and today the brand posted the first evidence of their labor's fruits, via Facebook. Worn by Rihanna, naturally, it's a navy-blue jumpsuit with buttons, an elastic waist, and an attached hood; she accessorized with a gold chain necklace and her brand-new Rolex. Isn't it a bit weird that she didn't, well, get off the phone and work it a little more, considering this was the collection's first big reveal? Oh well, we'll get to see plenty more of it soon enough.
Related: Rihanna Is Looking Forward to 'Creating Something Really Special' With River Island