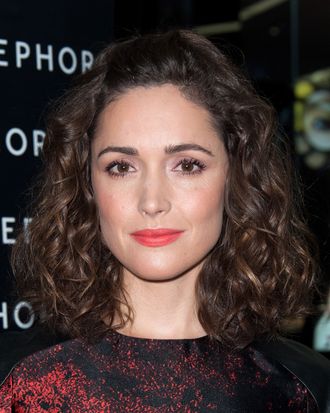 Photo: D Dipasupil/FilmMagic
After eight months of renovations, the newly revamped Sephora store in New York's Time Square opened this morning with the help of a circus juggler, an acrobat on stilts, and an official ribbon-cutting ceremony starring Rose Byrne. Dressed in a red and black Monique L'Huillier dress, she took a moment while standing by the store's immense interactive nail bar to discuss her thoughts on the nail art trend and gave tips on winter skin maintenance. Plus, as someone who would know, she explained how the duchess should be taking care of her new set of bangs.
How do you feel about nail art?
I think it's kind of cute. I've never really done it, because of work; it's so cumbersome with nails since you have to do whatever the character is doing for months and months and months. I think it looks really fun though.
What kind of tips would you give the duchess?
When you're blow-drying your hair, always do [the bangs] first. Because otherwise, at least with my hair, if I wait then they've already curled up and become really out of control. So the first port of call is to get them out of the way so they just sort of sit and flatten. I just get the brush and blow-dry them flat. I'm sure she's curious about what I would tell her. [Laughs.]
How are your bangs doing these days? Are you trying to grow them out?
I'm trying to grow them out. Harry Josh, my hairdresser, just gave me a haircut yesterday. I'm just growing them out in a better way. It's taken me a while. But I love them, so I'm sure I'll cut them again.
Any good winter skin tips or products you live by?
I get really incredibly dry skin, so it's really just more moisturizer, more moisturizer, more moisturizer. Origins does a really good line of moisturizers, with a really great mushroom complex in it. But that's it for me; my skin is really sensitive and dry.
What's the one sort of beauty product that gets you giddy?
I love that blush, and it's been around forever, NARS Orgasm. It's a shimmer and a glow, and I love that.
If you could walk out of the house with only one beauty product on, what would it be?
Clinique tinted moisturizer, with SPF in it. That's the No. 1, for sure.
What's your go-to holiday look for parties?
For parties, I like opaque tights, black pumps, and a cute little dress. I love to wear tights; it's sort of a wintery feel, and I like that. Then for my makeup, I'd like to do a strong lip or a sixties cat-eye or something like that, but kind of keeping it a little sexy and disheveled.