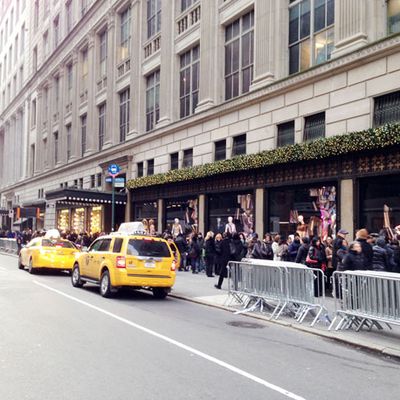 The Saks annual "Day After Christmas Sale" is not for the weak: Not only are there enormous crowd and long lines, but there's also a generous amount of aggression. Starting at 8 a.m., all items are 50 percent off the lowest price until noon, causing a panicked dash once doors open. In an attempt to stave off last year's terrifying mob scene, barriers were set up outside to ensure orderly lines at both entrances. By 7:30 a.m., the line had wrapped around the corner and twenty minutes later, it was almost down the block. Behind us, two women plotted their shopping strategy (seeking: a Burberry children's snowsuit), while stamping their feet in an attempt to keep warm in the 29-degree temps. It felt a bit like New Year's Eve, constantly checking on the time, but waiting for the clock to strike eight, not midnight. Once it did, the line began moving briskly as security begged excited shoppers not to run in the store.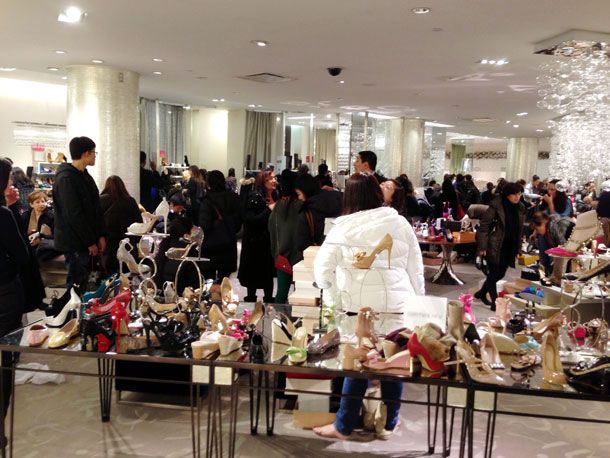 Like any other sample sale, shoes and bags were the first to go. Security was quick to direct customers to the elevator banks, claiming it was the most efficient way up to the shoe floor so big, it has its own zip code. Seasoned shoppers dodged the crowds that gathered around the marked-down handbags, near the elevator banks, opting to take the escalators to avoid the growing crowds. Ladies, don't bother with the handbags, they're never the ones you want and they're gone within the first five minutes. A quick dash up seven sets of escalators, and security had decided to thwart impatient shoppers by directing them off on the seventh floor and instructing them to wait for the elevator to head up to eight. It didn't work. And soon groups of women made a stampede toward already crowded elevators. As women shoved themselves into corner crevices, harried elevator security began to yell, "If we can't close the doors, you can't go upstairs!" As the scene became more chaotic, that eighth-floor escalator opened back up.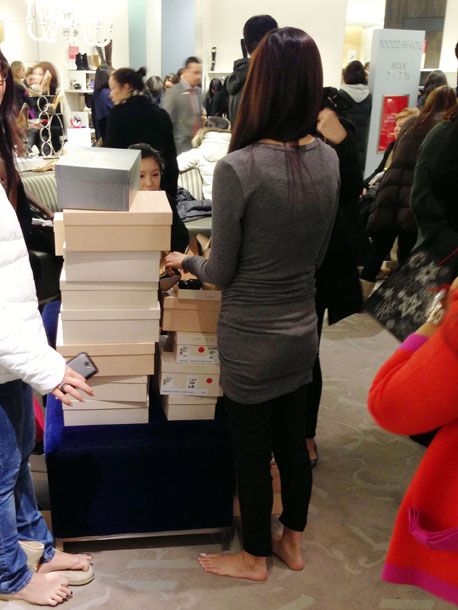 Upon arriving to the shoe floor, the scene was already chaotic at 8:15 a.m. With abundant styles from Nicholas Kirkwood, Prada, Miu Miu, Giuseppe Zanotti, and Stella McCartney, the selection was impressive as always. While shoes were arranged by size in the beginning, women were grabbing what they could be 8:45 a.m. Hoarding was rampant and having a buddy was advisable: one to guard the pile while the other strolled around snapping up half-pairs. One relatively calm security guard informed us that he was hired especially for today, "I'm just added security, in case you ladies decide to fight." He also told us there were about 100 staffers on the floor, though finding a sales associate proved to be nearly impossible. Some were assigned to work until 8:45 p.m., testing the patience of any shoe-loving lady.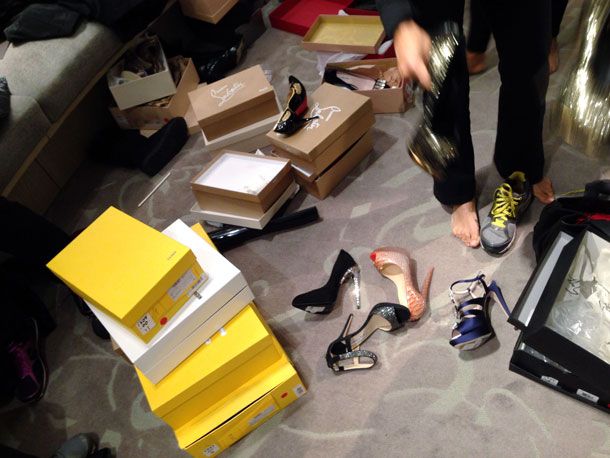 Is all of the madness worth it? Well, one of us happens to be wearing these Miu Miu booties at her desk right now and will probably face the crowd again next year. It's no civilized Manolo Blahnik sale, but if you're looking for a fancy fantasy shoe for your New Year's Eve plans, Saks is just the place to be. Just remember to be patient, smile at your poor sales associate, and realize that all exits from the floor are final. Oh, and please don't bring your dog. Or feed it from a metal bowl in the middle of the sales floor — lady, we're looking at you.