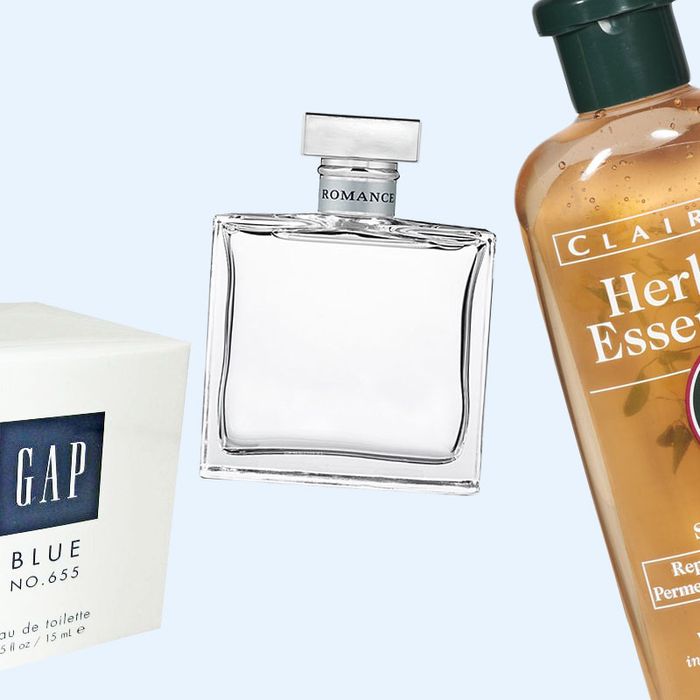 In February Herbal Essences will rerelease two of their signature shampoos: the Smooth and Shine collections. Packaged in translucent, peekaboo floral bottles, the updated versions boast silicone- and sulfate-free formulations, but their unforgettable and much-missed fruity floral scent — you know, the one that brought all the teenage boys to the yard — remains unchanged. Now if only some one would bring back all my other beloved scents of the nineties.
Gap Blue No. 655 For Her:
Introduced in 1997, this mall favorite with notes of mandarin and bergamot lingered on shelves for a few years before being discontinued. Light, effervescent, and nasally energizing, it was one of those fragrances that retained its integrity on everything it was sprayed on and worn again. Its affordable price point and minimalist cube bottle also made fifteen-year-olds everywhere feel downright grown-up-ish.
Ralph Lauren Romance:
The powerful advertising for this scent made it seem possible that you too might meet some hunky dude to take running through fields of grass. I also thought wearing it would give me a fantastic set of boobs. I'm still waiting for both. For a free hit of nostalgia, I still sneak a guilty spritz of the warm rose, ginger, lily, and freesia scent when I'm passing through an airport's duty-free area.
Bath and Body Works Pearberry Lotion:
Back in middle and high school there were long periods of the day where a small cluster of girls would sit on the floor near our lockers and over-moisturize, leaving behind an unforgettable, sweet, fruity adolescent scent cloud.
Cool Water by Davidoff:
If only all boys smelled like this musky combo of oak moss and jasmine which evokes manly things like hiking, swimming, and, most importantly, naked swimming. But that's another story for another time.