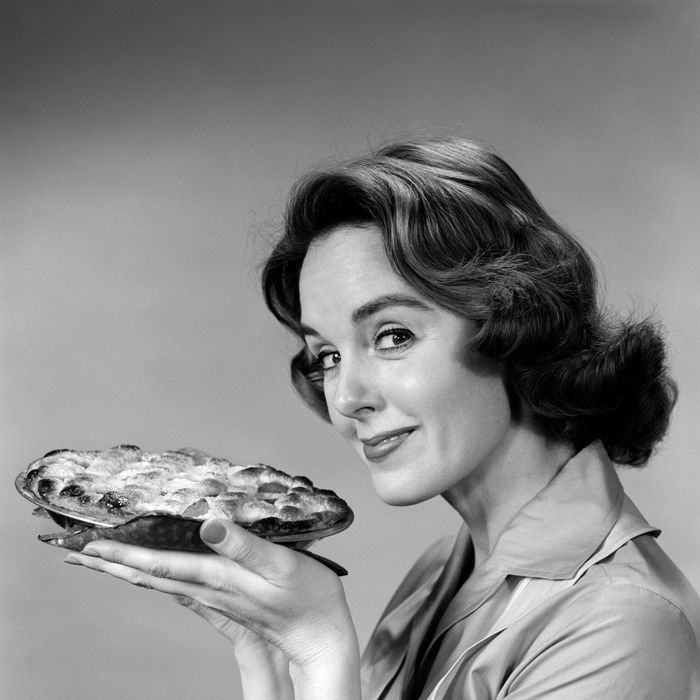 When "Smitten" blogger Deb Perleman tied the knot, she transformed her confessional dating chronicles into a beloved cooking site, adding the word "Kitchen" to her blog's name. Her recipes are excellent, and her cookbook is high on my wish list. But swapping out lingerie for an apron has become a symptom of an online world where "lifestyle" is something to be perfectly arranged and presented rather than lived. Consider bloggers Elsie and Emma, who title their site "A Beautiful Mess." One glance at the boudoir photos Elsie has posted and it's clear that her bed invites anything but: The closest nod to intimacy is a breakfast-in-bed shot of Elsie posing with her husband, holding jam-jar tumblers with candy-striped straws bobbing in the OJ, as they awkwardly kiss for the camera. (Imagine if he soiled those kicky pink floral sheets?) Even the "mess" is a staged tableau. Search for "sex" on the site and all you'll get is raunchy spam in the comments; Elsie and Emma devote themselves to rag-rolling their hair and fawning over homemade corndogs.
The Internet's most ostentatiously blissful women — the curators of domesticity on Pinterest, Tumblr, and thousands of female-driven blogs — occupy a sexless aspirational world, a modern Douglas Sirk fantasy of color-saturated feminine mystique. So-called "food porn" or "shelter porn" is as close as we get to corporeal abandon. Forget teen sexters posting DIY erotica online. At the forefront of female cyber-exhibitionism, lifestyle blogging barely even acknowledges that physical pleasure exists, never mind its key role in domestic bliss.
Today, "lifestyle" is something to be curated online instead of indulged; not a lifestyle so much as the pixelated tyranny of the domestic goddess. Once-oppressive female chores are now framed as a dopamine delivery system; a bed exists to be dressed, rather than to be undressed upon. And "pinning" as it relates to fantasy has a new meaning entirely: Pinterest, the social network where a world of objects and paint colors gather together in an infinite web of self-aggregation, which boasts 15.4 million female users a month. Designer floor pillows (pinned!) are good only for the semi-ironic pleasure of playing vintage board games (pinned!) and Instagrammed for public admiration (and re-pinning!). Such are the thousands of sites aimed at women that devote themselves to the "yummy" and the "covetable," featuring endless baking tips and décor "inspiration," which, these days, apparently a lifestyle makes.
If women were enjoying their lives between the sheets as much as shopping for them, it wouldn't bother me. But we're not. A recent National Health and Social Life Survey reported that 43% of women suffer from sexual dysfunction.  About a third of women report suffering from "orgasmic disorders," according to an American Psychiatric Association Symposium. One in ten American women experience an absence of desire severe enough to be clinically diagnosable.  You won't find any discussion of these issues on lifestyle sites, even if they devote entire sections to "relationships."
I hardly mean to excoriate home cooking or filling your home with pleasing things: I am typing at a Danish modern desk, perched on an Eames-style shell chair, with a Moroccan stew simmering in a Le Creuset dutch oven on my stove. But my laundry is piled on a rocking chair in the corner, and when my husband gets home from a weeklong work trip tonight, God help the Dwell Studio Chinoiserie bedding. My point is that I can understand the pleasures of these domestic surfaces and taste and still wish ardently that women could find a more profound satisfaction in these "lifestyle" sets we've built.
In the past, the figures who inspired us to don oven mitts never presumed to inspire a life beyond the serving platter. Julia Child suggested that she could help us to master the art of French cooking and no more; if we envied her kitchen pegboard, it was incidental. But when a young caterer named Martha Stewart saw the potential in selling crafty perfection to American women, elevating domesticity started a life-encompassing pursuit. Martha taught us to hand-mill, sponge-paint, and fricassee our way to bliss, but never bothered with the transcendent potential of what could happen upon those needlepoint pillows. Furthermore, she has always maintained a professional separation between her tutorials and her own life — the closest we get is gawking at her occasional posted schedule, which invariably involves organizing the stable and label-making. (She knew better than to write a prison sex memoir, but damn if you wouldn't have read it.)   
But the blogosphere is about intimacy, not international market share; memoir, not magnates. And so the micro-inheritors of Martha's macro-mantle added a confessional veneer, a winking tell-all aspect and down-home relatability that suggested "whole living" really was the sum of the whole. The very framing of the lifestyle blog as a genre — look at me in my bedroom with my flannel-shirted boyfriend, look at the perfect meal I made for a picnic on our living room floor, look at me admitting to the dry skin I cured with this yummy organic shea butter — suggests a world flung open to you by a friend who wants to share every worthy secret to help you improve every aspect of your lifestyle. Those secrets, though, are products and humblebrags. The advice they offer is merely how to make ourselves, as women, ever more decorative. 
"Joanna, have you been hacked?" tittered one recent commenter when blogger Joanna Goddard blushingly suggested that her million-plus readers discover the benefits of a vibrator, advice that many women's magazines freely dispensed back when mid-century modern was still modern. Goddard may have founded the Glamour sex blog and written such features for the magazine as "The Sex Thing I Do Best," but when striking out on her own with her wildly popular Cup of Jo site, she opted to a dedicated section on "weddings and relationships," not sex. What's kinky for Goddard and her husband? They occasionally meet out at a restaurant instead of walking there together — "butterflies in my stomach," she writes.  For inspiration, she breathlessly posts about an "adorable couple" who met at age 17 and yet saved their first kiss for their wedding. (Lord, I hope they were simply practicing the old prostitute rule of everything-but-the-lip-lock.) How ironic that in the eighties, "lifestyle" was a catch-all euphemism for sexuality.
You might be surprised to know — if you aren't one of the millions who read her already — that a more progressive collision of sex and domesticity occurs on the Pioneer Woman, a wildly popular blog run by home-schooling, churchgoing Ree Drummond. Ditto the wildly popular blog of recovering Mormon Heather "Dooce" Armstrong. These two are far more likely to be unbridled about the virility of their lovers or their adventures in backdoor sex.  These are two women that seem to know that if we only focus on the pleasures of sight and taste, we've lost our sense.
For decades, feminists decried women's magazines, like Goddard's former employer — or Cosmo, where she interned — for harping on the sex and making it too much about pleasing our lovers instead of ourselves. But, despite all the radical possibility of the Internet, the blogs that have begun to marginalize those magazines make those discussions seem practically utopian. Believe me, I don't yearn for that retrograde service journalism (which lingers on) any more than I can celebrate all this seeming celibacy. But who thought the online world would become so regressive and prudish, subverting the potential of both the bedroom and the Internet?  Instead of simply decorating both, let's get it on.
Broadminded is a weekly column about gender and women's issues, written alternately by Alissa Quart and Lauren Sandler.